Rankings
Top 10 MLB Outfielders for 2022
Just Baseball's rankings of the top shortstops in baseball.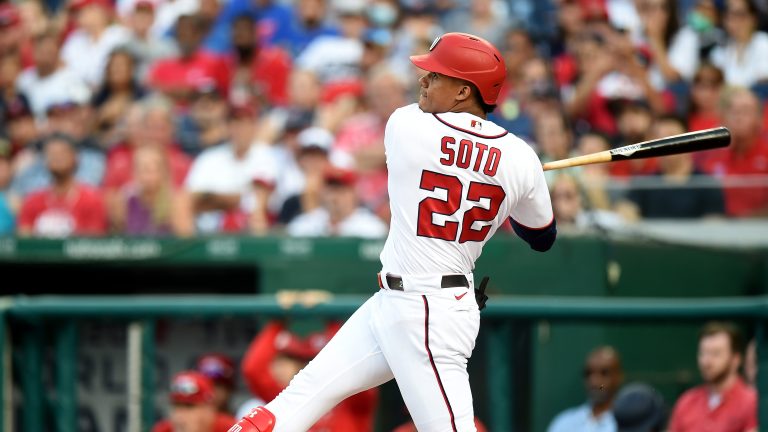 Welcome to our official positional rankings for the 2022 MLB season!
In this series, you'll find our rankings for the best players at each position in Major League Baseball. These rankings are not a measure of performance since 2019; we are projecting the 10 best at each position for 2022.
All types of analysis went into these rankings. We look at every advanced analytic we can to make our lists, but we include intangibles not typically found in the numbers. This is not a perfect list, but no list truly is.
When we combine left field, right field, and center, we get an incredibly hard list to rank. In our honorable mentions, we have guys who could win an MVP award. In our Top 10, we have multiple MVP winners and players just on the cusp of the hardware.
We give an extra bump to elite defense, and we'll dock a player if the defense is well-below average. We put a lot of focus on the bat and how we think they'll perform in 2022.
We have accounted for defensive and offensive production since 2019, with an emphasis on 2021.
We will use some advanced baseball jargon in this article. You'll see stats such as WAR, OAA, fWAR, DRS, etc. The defensive stats will reflect their time solely at shortstop. We suggest quickly reading about those stats at the links attached. Please feel free to reach out on Twitter with any questions.
Honorable Mentions
Bryan Reynolds – Pittsburgh Pirates
Bryan Reynolds is our first honorable mention. He hit over .300 with a 130 wRC+ in his first year in 2019, had a bad 2020, but was incredible in 2021 with a 142 wRC+. The 27-year-old can really swing it from the left side and he plays above-average centerfield.
Tyler O'Neil – St. Louis Cardinals
Tyler O'Neil broke out in 2021, putting up gaudy power and speed numbers, but his bat-to-ball skills were also very impressive. He's a true five-tool player and has the potential to win an MVP one day.
Teoscar Hernandez – Toronto Blue Jays
For my money, the most underrated player in the league. He was one of three outfielders with a 135 wRC+, 30 HR, and 10 steals, and he hit .299 while doing so. He's got a cannon in right field on top of the offensive prowess.
Kris Bryant – Colorado Rockies
Kris Bryant plays everywhere, but he's going to play mostly outfield for the Rockies this season. He has crazy potential in Coors Field, but the former MVP has had a fantastic career so far. He hit 25 bombs, stole 10 bases, and had a 123 wRC+ in 2021, and in 2022 he'll be even better.
Starling Marte – New York Mets
The speed demon led all of baseball in steals last year with 47, and almost won a batting title. He signed to be the Mets centerfielder and checks in as one of the better all-around players in the sport. He'll play a lot of right field this season as well, and already has a couple of sparkling plays over there.
Cedric Mullins – Baltimore Orioles
Cedric Mullins burst onto the scene with a 30-30 season and played a stellar center field on top of it. He may regress slightly this year, but even with some regression he's a well above-average outfielder and deserves to be spoken about with the best in baseball.
The Top 10
10. Luis Robert – Chicago White Sox (Age: 24)
2021 Stats: 68 G, .338/.378/.567., .605 OPS, 157 wRC+, 13 HR, 43 RBI, 6 SB, 4.7% BB, 20.6% K, 3.2 fWAR, 4 DRS, 4 OAA
Luis Robert checks in at number 10, but a full season from him could be closer to the top five, and maybe even an MVP. He's really that talented.
When he came up in 2020, we saw glimpses of greatness. He hit 11 home runs and stole nine bases in just 56 games, but he only had a .738 OPS.
In 2021, a hip injury limited him to just 68 games, but the man hit .338 with a .945 OPS and 13 bombs. His 162-game average is a .300 hitter with 31 HR and 22 SB and Gold Glove defense. If he stays healthy, he could do that and then some.
He's one of the most talented players in every aspect of the game, and we can't wait for him to showcase that in 2022.
9. George Springer – Toronto Blue Jays (Age: 32)
2021 Stats: 78 G, .264/.352/.555, .907 OPS, 140 wRC+, 22 HR, 50 RBI, 4 SB, 10.8% BB, 23.1% K, 2.4 fWAR, -1 DRS, 1 OAA
One of the most dynamic outfielders in the game when healthy, Springer brings power, speed and decent defense in center.
Since 2017, Springer ranks in the top 20% in baseball for max exit velocity, chase rate, barrel rate, sprint speed and expected slugging. Springer has been banged up since signing his six-year, $150 million deal with the Blue Jays prior to the 2021 season, but looks fine and well to start 2022 with already two home runs in the first four games.
Springer is two homers away from 200 in his career and has a career slash line of .270/.360/.499 with a 135 wRC+. He's as well-rounded as it gets in the outfield, and he's a nice dark horse for AL MVP.
8. Byron Buxton – Minnesota Twins (Age: 28)
2021 Stats: 61 G, .306/.358/.647, 1.005 OPS, 169 wRC+, 19 HR, 32 RBI, 9 SB, 5.1% BB, 24.4% K, 4.2 fWAR, 10 DRS, 7 OAA
Byron Buxton is the hardest player to rank, but he checks in at eight on our outfielders' list. If we are talking about strict talent, he might be the overall best player, I'm serious.
Since 2020, including 2022, he has 35 HR, a 5.9 fWAR, a 158 wRC+, and 22 DRS. So basically, in this short sample, he's proven he has 40+ HR power, he's one of the fastest players in the game, he's one of if not the best defender, and he's hit .289 in that span.
He's frankly unbelievable, but the problem is his availability. He's been in the league since 2015 but has played above 95 games just once back in 2017. If he can just stay on the field, he'll be in the best player in baseball discussion, I really believe it.
7. Kyle Tucker – Houston Astros (Age: 25)
2021 Stats: 140 G, .294/.359/.557, .917 OPS, 147 wRC+, 30 HR, 92 RBI, 14 SB, 9.3% BB, 15.9% K, 4.8 fWAR, 2 DRS, 1 OAA
One of baseball's rising stars, the 25-year-old Kyle Tucker enjoyed a breakout campaign last season hitting .294/.359/.557 with 30 home runs and 14 stolen bases.
Tucker has a rare combination of power and bat-to-ball. There were three players with an OPS over .900 and a K-rate under 16% last year: Vlad Jr, Juan Soto, Kyle Tucker. He's already in elite company and all of his expected stats point towards an even better season in 2022. The barrel stays through the zone so long that he can pepper any type of pitch in any direction.
Tucker is a strong defender as well, posting seven outs above average in the corners. He even slid over the centerfield during the playoffs and looked very sound out there. Tucker is a future MVP winner, it's just a matter of time.
6. Mookie Betts – Los Angeles Dodgers (Age: 29)
2021 Stats: 122 G, .264/.367/.487, .854 OPS, 131 wRC+, 25 HR, 58 RBI, 10 SB, 12.4% BB, 15.6% K, 3.9 fWAR, 4 DRS, -2 OAA
Mookie Betts is the sixth-best outfielder in baseball, and it feels wrong to rank him this low, but wait until you see the top five. Let's marvel at the all-around game that is Mookie Betts.
Mookie is one of the best defensive right-fielders of all time. Since 2016, he's number one in DRS, 12 more than second-place Andrelton Simmons, and 27 more than Nolan Arenado. He's one of the best base runners in the game, routinely putting up 20 steals and ranks fourth in BSR since 2017.
He has a 135 wRC+ since 2019, the same as Xander Bogaerts. He is truly the one player in baseball with zero holes. The only issue with Betts is he did drop a bit last year offensively due to a hip injury, and he doesn't look all the way healthy yet.
When he's right, he's one of the best players in the game.
5. Aaron Judge – New York Yankees (Age: 29)
2021 Stats: 148 G, .287/.373/.544, .916 OPS, 148 wRC+, 39 HR, 98 RBI, 6 SB, 11.8% BB, 25.0% K, 5.5 fWAR, 11 DRS, 0 OAA
Turning down a $230 million extension from the Yankees before Opening Day, Aaron Judge is betting on the league viewing him as a top-five outfielder in free agency and by every metric, he is.
When healthy, Judge has done nothing but mash. The 6-foot-7, 280-pound outfielder owns a career slash line of .276/.385/.552 with a 150 wRC+. While Judge has not been able to replicate his 2017 coming-out party that featured 52 homers and an fWAR of 8.3, last season was clearly the next best campaign for the 30-year-old who launched 39 HR and a 5.5 fWAR.
Perhaps one of the most underrated aspects of Judge's game is his athleticism. Judge is an above-average defender in either corner and is capable of holding his own in centerfield. Judge is the king of holding runners to a single, rather than a double, on a ball hit against the wall. He's extremely sound all-around, and he's my pick to win AL MVP.
4. Bryce Harper – Philadelphia Phillies
2021 Stats: 141 G, .309/.429/.615, 1.044 OPS, 170 wRC+, 35 HR, 84 RBI, 13 SB, 16.7% BB, 22.4% K, 6.6 fWAR, -6 DRS, -6 OAA
The 2021 NL MVP checks in at number four, that's Bryce Harper of the Phillies. Harper finished third in fWAR, first in wRC+, hit .309 with 35 HR, and even stole 13 bases. The funny part is that might not even be his best season.
The kid on the cover of Sports Illustrated has somehow lived up to the massive pressure bestowed upon him, resulting now in two MVPs, Rookie of the Year, and six All-Star appearances, and he's only 29 years old. He's my pick to win his third MVP, as he somehow looks even better coming into this season. You could knock the defense, but it's not bad enough to move him to a DH role, he plays a fine right field, and hits better than pretty much everyone.
3. Ronald Acuna Jr. – Atlanta Braves (Age: 24)
2021 Stats: 82 G, .283/.394/.596, .990 OPS, wRC+, 24 HR, 52 RBI, 17 SB, 13.6% BB, 23.6% K, 4.2 fWAR, 2 DRS, 0 OAA
Last season, the baseball world came to a halt when Ronald Acuna Jr. fell to the ground in agonizing pain. He would find out he tore his ACL and would miss the rest of the season. Acuna Jr is still out recovering from the knee injury, but he should return in the next few weeks.
Acuna Jr. has hit since the day he stepped foot in the big leagues as a 20-year-old. One of the game's best power/speed threats finished just three stolen bases shy of MLB's first 40/40 season since 2006. He has a 140 career wRC+ and 105 home runs in 395 games. He's on a historic pace at just 24 years old.
Acuna's also a good defender in the outfield. He's a five-tool player that's one of if not the most fun to watch.
2. Juan Soto – Washington Nationals (Age: 23)
2021 Stats: 151 G, .313/.465/.534, .999 OPS, 163 wRC+, 29 HR, 95 RBI, 9 SB, 22.2% BB, 14.2% K, 6.6 fWAR, 4 DRS, 5 OAA
Juan Soto is the second-best player in baseball and checks in at number two on our outfield list because of some dude named after a fish.
Soto came up as a 19-year-old rookie in 2018, and he's second in wRC+ since 2018 behind Mike Trout. In his teenage rookie campaign, Soto put up the same wRC+ as Matt Olson did last year with the A's at 146. In 2019 he took the league by storm and won a World Series. In 2020 he shot up as one of the best players in the league. And 2021 he cemented himself as the second-best position player.
Moving from right field to left field makes him a great defender on top of Hall of Fame level hitting.
If he gets pitches to hit this year, he's sending them to Mars.
1. Mike Trout – Los Angeles Angels (Age: 30)
2021 Stats: 36 G, .333/.466/.624, .835 OPS, 190 wRC+, 8 HR, 18 RBI, 2 SB, 18.5% BB, 28.1% K, 2.3 fWAR, -4 DRS, 1 OAA
Do we really need to say much beyond the name?
Mike Trout is one of the greatest players in MLB history and has been the best player in this league since his Rookie of the Year campaign back in 2012. Trout is a three-time league MVP and it feels criminal that he doesn't have more considering he's finished second four times.
Last season, Trout was once again heading towards an MVP-type season, but he was limited to just 36 games and had to watch his teammate Shohei Ohtani win it instead. When Mike Trout is healthy, no one is better at baseball. It's just that simple.