Analysis
The Time for the Royals To Extend Bobby Witt Jr. Is Now
All-around talents like Bobby Witt Jr. don't grow on trees, and the Royals know how special their young superstar is.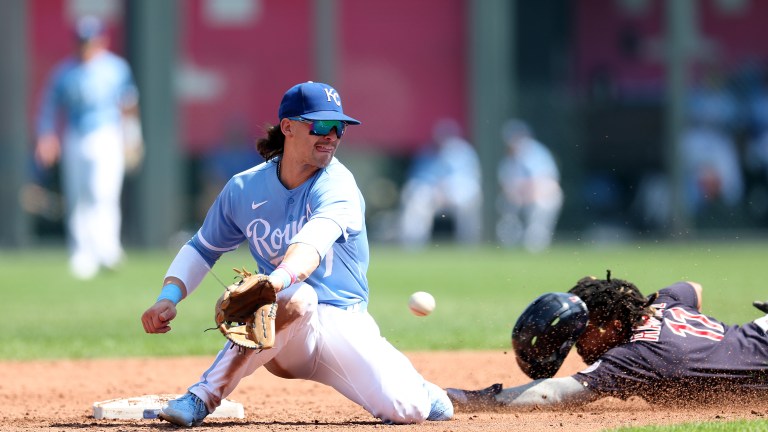 As the old saying goes, there is no time like the present. That is the mindset the Kansas City Royals should have when they think about an extension for their superstar shortstop Bobby Witt Jr. The offseason is quickly coming upon us, and questions about a Witt extension will continue to rise – and for good reason. 
The saying was always that Bobby Witt Jr. was a "superstar in the making," but it is safe to say that he is already an absolute superstar now. When you reflect on the season that Witt had, it is wild to think that Salvador Perez was the lone All-Star representative from Kansas City. But the young shortstop didn't really break out until after the All-Star break. His July, August, and September breakdowns are insane:
| | | | | | | | | | | | | |
| --- | --- | --- | --- | --- | --- | --- | --- | --- | --- | --- | --- | --- |
| Month | G | R | H | 2B | 3B | HR | RBI | SB | BA | OBP | SLG | OPS |
| July | 24 | 12 | 32 | 6 | 3 | 6 | 21 | 6 | .327 | .346 | .633 | .979 |
| August | 27 | 20 | 36 | 6 | 1 | 9 | 22 | 9 | .324 | .375 | .640 | 1.015 |
| September | 26 | 22 | 39 | 4 | 3 | 3 | 14 | 11 | .279 | .331 | .462 | .792 |
His August was one of the most incredible months many of us have seen. Witt finished the season with 28 doubles, 11 triples, 30 home runs, and 49 stolen bases, compiling a 4.4 Baseball Reference WAR and becoming the first Royal to post a 30-30 season.
What's more, Witt is only the seventh player in the history of Major League Baseball to post 25 home runs and 35 stolen bases at age 23 or younger. He joins an incredible list that includes the likes of Alex Rodriguez, Hanley Ramirez, Mike Trout, and Ronald Acuña Jr. 
The surface-level numbers aren't the only thing that sticks out about Witt. Take a look across his Baseball Savant page, and it is just red all over nearly every offensive, defensive, and baserunning category.
On the offensive side, Witt ranked in the 92nd percentile in xwOBA, 96th percentile in xBA, and 95th percentile in xSLG, to go along with awell above-average average exit velocity, Barrel%, and Hard-Hit%.
Defensively, he was in the 98th percentile in OAA and 76th percentile in arm strength. He went from being one of the worst defenders last season to a top-ten glove in the entire league.
Finally, Witt was in the 100th percentile in sprint speed. Guys like this don't just grow on trees. 
In fact, he had a very similar year to Seattle Mariners young superstar Julio Rodríguez, who recently signed an extension worth $209.3 million over 12 years. The deal was laced with incentives that could make it worth up to $469.6 million over 17 years (if he wins two MVP awards in that time). 
When that contract was signed, many fans were hoping that the Royals would do something similar with Bobby Witt Jr. In the past, the Royals have been hesitant to sign big extensions (with only Alex Gordon and Salvador Perez as exceptions), but Witt is special. There hasn't been a player of his caliber in Kansas City in a very long time. Even Mike Moustakas and Eric Hosmer never reached a level of excitement quite like this.
It would be tough to see the Royals just let a guy like Witt walk, and based on his current trajectory, his value is only going to continue to increase. You have to imagine the Royals are thinking about all the possible ways they could get him extended. Just looking at some of the extensions guys like Rodríguez, Corbin Carroll, Fernando Tatis, signed a Bobby Witt Jr. extension will likely be the largest contract in Royals history. 
So what could an extension for Witt look like? It's possible the Royals could go for a long extension that would probably push them well over $200 million for about seven years. Given the team's financials, Rustin Dodd and Tim Britton of The Athletic pointed out that they may need to be more creative, like the Seattle Mariners were with Rodríguez. 
Rodriguez is earning a base of $119.3 million through the 2029 season, and the Mariners have an option for 2030 and beyond (that must be decided upon after the 2028 season). The option could be for as little as eight years and $200 million or as much as 10 for $350 million. If the Mariners decline those options, the two sides have a mutual seven-year $168 million option to decide on after the 2029 season. If that is declined, Rodriguez has his own five-year, $90 million player option he could exercise, or he could return to free agency.
It's a lot of moving parts, but for a small market team like the Royals, something similar could make a lot of sense if they want to keep Witt around for a long time and make sure he gets the right financial incentives as well. It guarantees Witt a good chunk of money, and it gives the Royals some flexibility if things don't pan out the way they hope. 
Either way, it is going to be an interesting offseason for the Royals as they decide what approach to take. Bobby Witt Jr. has shown a unique ability to quickly improve his game and adapt to the major leagues. He has become the superstar the team expected when they took him 2nd overall in the 2019 MLB Draft. Royals fans everywhere are hopeful they will get to watch him play shortstop in Kansas City for years to come.