Analysis
There Is No Need To Worry About Corbin Burnes
Milwaukee's ace isn't off to an impressive start this season. However, there should be better days ahead for the Crew's star pitcher.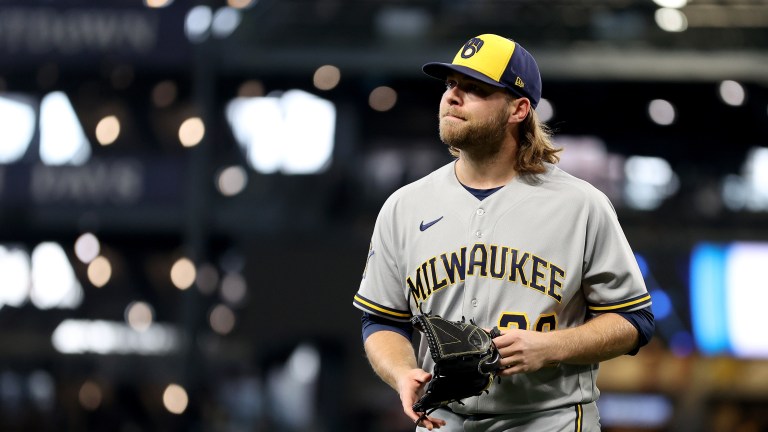 It has been an eventful start to the 2023 season for Corbin Burnes. Before the season even kicked off, there was contractual drama between Burnes and the Milwaukee Brewers. The two parties ended up going to an arbitration hearing to settle Burnes' 2023 salary. It was a case that the ball club ended up winning, which ultimately sparked some tension between them.
As the Brewers were preparing for Spring Training, they appeared to be on uneasy ground with their Cy Young winning pitcher regarding his long-term future with the team.
While he entered 2023 among one of the favorites to take home the NL Cy Young award for the second time, the contractual speculation bled into the regular season, and it felt as if he were under even more of a spotlight.
In the meantime, Corbin Burnes remains under contract with Milwaukee through the 2024 season and appears to have mended any hard feelings with his ball club. When looking at his career path through the Brewers organization, he has made immense strides in his player development, and he has come a long way since his abysmal 2019 season.
Corbin Burnes posted an ERA of 8.82 and a WHIP of 1.84 in 32 games (49 innings) back in 2019, putting him as one of the worst pitchers in baseball, statistically speaking. Since then, Burnes has established himself as one of the premier pitchers in the sport and has been a model of consistency in Milwaukee's rotation.
Since 2019, Corbin Burnes has an fWAR of 14.9 wins which is the best in all of Major League Baseball amongst qualified pitchers. In that same time span, he has the fourth-lowest ERA at 2.73 and the second-best FIP at 2.53. His ascendence to elite status is truly fascinating.
With Burnes being one of the premier aces in the game, he has set elite expectations for his performance. However, he has fallen short of those elite expectations thus far in 2023.
2023 Road Bumps
As a whole, Burnes' numbers have not been spectacular. Burnes has an ERA of 4.01 on the year to go along with a WHIP of 1.13. With that being said, his ERA is inflated due to his rocky start this season.
Burnes got blown up in his first two starts of the season. His ERA sat at 9.64 after his second start versus the New York Mets, surrendering 10 earned runs through his first 9 1/3 innings. However, he has whittled-down his ERA with every start since, beginning with his domination against Arizona.
Burnes carved up the Diamondbacks in his third outing of 2023. He went eight strong innings only surrendering three hits, while not allowing a walk or an earned run. Burnes finally looked like the pitcher fans have become accustomed to seeing.
Unfortunately, in his next start versus Seattle, Burnes suffered a minor pectoral strain that forced him into an early exit. While it was a minor injury that did not force him to miss any additional time, that wasn't the only hurdle Burnes had to work through on the team's West Coast road trip.
Following his exit versus the Mariners, Burnes came down with an illness that resulted in him losing up to 12 pounds in a couple of days. While he put together a respectable outing versus Boston his next time out, it was another hurdle the star was working through to get back to elite form.
Burnes put together six strong innings in his latest outing versus the Angels. He appears to finally be fully-healthy, I believe we have yet to see Burnes at his best in 2023. Better days are ahead for Milwaukee's ace.
Overall Performance in 2023
Overall, while there have been some kinks in his efficiency, I don't see many significant red flags in Burnes' performance. I'll start by looking at his quality of contact numbers and how they relate to prior seasons.
Quality of Contact Numbers
On the surface level, Burnes' quality of contact numbers don't appear to be overly concerning. While opponents are generating harder contact against him this season, it isn't necessarily translating to more detrimental contact.
Burnes currently has a hard hit rate of 35.4%, which is the highest mark since his 2019 season. However, he has done a good job at avoiding barrels when he does give up hard contact. He has a barrel rate of just 5.3%, which is actually an improvement from last season. While he may have been giving up harder contact than past seasons, he is succeeding at keeping the ball on the ground.
His average launch angle this season is 6.3 degrees, which is the lowest of his career. Relatedly, his 51% ground ball rate is the highest mark of his career. Additionally, he has only allowed three home runs in his five starts, and his home runs per nine (HR/9) of 0.8 is well above league-average. Burnes has found a way to limit the damage when he does allow hard contact, which is significant.
Abnormally Low Strikeout Rates
Failing to strike out batters at an efficient rate is where the issue lies with Corbin Burnes in 2023. Burnes has been below-average in the strikeout department this season, which feels puzzling since he's been amongst the league-leaders in strikeouts the past couple of seasons.
Burnes had a strikeout per nine (K/9) of 12.61 in 2021 and 10.83 in 2022, which were the best and fifth-best amongst all qualified starters, respectively. However, in 2023, Burnes' K/9 currently sits at 7.22. With his career average K/9 sitting at 11.42, I believe this number is due for positive regression for a player of Burnes' ability.
There are a couple of factors that could be contributing to his career low strikeout rate of only 19.7%. Relative to past seasons, Burnes has struggled to get batters to chase pitches out of the zone in 2023. His chase rate has dropped to 30.6%, which is down three percent from last season and down five percent from 2021.
Relatedly, his chase contact rate is at a career-high. It currently sits at 49.5% which is well above his career average of 41.8%. Batters are chasing less often, and when they do chase pitches out of the zone they are making contact more frequently.
Hitters are making more frequent contact on pitches thrown in the zone as well. His zone contact rate of 85.8% is a career-high and is well-above his career average of 78.6%. Because of this, he is generating whiffs at a career-low mark.
With that being said, Burnes' pitches still grade out well. Burnes ranks eighth in MLB in overall Stuff+ at 117. Stuff+ looks at the physical characteristics of a pitch, such as release point, velocity, vertical and horizontal movement, and spin rate. It's intriguing to see that there hasn't been a diminishment in performance from that standpoint.
When looking at his pitch arsenal, it still remains that he features one of the best fastballs in the sport. Let's take a look at his pitch arsenal to see where things are going wrong for Burnes.
The Cutter
Burnes' cutter is easily his best and most valuable pitch, so we will start by analyzing how it has performed thus far in 2023.
Through five starts, the average velocity on his cutter dropped to 93.9 miles per hour, down a full tick from last season. However, the spin rate on his cut fastball is actually improved from a season ago.
His cutter has an average spin rate of 2658, which is still the best in the entire league when looking at spin rates on fastballs. It's encouraging to see the underlying mechanics of the pitch remaining similar to years past, despite the slight drop in velocity.
With that being said, his velocity saw a tick up in his most recent outing versus the Angels. The initial drop in velocity could be a result of the hurdles Burnes faced early this season. Whether it was a result of shaking off early season rust or battling his illness and injuries, his velocity could see a bump as his health continues to improve.
When looking at how the pitch is performing against hitters, his cutter is performing similarly, if not better, than last season. The cutter has an impressive batting average against of .206 and a wOBA against of .251. Both of these numbers are improvements from a season ago, and they are even improvements from his 2021 Cy Young winning season.
Additionally, his cutter has been hit less hard in 2023. The pitch has a 33.9% hard hit rate through his five starts, which is over four percent better than last season. While the sample size on these numbers is significantly smaller, it's noteworthy that his most-used pitch isn't getting crushed by opponents.
The issue in Burnes' cutter lies in his struggle to generate strikeouts with the pitch. Burnes' has a putaway rate of just 13.4% with his cutter this season. This is significantly reduced from his rates in 2022 and 2021, which were 24.1% and 31%, respectively. However, despite him producing a career-low whiff rate overall, his cutter is the one pitch that is not facing a severe decline in whiff rate. His whiff rate of 26.3% on the cutter remains relatively in line with past seasons.
While there is room for improvement with his cutter, the pitch has not been the source of Burnes' struggles. The main area of concern revolves around the performance of his secondary pitches.
Offspeed and Breaking Pitches
I believe the major issue with Burnes' resides in his secondary pitches, starting with his second-most utilized pitch in the curveball. Here is where we start to see the granular detail about what is contributing to his aforementioned issues with his inability to generate punch outs.
Burnes' curveball has struggled to produce whiffs thus far in 2023. The pitch has just a 34.4% whiff rate, which is significantly down from 47.7% last season and 50.3% the year prior. His curveball is also getting hit much harder than prior seasons. It has a hard hit rate of 33.3% on the season, up from 21.7% in 2022.
Equally as important, and similar to his issue with the cutter, his curveball is not generating enough punch outs. The pitch has a putaway rate of just 20.6%, which is down over seven percent from last season and down 13 percent from 2021.
The inability to generate swings-and-misses and produce strikeouts with his curveball is presenting great issues for Burnes. It's not just his curveball either, as his changeup and slider are also facing the similar issues.
His changeup has a whiff rate of 31.4% on the year, down over 14% from a season ago. Likewise, his slider is the same story. His slider is sporting a whiff rate of only 27.6% compared to 49.7% from 2022. Additionally, both his changeup and slider yield a hard hit rate of 41.7%, both up over 14.5% from last season.
It is a consistent and glaring issue across all of Burnes' secondary pitches. They all are seeing diminished performance in terms of bat to ball numbers, and they are getting hit much harder than past seasons. This is an area that must see improvements as Burnes progresses through the season.
Takeaways
Overall, it has been a roller coster of a start to Corbin Burnes' 2023 season. It will be interesting to see how Milwaukee will approach his future with the ball club. For the time being, the Brewers have the top odds to win the NL Central division, and they will lean on Burnes in an attempt to make a run into October.
Outside of the contractual discussions, Burnes has been working through a non-severe injury to his pectoral muscle and an illness that slowed him down for a period of time. While there are some areas of concern through his first five outings, I'm not concerned about Corbin Burnes' slow start to the season. Despite the struggles that his ERA suggest, Burnes' stuff is still performing well.
Burnes has been one of the most dominant pitchers in the game since 2020, especially in terms of striking out batters and making hitters uncomfortable in the box. His success stems from the performance of his cutter, a pitch that appears to still be performing well in 2023, despite the putaway concerns.
However, Burnes will need to improve his secondary pitches such as his curveball, changeup, and slider in order to rebound back to Cy Young-caliber efficiency. With that being said, I am not concerned about Corbin Burnes' performance after the first month of the season. I believe we have seen the worst of Corbin Burnes thus far in 2023, and he will look to get back on track in his next outing versus the San Francisco Giants on Friday night.