Analysis
The Mariners Starting Rotation Is the Best It's Been in a Generation
Featuring All-Star veterans and promising young arms, the Seattle Mariners' rotation is shaping up to be a true strength in 2023 and beyond.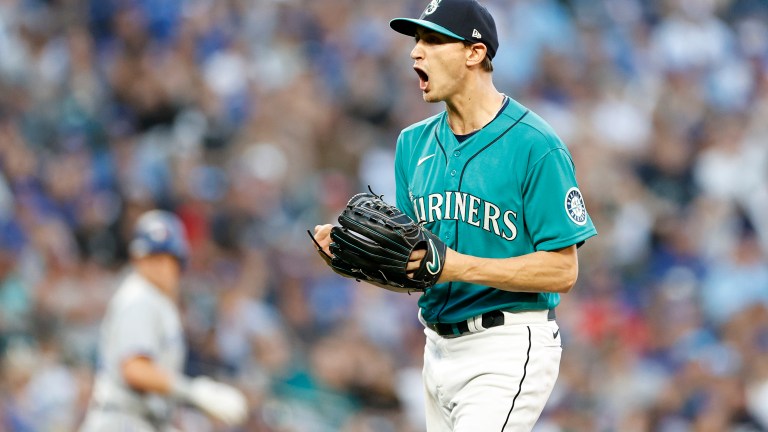 For a decade, it was always the same story. "King Félix" Hernández would buzzsaw his way through the opposition every fifth day, and more often than not, he had little to no reinforcements behind him.
But under Jerry Dipoto's reign, the Mariners started to produce a nucleus of dominant young arms through draft and development. Fast forward to 2023, and the headliners of that mold are experiencing big league success. Combine that with the inking of a Cy Young winner and a blockbuster trade for one of the top pitchers in the business, the Mariners enter 2023 with maybe the best rotation they have had in over 20 years.
Let's break the staff down.
Luis Castillo
2022 Basic Stats: 8-6, 25 starts, 150.1 IP, 2.99 ERA, 45 BB, 167 K, 1.084 WHIP
2022 Advanced Stats: 3.7 fWAR, 3.31 xERA, 3.07 FIP, 3.23 xFIP, 138 ERA+, 2.7 BB/9, 10.00 K/9
Castillo is the true, unquestioned ace of the staff, something the Mariners have not had since Hernández. After being selected to two All-Star Games over five and a half years with the Reds, the star right-hander was dealt to Seattle in exchange for a haul that included blue-chip prospects Noelvi Marte and Edwin Arroyo. Castillo put the Mariners' rotation over the top. He dazzled out of the gate, posting a 2.84 ERA in the month of August. He hurled eight scoreless frames against the Yankees in just his second start with the club.
Castillo continued to shine into the postseason. He spun 7.1 shutout innings at the Rogers Centre against the Blue Jays in a 4-0 Mariners win during Game 1 of the AL Wild Card Series and then threw seven innings of three-run ball in Game 2 of the ALDS against the Astros in Houston. The Astros won that contest, but Castillo more than kept Seattle in the game.
Castillo flashes a four-pitch mix of a four-seam fastball, sinker, changeup and slider. Historically, his changeup has been the best pitch in his arsenal; at its best in 2019, the pitch had a Baseball Savant run value (RV) of -28 and a 47% strikeout rate. In 2022, that changeup started to fade, actually grading as his worst pitch by run value. But he did the opposite of regress. In fact, he may have shown signs of evolution as a pitcher.
Before 2022, Castillo never had a fastball that graded as an above-average pitch. Sure, he's always thrown it exceptionally hard (averaging right around 97 MPH for his career), but he never got overwhelming results. The lowest slugging percentage opposing hitters posted against his fastball over the course of a season before this past year was .478 in 2021. In 2022, he could not have pulled off a sharper tailspin with his heater. Opposing batters hit just .151 against his fastball, and maybe even more impressive, they slugged just .193. That is nothing short of ridiculous output. He also posted a -18 RV on his fastball.
A lot of people cried out that the Mariners gave up too much for Castillo in the trade. But Seattle's backup plan was Frankie Montas. When comparing the two pitchers since both were traded, combined with the fact that Castillo was extended on an incredibly reasonable deal (5 years, $108 million through 2027 with a vesting option for 2028, less than what Robbie Ray got last winter), he seems (so far) to be worth every penny that Seattle paid.
Robbie Ray
2022 Basic Stats: 12-12, 32 starts, 189 IP, 3.71 ERA, 62 BB, 212 K, 1.190 WHIP
2022 Advanced Stats: 1.8 fWAR, 3.59 xERA, 4.17 FIP, 3.58 xFIP, 100 ERA+, 3.0 BB/9, 10.1 K/9
Ray had a sturdier season than most people remember. The viewpoint on him is just a little bit skewed because he got off to a rough start out of the gate in Seattle (4.97 ERA through his first 12 starts), and the lasting image he left in 2022 was allowing Yordan Alvarez to pulverize one of the most ferociously scorched baseballs that anyone has ever seen, leaving a vapor trail that can still be spotted outside of the Tokyo Dome in Japan during the World Baseball Classic.
Yet Ray responded well after the first two months. He added a sinker to his arsenal in the middle of the season, and once he did that (from June 8 onward), he posted a 2.97 ERA for the remainder of the season, with opponents slashing .222/.287/.391 against him. He dominated for the majority of the summer, throwing up a 2.19 ERA with a 1.02 WHIP in June and a 1.64 ERA with a 0.90 WHIP in August.
He plans to ditch the sinker in 2023 because he feels like it ultimately never felt comfortable for him. Instead, he spent the offseason learning and developing a new splitter, which will now serve as his third pitch, complementing his fastball and slider.
Ray's fastball and slider are both plus pitches (-9 RV on his fastball, -6 RV on his slider). He strikes out a ton of hitters (80th percentile in whiff rate in 2022). In fact, he holds one of the highest career K/9 ratios in the history of baseball at 11.0 (entering 2022, his K/9 was the highest rate in baseball history). The key for him in 2023 will be limiting hard contact (he ranked in the 18th percentile in average exit velocity and the 39th percentile in HardHit% last season) and consistently executing an effective third pitch, which is what he intends for his new splitter to be.
Logan Gilbert
2022 Basic Stats: 13-6, 32 starts, 185.2 IP, 3.20 ERA, 49 BB, 149 K, 1.180 WHIP
2022 Advanced Stats: 3.2 fWAR, 4.11 xERA, 3.46 FIP, 3.78 xFIP, 116 ERA+, 2.4 BB/9, 8.4 K/9
Gilbert had a very robust year by the numbers in his second big league season. During the first month he may have been the best pitcher in baseball. Gilbert took home AL Pitcher of the Month honors in April after sporting an 0.40 ERA in four starts. A few rocky outings in August were the only real blemish on his resume, as he posted a sub-3.50 ERA in May, June and July and finished the year with a 2.00 ERA in September/October.
There is some warrant for concern regarding how Gilbert will fare in 2023. When a pitcher has an expected ERA (xERA) that is nearly 100 points higher than his actual ERA like Gilbert did, that usually points to signs of regression on the horizon. His Baseball Savant peripherals also raise some distressed eyebrows. Gilbert ranked in the third percentile in average exit velocity, fifth percentile in HardHit% rate, and 12th percentile in chase rate. In English terms? He got hit around very hard last season, and his offerings weren't fooling a lot of hitters.
One thing that helped Gilbert start to transform at the end of last season is that he changed the shape of his curveball. He started to throw it in a way that contained a little less velocity with more vertical drop, and as a result, five of his six best starts of the year by Stuff+ occurred in late August and September, right around the time he altered his curveball.
Gilbert's fastball is his best pitch. Sitting at about 96 MPH, it generated run values of a whopping -19 in 2021 and -12 in 2022. In his first two seasons, he has mostly thrown a four-pitch mix of a fastball, curveball, slider, and changeup with a very occasional sinker. But Gilbert plans to ditch the changeup in 2023, stating that he never felt all that in rhythm with it. He is opting to go with a new splitter that he has been working on all offseason, and it is supposed to have a similar pitch shape to Mets' right-hander Kodai Senga's ghost fork.
George Kirby
2022 Basic Stats: 8-5, 25 starts, 130 IP, 3.39 ERA, 22 BB, 133 K, 1.208 WHIP
2022 Advanced Stats: 3.0 fWAR, 3.31 xERA, 2.99 FIP, 3.33 xFIP, 109 ERA+, 1.5 BB/9, 9.2 K/9
Kirby is easy to dream on. He brings upside that is higher than anyone on the Mariners staff and arguably any young pitcher in the sport.
He had a phenomenal rookie season, continuing to progress as the year went on. August was his best month of the regular season, putting up a 2.15 ERA across four starts, including seven innings of one-run ball against the Nationals in which he tossed 24 consecutive strikes to begin the game (yes, that's a real stat).
And if fans want a glimpse of what's on the horizon, Kirby more than etched his mark in his final start of 2022. Seattle had their first home playoff game in 21 years, facing their arch-rivals in the Houston Astros, who took the first two games of a neck-and-neck ALDS. Kirby, who just a few months prior was pitching in Double-A Arkansas, was asked to take the baseball in front of a sold-out crowd and keep the Mariners' season alive. He more than lived up to the challenge, dicing up Houston for seven shutout innings with five strikeouts.
Along with Kirby's elite command, he has a gargantuan arsenal of pitches. He flashed a six-pitch mix in 2022 consisting of a fastball, curveball, cutter, sinker, slider, and changeup. Per Statcast, among 148 pitchers who threw at least six pitches last season, only Kirby, Chris Bassitt and Jameson Taillon threw six different pitches at least eight percent of the time.
Seems pretty good, right? Well, by Kirby's standards, it wasn't. He decided to add a seventh pitch to his arsenal, adopting a new splitter this winter. The only pitcher in 2022 who threw seven pitches? Shohei Ohtani. In 2023, there may be a second name on that list.
Marco Gonzales
2022 Basic Stats: 10-15, 32 starts, 183 IP, 4.13 ERA, 50 BB, 103 K, 1.333 WHIP
2022 Advanced Stats: 0.1 fWAR, 4.59 xERA, 5.05 FIP, 4.90 xFIP, 90 ERA+, 2.5 BB/9, 5.1 K/9
Probably the weakest link of the bunch, Gonzales will have a chip on his shoulder in 2023, especially since all the surrounding talk about Seattle's rotation usually involves the other four arms and seldom mentions his name.
Gonzales is and has always been an innings eater, having thrown the third most frames in the American League since 2018. He also had three really strong seasons in a row from 2018-2020, piling up a combined 7.1 fWAR in 2018 and 2019, along with 2 WAR in the shortened 2020 campaign. In fact, he likely would have been an All-Star in 2020 had there been a game. He led the AL with the fewest walks per nine innings (0.9) and led the majors in strikeout-to-walk ratio (9.14).
But the last two seasons have not mirrored that. He has gotten hit incredibly hard over that time, and all of his underlying numbers have spiked in the wrong direction (his FIP has been over 5.00 the last two years, while his xERA and xFIP were both over 5.00 in 2021). Gonzales flushed a tough first half in 2021, responding with a 2.70 ERA in the latter half of that season, but that success didn't carry over to 2022.
Gonzales throws four pitches between a fastball, changeup, cutter and curveball. He also plans to add a slider to his repertoire this season with the intention of executing a pitch with more movement than his cutter. When Gonzales was at his best, he rarely walked anyone and thrived by limiting baserunners. In 2023, he will try to prove he is still capable of doing that.
Closing Thoughts
There is still plenty for this rotation to prove, including how the two young arms (Gilbert and Kirby) will respond after they each threw a career-high in innings pitched last season. The Mariners also did not have a single injury in their starting rotation last season, which is incredibly uncommon. But they will also get a full season of Castillo and a full season of Kirby, who may be viewed as the undisputed two best arms on the team by the end of this upcoming season. Firing on all cylinders, this is one of the best rotations in all of baseball. And if everything clicks, they have the chance to be even mightier in 2023.