Analysis
The Chicago Cubs Have a Decision to Make on Marcus Stroman
Marcus Stroman could be the top pitcher available at the deadline, but signing him long-term may be the best course of action for the Cubs.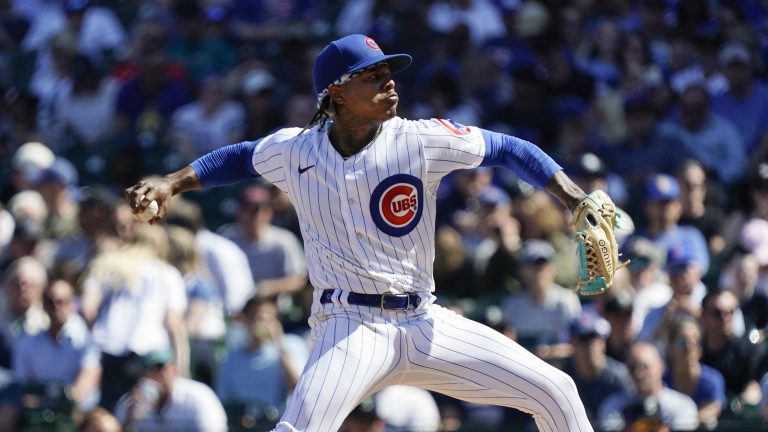 Over the past few weeks there isn't a pitcher in baseball who has been better the Chicago Cubs ace, Marcus Stroman. Facing his former team on May 24th, Stroman went eight innings to beat the New York Mets last week.
Then he followed up that performance with a one-hit shutout against the Tampa Bay Rays last Monday, leading the Cubs to a narrow 1-0 victory.
Finally, he was on the mound yesterday against the San Diego Padres and did not allow an earned run over six innings pitched, striking out six and allowing just four hits.
Stroman has now made 13 starts this season and is pitching to a 2.39 ERA across 79 innings pitched. Among National League pitchers, only Stroman is tied with Logan Webb for the league-lead in innings pitched.
Prior to the 2022 season, the Chicago Cubs signed Marcus Stroman to a three-year, $71 million deal, which included an opt-out after the second season. Stroman would received $25 million per year over the first two years, with his player option being for a $21 million salary in 2024.
Considering the way Stroman has pitched this year, it feels like a no-brainer that he will test free agency again after this season to maximize his value. At 32 years old, Stroman would be foolish not to, as he will be in prime position to sign a long-term deal.
This puts the Cubs in a very interesting position with their current ace. If they chose to deal him, Stroman could very well be the top pitcher in available on the market. But if they decide to keep him, Stroman could be their ace for years to come, as long as they can come terms on a new deal.
Top Pitcher Available at the Trade Deadline?
Take a minute to look around the league right now and try to find which top-flight starting pitchers will be available at the trade deadline. Because of the addition of the third Wild Card team, there are so many teams in the league who view themselves as contenders, even possibly the Cubs.
No one is running away with the NL Central, as the Cubs could certainly make a push if some of their young talent like Matt Mervis and Christopher Morel perform well alongside proven veterans like Dansby Swanson, Ian Happ and Cody Bellinger.
Outside of Stroman, there aren't any notable arms that could be pried from NL Central teams at this year's deadline. Look at the NL East and you find four teams that are trying to play for the playoffs and the Nationals don't have an arm that matches Stroman's pedigree.
Out in the NL West, the Dodgers and D-Backs in playoff contention, while the Padres and Giants hope to be. Again you look at the last place team and the Rockies don't have much to offer.
Five teams are trying to contend in the AL East and four are trying to in the AL West (with the fifth being the Athletics). Really the place where starting pitchers can be found is in the other Midwestern division, with the AL Central featuring plenty of teams that lack the real hope of making a World Series run.
In Detroit, Eduardo Rodriguez is certainly a viable trade chip, especially since he too has an opt-out after this season and has been performing well. In Chicago, the White Sox could dangle Lucas Giolito, or if they are feeling very frisky, Dylan Cease.
Lastly, the Cleveland Guardians have a great trade chip in Shane Bieber, who is a former Cy Young that is only under control for one more year beyond this season.
Since it would be very surprising to see the White Sox move Cease, with two more years of control beyond this season, there are really four names that could be featured prominently at this year's deadline (leaving the elephant in the room of Shohei Ohtani to the side for now) and Stroman might just be the best of the bunch.
| | | | | | | | |
| --- | --- | --- | --- | --- | --- | --- | --- |
| 2023 Stats | ERA | IP | FIP | WHIP | K/9 | BB/9 | fWAR |
| Marcus Stroman | 2.39 | 79.0 | 3.49 | 1.00 | 7.75 | 3.08 | 1.6 |
| Shane Bieber | 3.72 | 75.0 | 4.14 | 1.29 | 6.36 | 2.52 | 1.0 |
| Eduardo Rodriguez | 2.13 | 67.0 | 3.17 | 0.98 | 8.91 | 2.13 | 1.7 |
| Lucas Giolito | 4.08 | 68.1 | 4.46 | 1.26 | 9.09 | 2.77 | 0.9 |
Bieber is the only pitcher that has a better career track record than Stroman, but he has not nearly been as effective this season. Rodriguez is having the better season, but Stroman has the better career track record. Regardless, if teams are in desperate need for a starter, the Cubs could fetch a pretty penny of prospects by dealing Stroman.
Teams will certainly be calling in Stroman at the deadline, the only question is if the Cubs will be willing to deal him. There is inherent risk at letting this year play out for Chicago, as they can't extend a qualifying offer to Stroman because he already pitched on one back in 2021.
This means that if the Cubs hold onto Stroman and are than significantly outbid on him in free agency, they may lose him for nothing. Considering some of Stroman's recent comments though, it seems like he loves pitching at Wrigley and the Cubs could focus on building around him moving forward.
The Chicago Cubs Ace for Years to Come?
Marcus Stroman is the type of athlete that wants to bet on himself. He did so back in 2021, when he played on the one-year qualifying offer and he did so when he signed this contract.
When Stroman last hit free agency, he clearly felt he was worth $25 million per season, but his market did not allow him to get that over a long-term deal. Instead of settling for less per year over a longer period of time, Stroman inked what was essentially a two-year deal at the number he wanted, with the insurance of a third-year option in case he had a bad contract year.
If his first 13 starts are any indication, Stroman is in the midst of another excellent contract year, which should be able to secure him at least that $25 million a year again, but this time on a deal long enough that the contract reaches nine figures.
Last year, Stroman struggled in his first nine starts with the Cubs, as he dealt with a bout of COVID and hit the IL with shoulder injury. When he returned, Stroman pitched to a 2.56 ERA across his final 16 starts with a 3.55 FIP. Those numbers nearly mirror the stats Stroman has put up this season, showing just how dependable he can be for any rotation.
Dating back to his return off the IL last year, Stroman has pitched to a 2.48 ERA over 29 starts and 170 1/3 innings pitched for the Cubs. That is more than enough of a sample to have earned a new contract and Chicago should not hesitate in approaching him with one.
Signing him to an extension mid-season is the best way that the Cubs could secure that Stroman is the main building block that they build a rotation around for years to come. Now there is every chance that Stroman wants to keep betting on himself, and play out this season to reach the open market, even if his plan is ultimately to return to the Cubs.
Still, if I'm Jed Hoyer, I'd strongly consider making Stroman an offer he can't refuse now, because I'm not losing the asset for nothing come the deadline if there is no assurance that he's not in Chicago to stay.