Steve Cohen Needs to Throw the Bag at Theo Epstein
Does Theo Epstein have one last challenge in him?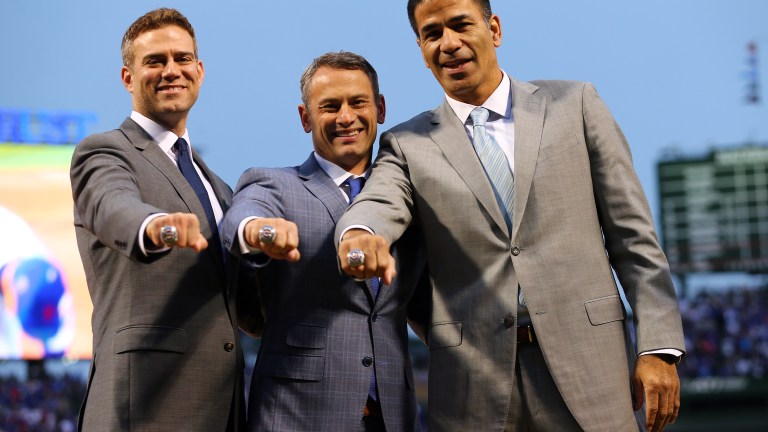 Since Brad Pitt and Jonah Hill starred in a baseball movie about numbers, everyone has become obsessed with them.
Now I am not knocking people who rely on the numbers, because ever since I dropped my pursuit of a business degree after two failed attempts at a 7:00 a.m. Econ class, the only math I do is baseball math. I have said "weighted runs created plus" a few hundred times this season alone on my podcast Locked On Mets, and I will always use Outs Above Average to explain why Luis Guillorme is more valuable than J.D. Davis.
But there are times as a baseball writer/podcaster where we can overthink things. We get so wrapped up in what we can find at Fangraphs and Baseball Savant, that we fail to see what is right in front of us. There are times where you need to just drop the calculator, zoom out, and take a look at the big picture. In doing that, I have come to realize the solution to the Mets' problems has been right under our nose this whole time.
So here is my open letter to Mr. Steven A. Cohen, supposed savior of the Mets franchise, on the one thing he has to do this offseason. Throw the bag at Theo Epstein.
What if I told you that Javier Báez was only traded to the New York Mets to lay the groundwork for Theo Epstein's takeover in Queens?
Jed Hoyer still doing ole' Theo a solid, while keeping the Rickets in the dark by sending Kris Bryant to San Francisco for a legitimate chance at winning a second ring. Just a little pit-stop for the 2016 NL MVP, before he gets his own bag of Cohen's cash in the offseason.
Now all of this conspiracy is non-sense of course. NBA tapering has not found it's way into Major League Baseball, although Báez's open pitch to come to the Mets did bare a striking resemblance.
If Steve Cohen wants to actually live up to the expectations of becoming the Los Angeles Dodgers of the East Coast, the only person the Mets new owner really needs to be concerned about paying is Theo Epstein.
After running the Chicago Cubs for the past decade and ending their 109-year World Series curse, Epstein was hired by MLB to be a consultant for "on-field matters" this year. Many have theorized that this is the first step in Epstein's end-goal of replacing Rob Manfred as the league's commissioner.
If that is what the three-time World Series champion wants for next stage in his career, he can stay where he is and climb the latter in the league office. Or, Epstein could take a quick detour and attempt to end one final baseball curse, while also becoming the highest-paid executive in the history of the sport. Afterwards, he can hop right back on that same corporate latter before he is even in his mid-50s.
Epstein has nothing left to prove when it comes to running a baseball team. His path to Cooperstown was paved when he delivered championships to the two most tortured fan bases in the history of sports. Going for the trifecta with the Mets could stain a legacy that does not need to be tarnished.
Imagine if he were to pull it off and win the World Series in a third spot. The resume of curse's Epstein could take down is second-to-none in the history of sports. You have the 'Curse of the Bambino', the 'Curse of the Billy Goat' and you can add ending the Mets 35-year general curse of schmuckness.
Here is my question to you, the reader, though. What would you do if someone wanted to give you a check for $50 million dollars?
Especially if you only have to commit to five more years on the job before cashing that last check to pursue the next challenge you would want to tackle in baseball.
The Los Angeles Dodgers have become what the New York Yankees used to be in baseball. They spend money as if there never was a global pandemic, compiling one of the most loaded teams of high-priced stars we have seen in baseball. Especially after their latest trade to acquire Trea Turner and Max Scherzer, which was by far the best and most impactful move of the deadline.
Ever since the Dodgers changed ownership in 2012, they have been churning out division titles on an annual basis. They have won the division eight years in a row and are currently trying to hunt down the San Francisco Giants in the standings after their latest big trade deadline purse.
While spending more than any team in baseball has certainly been the reason for the Dodgers dynasty over the NL West, that spending has not been limited to just the payroll for players. Instead, where they have really succeeded is being able to spread their resources to every aspect of their organization to build out a strong foundation.
A lot of the Dodgers best talent is homegrown, and they have an over-abundance of it. They have invested significant funds in scouting, analytics and development to make their farm system a breeding ground for tangible assets.
That is how they have the prospect capital to pull off a massive blockbuster deal at the deadline, while also being able to hang onto players like Scherzer and Turner with big contracts in the future.
Yet of all the big contracts that have been given out by the Dodgers, the one that has probably been the most valuable is the one they handed to Andrew Friedman back in 2014.
The Funny Thing About Moneyball
It is really cute when it plays out in a movie for a small-market team but in real life, the teams that are best at playing Moneyball are the one's that can throw money into every aspect of their ball club.
The Tampa Bay Rays have been this decades version of Brad Pitt and Jonah Hill's Athletics (Ok technically Billy Beane's). Every year they are the 'little engine that could' who overachieves their way into the playoffs. Last year, they finally made it to the World Series, only to be beaten in six games by Friedman's Dodgers.
Friedman first made a name for himself working in Tampa, making the World Series on a shoestring budget back in 2008 and securing playoff berths three more times during his tenure as the team's General Manager.
The new Dodgers owners took notice of Friedman's success and thought how much better would this guy be at his job if he actually had all the resources to do it?
They offered the then 37-year-old the highest check ever given to a big league executive to become the new President of Baseball Operations. The contract was a five-year deal, worth $35 million, and that was not the last brinks truck that the Dodgers sent out to improve their front office that year.
They next turned their sights to Oakland and poached Beane's No. 2 executive, Assistant General Manager Farhan Zaidi. Zaidi was a student at Berkley when he read the book Moneyball and decided to pursue a job with the Oakland Athletics. Zaidi beat out 1,000 other applicants for a job as a data analysis sabermetrics assistant, very quickly earning the trust and respect of Beane, who described him as, "absolutely brilliant".
Zaidi was identified by Friedman and the rest of the Dodgers brass as the ideal General Manager to work alongside him and they sparred no expense to make that happen. As the GM, Zaidi helped the Dodgers make back-to-back World Series appearances in 2017 and 2018. He would later leave however to get his own opportunity atop a baseball organization, joining their chief division rival to do so.
After the 2018 season, the San Francisco Giants needed to make a change to compete with that juggernaut in L.A. and the best way to do that was to poach their GM to be the new President of Baseball Operations.
It took a few years for Zaidi to turn the Giants around, but this season he has certainly done just that, as San Francisco has quietly been the best team in the sport. When they beat the Oakland Athletics on Sunday, the Giants became the first team in baseball to reach the 80-win mark this season. Whether or not they win the division, Zaidi has certainly proved the value of a great executive.
As competitive as the players are on the field, the competition among baseball executives is just as strong and is often more cutthroat, taking place in the shadows. Epstein can say publicly that he has done all he wants to in the sport, but it would be surprising to think that competitive fire has just left him completely.
Epstein reached the mountaintop in 2016, beating the Dodgers in the NLCS in the process, but then spent the better part of the last five years pushing up against that juggernaut in the National League.
While Epstein is long past his days of being the number-crunching wunderkind, he has certainly worked with his fair share of them throughout his days and has a better understanding than anyone on what it takes to build a winning infrastructure.
There has to be a part of Epstein that looks at the opportunity to run a team like the Mets as an enticing final chapter to his career. He could get back into the thick of the competition in the National League, with a team that already has the best pitcher on the planet and a $341 million shortstop.
Jacob deGrom may not throw another pitch in 2021, but the 15 starts of brilliance he produced (377 ERA+) would have any baseball executive salivating at the chance to get him a in a playoff series. Add in Francisco Lindor, Pete Alonso, Brandon Nimmo, Jeff McNeil and Edwin Diaz, along with others and the foundation is already in place to become a real contender if the right person is steering the ship.
In Steve Cohen's introductory press conference, he said he would be disappointed if the Mets did not win a World Series in the next three to five years. The pressure of that goal certainly appears to be evident through his current frustration, which sets the stage for Cohen to be very aggressive this offseason.
Epstein has the leverage in this situation to demand the type of payday that his pedigree requires, as he has no need to accept the job for anything less than top dollar.
At times we like to think that only players have the ego to compete with their peers when it comes to their salary, but it's foolish to think that high-earning executives don't think in a similar way. Epstein's first contract with the Chicago Cubs new ownership group back in 2011 was a five-year, $18.5 million deal.
Three years later, Friedman signed a deal nearly double that in value when he got his first $35 million deal from the Dodgers. Epstein was eventually rewarded with a contract extension in Chicago, which was rumored to be worth up to $25 million. Whereas no one knows how much Friedman received on his latest extension that was signed back in 2019, tacking on another five years to his deal.
Still, there has to be a part of Epstein that believes he has earned the distinction of being the league's best-paid executive, as he arguably has the most impressive resume. Whether it's a five-year, $50 million deal, or even something greater, Cohen should not hesitate to write that check.
The credibility Epstein would bring to an organization with the recent history of the Mets would be worth its weight in gold. He could have a far greater long-term impact on the franchise than any one free agent would, as Epstein's first task would be to find the other brilliant Zaidi's of the world and bring them into the fold.
Once the front office is up to par with the best in the league, everything else should be able to naturally fall in place. The Mets have a top-heavy farm system right now, with potential impact players like Francisco Alvarez, Brett Baty, Ronny Mauricio, Mark Vientos, Matthew Allan and J.T. Ginn in the pipeline.
Building out their talent in the minor leagues is an important aspect to making the Mets a perennial contender, but Cohen has the resources to allow that process to occur naturally through the draft and international free agency, while being a luxury tax team trying to win now.
If Cohen really wants to compete with the likes of the Dodgers, he is going to have to spend like them and signing Theo Epstein is the first step towards doing just that.