New York Mets High-A Scouting Report
A look at the exciting talent on the Mets High-A Brooklyn Cyclones.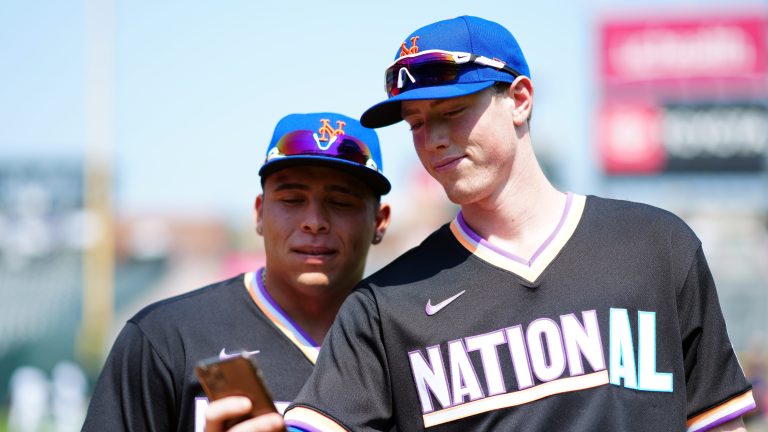 Last week I had the pleasure to experience the future of the New York Mets. The Brooklyn Cyclones, their High-A affiliate, has a talent filled roster, headlined by top prospect Francisco Alvarez. It is an exciting team, even though their overall success has wavered. Below, I take a deep dive into four big names in Brooklyn, who would make an impact in Queens rather soon.
Francisco Alvarez – C – Age: 19
Behind the Orioles' Adley Rutschman, I would argue that Francisco Alvarez is the best catching prospect in baseball. After seeing him in person, including a missile home run (video below), the loud tools are obvious, and will be impact down the line. Aside from the hype coming out of Venezuela, Alvarez has raked at every level since being signed in 2018. To start 2021, the 19-year-old was assigned to Low-A St. Lucie, where in 67 plate appearances, Alvarez slashed .417/.567/.646 with an insane 228 wRC+. Since his promotion to High-A, the 5-foot-11 catcher has slugged .524 with a wRC+ of 125 and a wOBA of .364 in 62 games. Alvarez is looking to have all of the makings of an elite bat at the Major League level, with his power finally being showcased this season. While there is still work on defense, his strong arm and ability to handle a staff will help with development.
Due to his age and steady ascension throughout the Mets' system, Alvarez is on a track to make his MLB debut in his early 20s. While the tools are there, some polish on his game will make him better suited for a promotion to Double-A, where he would most likely start in 2022. Alvarez saw a natural rise in his strikeout rate and reduction in walk rate from Low-A to High-A this season, but this shouldn't sound any alarms. Alvarez is still walking more than 11% of the time and has kept the K-rate below 30% despite being several years younger than his competition. As Alvarez continues to get used to higher level pitching and how he is being attacked, his strong approach and fantastic bat to ball skills should keep his K-rate in the low 20s at worst. There aren't many doubts that he will stick at catcher, so the Mets have something to be very excited about in the not-so-distant future.
Ronny Mauricio – SS – Age: 20
Ronny Mauricio no doubt had the hype coming out of the Dominican Republic, but will he end up being an impact player in the big leagues? The answer may be harder to find than some may think. Mauricio has been talked up often since being signed in 2017. The bottom line? He has not been productive at any level in the minors, not even in rookie league. Since making his professional debut in 2018, Mauricio has slashed .258/.295/.431 with a .688 OPS in 1,024 at-bats. To be fair, Ronny is a great athlete and defender, but hitting gets you to the big leagues. His soft hands, twitchy movements, and overall athleticism will make him an impact player at shortstop, where there is no doubt he can stick. The switch-hitter has had a power surge this season, hitting 15 homers to this point, but has had a walk rate of 4.6% in the past two seasons.
While Ronny Mauricio still has a long way to go, age is on his side. He is a great player on defense, but there isn't much production in the bat, which has some upside. A possible starting point for Mauricio is to learn the strike zone and take more walks. While Ronny isn't necessarily a power hitter, he needs to find a niche in his game to build off of, such as walking. Mauricio has the toolbox to be an above average player at the next level, but he needs to put it all together to work out.
Jose Peroza – INF – Age: 21
Peroza was recently called up to High-A Brooklyn after a very strong start in Low-A. Through 278 plate appearances in St. Lucie, the Venezuela native slashed .274/.404/.442 along with a .403 wOBA and 136 wRC+. After four stints in rookie ball, Peroza is finally starting to move through the system, and at a quicker pace than expected.
While the ceiling may not be high, there is a chance Peroza turns into a nice bench bat for the Mets down the line. The 6-foot-1 infielder was Rule-5 eligible last season, but was not selected. There is a chance, if he continues to produce, a team would take a shot on Peroza. So far in his career, the 21-year-old has played mostly third base and second base. In the future, the Mets may explore the option of turning Peroza into a super utility player, which would improve his future value.
J.T. Ginn – RHP – Age: 22
The Mets selected Ginn with the 52nd overall pick in last year's draft after a strong year at Mississippi State in 2019. In 2020, after just three innings, the 6-2 righty was shutdown with Tommy John Surgery. Out of high school, Ginn was a first round pick by the Dodgers, but failed to agree on a contract, allowing him to make it to campus. Now healthy, the Mississippi native is producing well at both High-A and Low-A this season. Through eight starts at St. Lucie, Ginn pitched to a 2.56 ERA with a 23.6% strikeout rate and a 6.8% walk rate in 38.2 innings. Since his promotion to Brooklyn, the numbers look similar, with a 22.9% strikeout rate and 3.02 FIP in four starts. Ginn will most likely finish the season at High-A, setting him up for a 2022 season at Double-A.
His sinker, slider combination, along with a developing change-up, could land him in the Mets rotation rather soon. Ginn's command is regarded as average, which is promising for a pitcher who sits in the mid 90s and has good stuff. The slider is talked about as his best pitch, with filthy two-plane movement. Ginn's fastball is a heavy sinker and produces devastating arm-side run. He is currently ranked within the top ten prospects by most outlets in the Mets' organization.