Podcast
State of the AL East: Win Total Predictions
On the latest State of the Division podcast, we predict end-of-the-season win totals for every team in the American League East.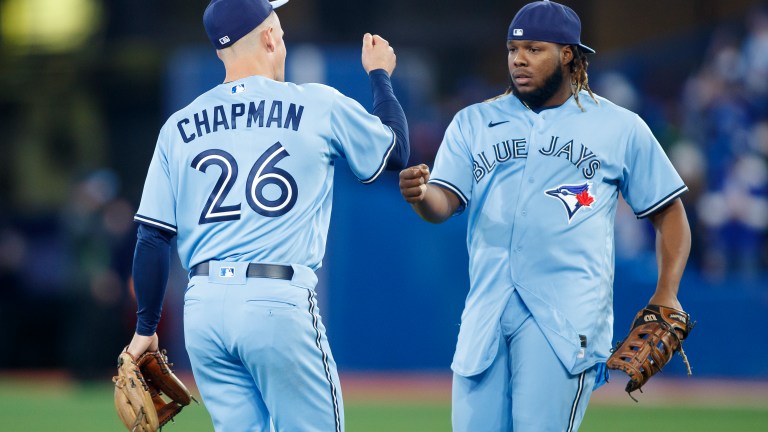 With nearly 30% of the MLB season behind us, teams are slowly nestling themselves into their divisional standings. While there is still a ton of baseball to be played, the real contenders have begun to shine.
The highly competitive AL East features four teams with playoff aspirations. While it will be hard for all four to make it, anything is possible with this new expanded playoff system.
On this week's AL East State of the Division, Colby Olson and I gave our predicted win totals for each of the five American League East teams.
In the written version today, I'll outline my picks for how this division will look like at the end of 162. But first, let's run through my personal preseason prediction for the AL East.
Also make sure you go to our new State of the Division channel on YouTube and subscribe to get all the latest episodes of the show!
Preseason Predictions
Following a monstrous offseason, I envisioned the Toronto Blue Jays as a top-two team in baseball during the 2022 campaign. On paper, they looked like the best team in the American League. While they've won five games in a row at the time of this writing, they still sit 5.5 games back of the first place New York Yankees. They've been disappointing.
Tampa Bay was my second-place team. The Rays always seem to figure it out, no matter what. Unfortunately, they too have been somewhat of a letdown. Their 28-20 record is a bit generous to them, as their projected win total is 25 through their first 48 games. They've won a bunch of one-run ball games.
As a fan of the New York Yankees, I expected improvements from this team in 2022. But nowhere close to being the best team in baseball. After a relative roster revamp in the offseason, this team still looked inferior to Tampa Bay and Toronto. I was dead wrong.
The Yankees have been elite thus far in 2022, and even after being dealt with the injury bug this past week, are still winning games.
Boston was always my fourth-place team. It isn't a bias thing; I was always really concerned with their pitching staff. Over the past few seasons, the Red Sox have been a top-five offense in baseball. They've climbed the wRC+ charts over the past few weeks, now the eighth-best offense in baseball at 109.
This team is still really good. It isn't an indictment to their talent, as you could probably drop them in the NL Central and they'd run away with the division. But compared to these other top three teams, Boston doesn't stack up to the competition for me.
And yes, Baltimore was my fifth-place team. But they've been fun! This team will be great in a few years when more of their top prospects from this rebuild have established themselves at the big league level.
Now, let's get into my picks for what this division will look like at the end of 2022.
1. New York Yankees: 98-64 (Make playoffs)
The New York Yankees have proven to me through their first 48 games that they are more than capable of winning this division. My preseason doubts have turned into positivity, as the Yankees sit with the joint best record in baseball at 33-15.
An incredibly deep rotation. A top-three bullpen in all of baseball. And a top-five offense that has blossomed during this campaign. You can't ask for much more from this Yankees team.
Currently dealing with a severe number of injuries, the Yankees are still winning baseball games. The depth of this team is truly on display.
Throughout the course of the season, this elite starting rotation has the juice to carry the Yankees to a multitude of wins. And the bullpen is more than solid enough to hold leads late.
Where this team really separates themselves is with the bats, as they can absolutely rake.
While I don't think the Yankees will eclipse the 100-win mark, I believe they'll come pretty close. This team is ultra-talented and will have a legitimate shot at a title if they play their cards right at the trade deadline.
2. Toronto Blue Jays: 96-66 (Make playoffs)
Yes, I still have Toronto finishing relatively high in these standings. While they certainly haven't impressed during the first quarter of the season, we can't ignore the talent on this roster.
Vladimir Guerrero Jr. has been subpar compared to his standards, Bo Bichette is finally starting to catch fire, Teoscar Hernandez and Lourdes Gurriel Jr. have both started slow, and Jose Berrios has taken a complete step back.
This team is starting to show signs of life. After a winning week last week, they've currently won five games in a row. It's promising, and I have faith in this team for the remainder of 2022.
Led by the dominant two-headed monster of a rotation with Kevin Gausman and Alek Manoah, I have faith that someone like Berrios can kick it into gear and return to his previous form. And these bats have all the potential in the world to be one of the most potent offenses in baseball.
Am I hanging on by a thread with this Blue Jays team? Possibly. But I still have faith, and they will turn it on for the rest of this season, finishing with 96 wins.
3. Tampa Bay Rays: 94-68 (Make playoffs)
Tampa Bay has always been a team with a ton of resilience. Being able to squeak out 95 wins year after year in this division is no small feat. And while I will project them at 94 wins by season's end, that's only good enough for third place in this division.  
Something feels different about this team. The recent series split with the New York Yankees is a testament to this, as New York was missing half their roster for the four-game set. Shane Mclanahan has been brilliant. The ninth-lowest bullpen ERA has also been incredibly instrumental to their start thus far.
But there are some concerns.
Wonder boy Wander Franco has only clipped a 113 wRC+, with a 60 wRC+ in the past month. They're dealing with a ton of injuries to key contributors including guys like Brandon Lowe and Shane Baz. And with only the eleventh-highest team wRC+ at 103, improvements are on the horizon.
While the Rays will surely be even better throughout the course of the 162, I believe they are the third most-talented team in this division. With a number of matchups against AL East foes on the horizon, it'll be a long road to 94 wins for this team.
4. Boston Red Sox: 92-70 (Miss playoffs)
Some might think I'm out of my mind for projecting a team that's currently .500 to eclipse the 90-win mark at the end of the season. Enter the Boston Red Sox, who will mash their way to 92 wins by the end of the year. While my beliefs are with this team narrowly missing the playoffs, they won't go down without a fight.
Prior to dropping the final game of a five-game set with the Baltimore Orioles, the Boston Red Sox were the hottest team on the planet. Winning six of seven, the bats showed up with two-straight series sweeps. Trevor Story had a monstrous weekend, smacking four home runs and driving in eleven, finally making his presence felt in Boston.
This offense has been electric, with three players clocking in above a 150 wRC+. While they started slow, they've begun to show the greatness this group possesses with the sticks.
Their pitching, however, has been the weak spot. Ranking as the eighth-worst team according to starter FIP at 4.37, and the eleventh-worst team in that category with their bullpen, it's been a letdown.
Starting pitcher Chris Sale will return soon enough, finally giving Boston their ace back. He will surely improve a rather lackluster starting rotation.
While this team has struggled in 2022, I have faith that they will be able to pull out 92 wins in this division. This team has the feel of the 2021 Yankees. Incredibly slow start, then they kick it on towards the back half of the season. Friendly reminder, the Reds Sox were two games away from a World Series just a year ago. Unfortunately, they will miss the playoffs, despite a second half push.
5. Baltimore Orioles: 70-92 (Miss playoffs)
In my opinion, the Orioles are the best bad team in baseball. A loaded phrase, but they aren't the bottom-feeders we saw in 2021. Despite being last in the division, Baltimore still have the same, if not more wins than some very competitive teams. Their 21 wins in 50 games is more than the Seattle Mariners, Cleveland Guardians, and even the Philadelphia Phillies.
Top prospect Adley Rutschman is up. Their other top prospect, Grayson Rodriguez, is shoving in Triple-A. Austin Hays, Anthony Santander, and Trey Mancini have been bright spots. Cedric Mullins will surely get back to the All-Star level he was at last year. And the pitching staff isn't all that bad!
While yes, this team isn't incredible, there's a ton to be excited about. And I believe it's fully possible they can eclipse 70 wins by the end of this season.