Analysis
Spring Training Notes: White Sox vs. Reds
Thoughts, notes, and updates from an afternoon of baseball between the Chicago White Sox and the Cincinnati Reds.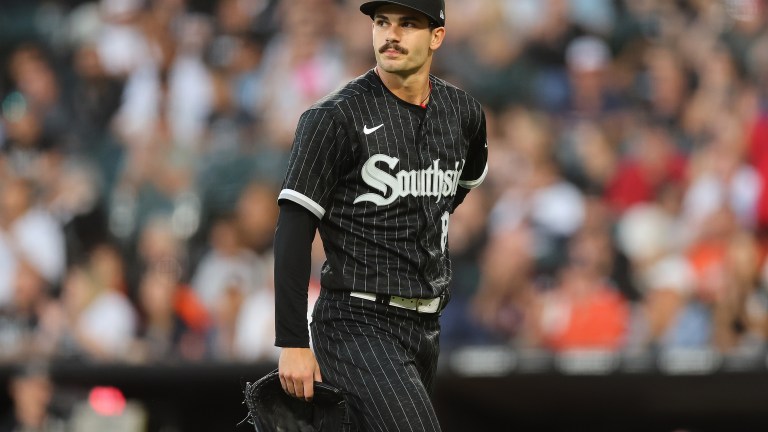 I'm back again after a jam-packed day of spring training baseball. I started off the day in the White Sox clubhouse getting to hear things from the players and other media. I saw four teams play, as I started with the White Sox and Reds game and then made my way to the Cubs and Padres game at night.
For the sake of convenience, this article will focus on the first game and I'll have a separate piece on the second game. No reason to waste time, let's get into my notes from each of the teams I saw play.
White Sox
Dylan Cease made his first start of the spring on Friday. He started off a bit shaky, as his control wandered a bit leading to two first-inning walks. He was able to get out of it using a fastball that looked as lively as ever. His slider wasn't quite as effective as usual but he made it work regardless. He pitched a very quick second inning and that was all for him. He's going to be elite again this year, and I don't think there's much else that needs to be said.
Oscar Colas is going to be a problem for pitchers in this league. I watched his full bp session on one of the practice fields prior to the game and he looked excellent. He swing is so fluid and he hits the ball on a line all the time. He continued to impress in the game as he drove a double to the gap on a swing that appeared to be nearly effortless. He even picked up his first stolen base of the spring, showing that he's truly a special athlete to be able to run that well at his size. Colas needs to make this roster in my eyes and can elevate this offense to another level.
Yasmani Grandal looks like a whole new version of himself. He's talked with the media a lot about his offseason training and the overhaul of his body from last year when he couldn't get healthy. Something is clearly working for him. He smoked a single early in the game and hit an absolute tank of a home run later on. The White Sox will need his bat to produce more than it did last year, and his spring has definitely been a positive sign thus far.
Andrew Vaughn is ready to take the mantle at first base. The talk of White Sox social media all day were the comments José Abreu made. I simply don't want to even address or talk about that. I will always respect what José did for this team, but it's Vaughn's time now and he's ready. Andrew looked excellent in the game today as he lined an opposite-field single in the first and followed it with a massive home run in the second inning. He looks comfortable at first and definitely looks ready for a breakout year at the plate.
Hanser Alberto wants to make this roster and has done everything to put himself in a position to do so thus far. In this game, he singled up the middle and flashed impressive defense on numerous occasions at second base. It's a bit hard to see where he fits with Romy Gonzalez and Leury Garcia around, but his spring has been impressive, to say the least.
The bullpen mostly got the job done today. It seems like there's a spot or two still up for grabs with Liam Hendriks out for a while and Aaron Bummer in jeopardy of missing time with an injury. Rule 5 Draft pick Nick Avila threw very well today as he looks to earn a spot on the roster. He allowed one run on a sac fly following a leadoff double. He looked strong otherwise as he struck out top prospects Elly De La Cruz and Noelvi Marte. Kendall Graveman struggled out of the pen as he allowed a big three-run homer, but his performance shouldn't really be of concern. Reynaldo Lopez pitched a quick effective inning as he looks to possibly close games with Hendriks out for now.
Reds
The biggest storyline for the Reds today was Brandon Williamson in my opinion. The young starter is trying to earn a rotation spot for the season, and he took a big step in doing so today. He gave up the big home run today to Grandal on a ball that he just left over the middle, but otherwise Williamson looked excellent. His offspeed pitches were inducing swing-and-miss throughout his whole outing and looked great. Control has been a concern for him in the minors, but he was hitting spots very well in this outing. There's no reason he shouldn't get a chance in this rotation considering there are no pitchers with more possible promise than him behind the top three.
While Williamson thrived, another starter looking for a rotation spot didn't. Luke Weaver got hit hard today by the White Sox and his start was cut short after the homer given up to Vaughn in the second inning. He looked fine in the first but still wasn't locating all that well and then got rocked for five runs in the second. While he still seems on track to crack the rotation, this start wasn't particularly inspiring. Weaver is an alright veteran but likely won't excite Reds fans at any point.
Wil Myers may not have been the most exciting signing, but he looks like he'll be a productive hitter for the Reds this season. He smoked two singles today and appears to be seeing the ball very well. He's a veteran hitter and should help this lineup grow and be competitive this season at the very least.
The shortstop situation still looks concerning right now. Kevin Newman started today and was replaced by top prospect Elly De La Cruz. Newman didn't show anything and failed to make a play quick enough, allowing Tim Anderson to reach on an infield single that was followed up by the Vaughn home run. De La Cruz is going to be a star, but he looked a bit overmatched during his two at-bats today and needs more time still. I didn't get to see José Barrero, unfortunately.
On the other hand, a young player that stood out was Christian Encarnacion-Strand. He singled on a line drive to left field in his first at-bat and followed it up with a hard-hit sac fly his second time around to cap off the day. He's got a very advanced approach for a young hitter and hits the ball hard on a line regularly.
Alex Young was another guy that stood out today for the Reds. He's a non-roster invitee, but he threw well for the Giants last year and could be a productive bullpen arm if he makes the roster. He struck out two including Colson Montgomery during his quick 1-2-3 inning.
Jake (also known as Rake) Fraley crushed a homer off of Kendall Graveman into the White Sox bullpen. I couldn't get it on video, but it was well-struck down the line and brought three runs in for the Reds. Fraley should get a shot at a regular outfield role with Cincinnati.