Analysis
Spencer Strider's Quickly Becoming One of the Best Pitchers in Baseball
The Atlanta Braves rookie started the year in the bullpen but is now looking like an ace, striking out batters at a league-best rate.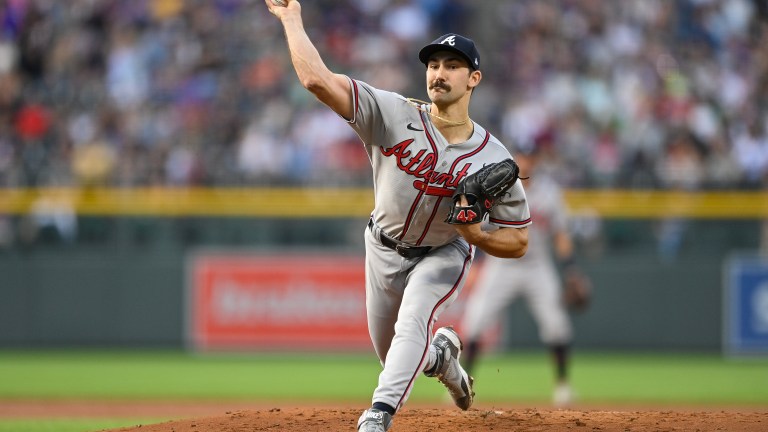 Spencer Strider took the mound for the Atlanta Braves yesterday in hopes of helping his team complete a sweep against their division rival, the Philadelphia Phillies. Strider was able to accomplish just that, throwing six innings of one-run ball, but in the process he made history.
The 23-year-old racked up 10 strikeouts in the outing, his sixth double-digit strikeout performance of the season. In doing so, Strider eclipsed 200 strikeouts on the year, besting a record set by Randy Johnson for the quickest to ever hit that total in a season.
The Braves rookie has been sensational all season, with his only competition for the Rookie of the Year Award being a few lockers over in his own clubhouse with Michael Harris II. As the Atlanta continues to make their push for the division, Strider's ascent has been at the forefront of everything they have achieved this season.
Now the perfect right-handed compliment to lefty ace Max Fried, the Braves could have one of the best one-two punches in the game for the next decade.
Strider's Ascent During the 2022 Campaign
Spencer Strider was drafted by the Atlanta Braves just a few years ago in the 2020 MLB Draft, where he was selected in the fourth round out of Clemson. Strider made his MLB debut in 2021, pitching a few games out of relief at the end of the season. Strider would remain in the bullpen to start the 2022 campaign, excelling in a long relief role.
With a full starting rotation, the Braves used Strider out of the bullpen for his first 11 appearances this year, where he pitched to a 2.22 ERA, with 37 strikeouts in 24 1/3 innings pitched. On May 30th he made his first career big league start and he has not looked back since.
Across 20 starts, Strider has pitched to a 2.77 ERA with a league-leading 165 strikeouts in 107 1/3 innings pitched. An advanced metric darling, the flamethrower leads all pitchers in FIP (1.91), xFIP (2.20) and SIERA (2.41), while racking up a 4.2 fWAR, which is the third-best mark in MLB since he joined the rotation.
For the season, Strider's 13.81 K/9 is leading the league and it is by nearly two whole strikeouts, with Blake Snell coming in second at 11.95 K/9. He is also exceptional at keeping the ball in the yard, as groundball God Framber Valdez is the only pitcher in baseball with a better HR/9 (0.45) than Strider's 0.48 HR/9.
Strider only seems to be getting stronger as the season wears on too. Over his last 10 starts, he has only allowed more than two earned runs once, in an outing against the Mets on August 7th. Strider has a 2.20 ERA over his last 10 starts and his tied with Jacob deGrom and Zac Gallen for a league-leading 2.5 fWAR.
This month, Strider has recorded at least nine strikeouts in each start, with a 16-strikeout performance to go along with yesterday's 10-K effort.
What Makes Strider So Dominant?
When you can average 98 miles per hour on your fastball with a wipeout slider, there's a good chance you are going to rack up a fair share of strikeouts. That is exactly the recipe for Spencer Strider, who throws those two pitches over 95% of the time.
With a run value of -20, only Carlos Rodon's fastball has been more effective this year at -22 than Strider's. He throws the pitch 67% of the time and batters are hitting just .201 with a .295 slugging percentage against the pitch.
What is really impressive about Strider is the great stride (pun intended) he uses to generate power with his offerings.
Despite being just 6'0″, Strider gets nearly seven feet of extension on his pitches (6.9 feet for both the fastball and the slider). In doing so, Strider is eliminating some of the distance between himself and the batter, making his pitches jump on batters even more than they already would with his plus stuff.
Strider pairs that hard fastball with a slider that averages nearly 12 miles per hour slower at just over 86 MPH, which induces whiffs over 50% of the time (52.2). Batters are hitting just .139 against the slider, with a .197 slugging percentage. He has allowed just one home run on the pitch all season.
Now many have described Strider as a two-pitch pitcher, but that is not necessarily the case. He is primarily a two-pitch pitcher versus right-handed batter, but against lefties, Strider utilizes a different arsenal to get outs, that does include a healthy dose of changeups.
Only nine of the 1087 pitches he has thrown to righties have been changeups (0.008%), but against lefties, he does use the pitched 8% of the time and is generating whiffs at a 47.5% rate. Point is, Strider could be effective with three pitches, he just doesn't need them because his primary two offerings are that good.
Strider is an athletic pitcher, with repeatable mechanics and absolutely devastating stuff. There is no reason to think he will be anything but dominant as his career continues, where he could realistically claim the title of being the Braves ace from Max Fried as soon as next season.
We have been saying this a lot lately, but the future is very bright with the Braves considering all the homegrown talent that they have developed. Strider is just the latest example of that.