Analysis
Somehow, Yordan Alvarez Is Still Underrated
All the talk about Yordan Alvarez and his fantastic performance in the playoffs shows how some are still overlooking his regular season dominance.
Yordan Alvarez is only 26 years old, and he's already becoming a legend of October. He has enjoyed four deep postseason runs in his career, for a total of 57 playoff games. He was the ALCS MVP in 2021 and a World Series champion the following year. The Astros have gone 36-21 (.632) in his appearances, a 102-win pace over a full season.
Since his first ALDS in 2019, Alvarez is slashing .286/.385/.542 with 12 home runs, 39 runs scored, and 40 RBI. That's phenomenal. He's basically hitting like Juan Soto in the most important games of the year.
Yet here's the thing: Yordan Alvarez is better than Juan Soto. Or, at least, he has been so far in his career.
That's because his regular season numbers are even more impressive than his postseason stats, as hard as that might be to believe.
Since his big league debut, Alvarez is slashing .295/.390/.588 in the regular season. That beats his postseason slash line in all three categories. What's more, in the regular season, he has averaged 43 home runs per 162 games. In the playoffs, his average is a "mere" 34 per 162.
The gap between his postseason wRC+ (151) and his regular season wRC+ (166) is 15 points. Both numbers are terrific, but still, that's a meaningful difference. It's the gap between Bryce Harper and Ketel Marte. The gap between Marte and Ha-Seong Kim. The gap between Kim and Mauricio Dubón; between Dubón and David Peralta; between Peralta and Paul DeJong. You get the point.
Postseason Yordan is awesome. But talking about "postseason Yordan" as if he is some sort of mythical demigod is kind of missing the point. Alvarez isn't incredible in the playoffs. He's just unbelievable all the time, and that includes October. All this talk about his postseason mastery is actually doing a disservice to his regular season dominance.
Lately, it has been a popular talking point on social media and postseason TV broadcasts to compare Alvarez with David Ortiz. That seems like high praise for Alvarez, another designated hitter in the early days of his career.
Ortiz is undoubtedly a playoff legend. He won three World Series titles, one World Series MVP, and one ALCS MVP throughout his Hall of Fame career.
Just looking at the postseason stats, it is both an apt comparison and a big compliment indeed:
| Player | G | HR | R | RBI | AVG | OBP | SLG | wOBA | wRC+ |
| --- | --- | --- | --- | --- | --- | --- | --- | --- | --- |
| Yordan Alvarez | 57 | 12 | 39 | 40 | .286 | .385 | .542 | .388 | 151 |
| David Ortiz | 85 | 17 | 51 | 61 | .289 | .404 | .543 | .398 | 148 |
via FanGraphs
At the same time, the comparison between Alvarez and Ortiz is missing a key piece of context. Ortiz had better career numbers during the playoffs than the regular season. That's a big reason why his postseason performance was so special. His 140 wRC+ from April to September was still fantastic, but he turned things up a notch in October.
Alvarez, on the other hand? Well, we've already covered that. His postseason numbers are just the cherry on top of his regular season stat line.
In other words, comparing Alvarez to Ortiz is actually underselling the Astros slugger, as ridiculous as that sounds.
Through his age-26 campaign, Ortiz posted a 106 wRC+. His career-high in a single season was 175. Alvarez, meanwhile, has a 166 career wRC+, and his career-best is 185. He'll have to keep this up if he wants to reach Ortiz's counting stat totals, but he's off to an excellent start.
Even during the very best stretches of his career, Ortiz was only matching what Alvarez has accomplished through his first five years in the majors. And that's no knock on Ortiz. He's in the Hall of Fame for a reason. But Alvarez is just that good.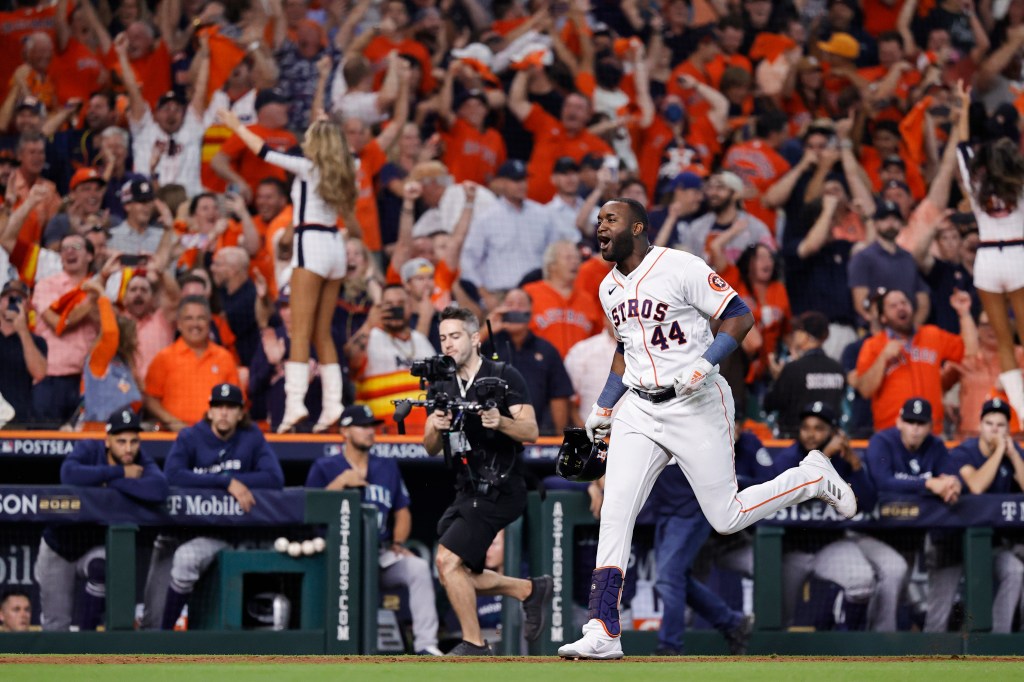 Alvarez has been integral to his team's postseason success over the past few years. He absolutely deserves credit and praise for his playoff performance. Still, the narrative about his postseason success makes it clear that his regular season dominance is flying under the radar. Somehow, Alvarez — a two-time All-Star, a Silver Slugger, and a former Rookie of the Year — is still underrated.
Perhaps it's because the modern Astros are a baseball dynasty, and the story of the team is bigger than any one player. Perhaps it's because Alvarez has spent his career in the shadows of Shohei Ohtani and Aaron Judge, a pair of MVPs. Whatever the explanation, there's no reason Alvarez should also have to play second fiddle to his postseason self.
Alvarez has been great in the playoffs, but ultimately, that's just covering up the real story: Whether it's April or October, Yordan Alvarez is out of this world.