Analysis
Should the Toronto Blue Jays Bring Joey Votto Home in Free Agency?
Canadian Joey Votto is a free agent for the first time in his career. Will he return home and join the Blue Jays for the 2024 season?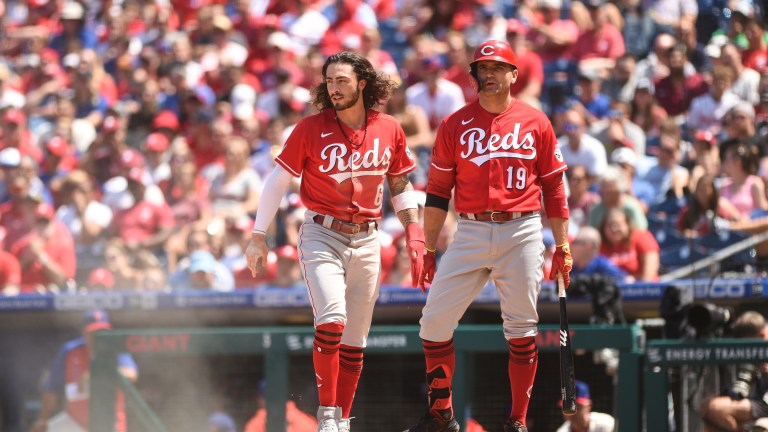 For the first time in his career, veteran first baseman Joey Votto is a free agent this offseason after the Cincinnati Reds decided to not pick up his $20 million option. The former Reds infielder spent over 17 seasons in the big leagues and has been a fan favorite in "The Queen City" during that time, finding himself on numerous franchise leaderboards after 2,056 games.
While a return to the Reds is not out of the question heading into next season, the Etobicoke, Ontario product is already linked to the Blue Jays this winter.
Speaking to Sportsnet's Ben Nicholson-Smith during the general manager meetings earlier this month, Ross Atkins spoke about the Canadian baseball legend, "Incredible player, remarkable career… They're just massive impact in the community if he were to be a Toronto Blue Jay. So definitely something that we would have to consider if that was something he wanted to pursue. Incredible reputation, really dynamic personality, really bright (person) that I know our team would embrace."
The potential fit for Joey Votto on the Toronto Blue Jays
Any time a Canadian finds themselves a free agent, a link can usually be found by Blue Jays fans and the team for a potential fit, even if one doesn't seem possible or in the best interest of club and player at the time. For Votto, this connection does have some validity in what the Jays need (offense, offense, and more offense) but is a bit of a risk considering his past couple of seasons have seen a dip in production compared to the norm.
The Blue Jays could benefit from a left-handed power bat who can slot in at first base.
Brandon Belt, who fulfilled that role last season, is a free agent and likely not returning, leaving a spot open on the roster for somebody like Votto or one of the numerous other free agent "bat-first" types. He also brings veteran experience that could play well in the lineup that boasts Vladimir Guerrero Jr., George Springer, and Bo Bichette, especially since this past season saw the Blue Jays saw a significant drop in production at the plate.
The risk associated with signing Votto has to do with his recent skid at the plate and injury history late in his career.
Since 2022, Votto owns a .204/.317/.394 slash line through 530 at-bats while posting a 93 OPS+ and a .712 OPS. He posted a combined -0.4 bWAR during that span with 50 extra-base hits (25 home runs) with 79 RBIs, which shows the bat still has the ability to hit for power but at the cost of striking out more (above 25% the past two seasons although a smaller sample size in at-bats).
Through the past two seasons, the 40-year-old has suited up in 156 games while dealing with biceps and shoulder injuries that shut down his 2022 season and saw him start late in 2023, with an additional shoulder-related IL stint in August.
Any potential fit would likely come at the expense of playing time for the former Reds infielder, as Votto may not slot as a regular whether it be at first base or the DH spot, but that is not just limited to the Blue Jays.
However, that may bode well for Votto given his recent injury history and potentially help see his bat return to his 2021 form where he posted a .938 OPS with 36 home runs.
A change in role to more of a bench player is one of the reasons the Reds declined his option but given his recent production skid, unless he is willing to sign with a non-contending team, he will likely not be seeing full-time action.
That being said, a change of scenery has done wonders for many players over the years and one-year contracts have boded well in recent memory for the Jays and the player (example: Marcus Semien and Robbie Ray), so taking a chance on Votto for the right deal does make sense in some regard. In signing Votto, that would also see an internal option be denied a roster spot, namely Spencer Horwitz who slotted in at first base and the DH last year for the Jays late in the season.
With the right deal in place, a return back to Ontario could be on the table for the Blue Jays and Votto. Any time a Canadian player takes their talents back North of the border is a special moment for the fans, and if Votto can find his bat once again, not only will the homecoming be a boost for the club, it will also be a strong finish to what may be his last season in the big leagues.