Analysis
Cincinnati Reds Offseason Outlook for 2023-2024 Free Agency
After a solid season where they remained in the race the whole way, it is time for the Cincinnati Reds to make moves to contend, not rebuild.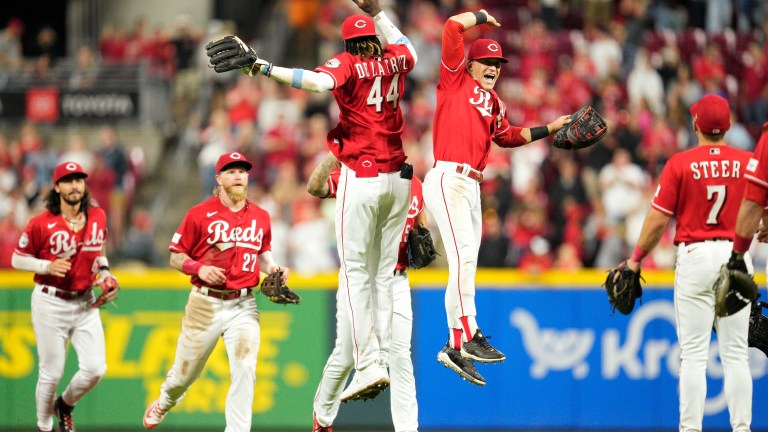 An exciting and unexpected 82-win season left the Reds just short of the playoffs. Far from a disappointment, the youth movement in Cincinnati gave us a glimpse of just how special this team can be going forward. There's no doubt the nucleus of a young core is here, now the front office needs build out a legitimate playoff roster around that core.
Do the Reds have to win a World Series in 2024? No, but the time for excuses is over. Cincinnati is in a rare, yet perfect position for a small market team. Your most talented players are all under team control for several years and you have barely any money committed long-term. The time to spend some coin is now.
Of course, this doesn't mean going overboard but expectations should be adding starting level players at market value. With so little money committed long-term, the Reds can take some risk as long as they are not long-term deal. Let's say, three year or less? Around that. So, let's dive in and see what the Reds could do.
Starting Pitcher
Current Options: Hunter Greene, Nick Lodolo, Andrew Abbott, Graham Ashcraft, Connor Phillips, Brandon Williamson, Lyon Richardson, Ben Lively
Need: Frontline Starter (No. 3 or higher)
A common debate amongst Reds fans, should the Reds add a starting pitcher. Not only do they need to add one, I'd say it is the number one offseason priority for me.
When you look at the current options, how many do you think could be an ace?
How about a top two in a rotation? I'd say Hunter Greene could be, then debate settles in. Nick Lodolo is rarely healthy, Andrew Abbott showed a ton of promise, but struggled down the stretch. Graham Ashcraft was up and down, Connor Phillips is not there yet, and Brandon Williamson is a solid four or five.
When you look at the teams that made the playoffs, especially the ones that advanced, most have at least two frontline starters. A guy you can trust to give the ball to in an elimination game. Adding a pitcher with some experience and success would make me feel much better about this rotation while also helping the depth. Let's be honest, you need about eight starting pitchers to get through the season, adding one to this mix will not be an issue.
I do not see the Reds being in the mix for the very top of the market. If they are, Jordan Montgomery would be my choice but I see him having a lot of interest and landing a bigger deal than most expect. If they go towards a second tier starter, Luis Severino would be a risky deal that could pay off. Injuries have held him back, but the talent is there. The question becomes is he more of a 3-5 starter at this point or could he find the frontline form?
Aaron Nola will get too many years, Julio Urias has legal issues, Blake Snell is going to get 4+ years, Sonny Gray might not be interested, and that leaves us with Eduardo Rodriguez and Marcus Stroman, and so on. This leaves many wanting a similar situation to the Reds acquiring Sonny Gray. Identify a starter, trade for them, and immediately give an extension. Cincinnati has the prospect power to pull of such a trade if they choose to.
Regardless of how they get the starter, the Reds need to find one. They have the capital to trade and they have the contract/money situation to splurge a little bit. Go out and find another starter.
Bullpen
Current Options: Alexis Diaz, Lucas Sims, Fernando Cruz, Ian Gibaut, Tejay Antone, Derek Law, Sam Moll, Carson Spiers, Alex Young others
Need: Competition, short-term deal
Here's where I stand on bullpens. Do you have two guys you feel good enough to put in any high leverage situation? Then you have enough to build around. Alexis Diaz and Lucas Sims are not perfect, but can anchor your bullpen. We all know how up and down, random, and unpredictable relief pitching is. This is why I do not advocate for longer deals for bullpen pieces.
The Reds have should add to the bullpen mix, don't get me wrong. See if you could add Reynaldo Lopez type on a one, maybe two-year deal. I'd say overpay to try to entice them to signing a shorter term deal. Usually, they side with the years instead. If that's the case, sign one around $4-$5 million you feel comfortable about, and bring a few more to spring training.
I do not typically worry too much about bullpens because its a crapshoot. Cruz, Gibault, Law, and Young all were pretty good last year. All were waiver wire, invite to spring training, castoffs one way or another. If you need in season help, bullpen is usually pretty cheap and relatively available on the trade market.
Infield
Current Options: Tyler Stephenson, Luke Maile, Elly De La Cruz, Noelvi Marte, Matt McLain, Spencer Steer(UTL), Jonathan India, Christian Encarnacion-Strand, Nick Senzel, Jose Barrero, Joey Votto (option)
Need: Back up INF, Votto and India decision
Let's go ahead and address the two key questions, starting with "does Joey Votto come back?".
We know his $20 million option will be declined, and that means a $7 million buy out is on the table. I think it is time to move on. His play has declined and at 40 years old, it is likely to get worse.
At some point the Reds will have to move on from Votto and this feels like best way to do it. The last thing I would want to see if him struggling to the point that he is removed from the roster in some capacity. Not to sound heartless, but there's few examples of a team regretting to bring back the 40 year old
As for Jonathan India, well, what really is he? Is he the rookie season, 20 home run, 120+ wRC+, leadoff hitter? Or is he the league average, solid but not spectacular hitter we have seen over the past two seasons. I lean towards the latter. He's not bringing back a significant piece on his own, and he does not have to get moved. I think it's about 70% chance of him being moved as part of a deal.
Cincinnati re-signed local fan favorite Luke Maile, which solidified the offseason moves at catcher. Minor league depth is all they need. This tells me the Reds are trusting in a bounce back from Tyler Stephenson, who has been one of the best offensive catchers until last season.
The infield is somewhat figured out. Elly De La Cruz as short, Noelvi Marte at third, Matt McLain at second, Christian Encarnacion-Strand at first or DH and India as a possible DH. There's room for another bat, but I'll save that for outfield/DH. All I see as a true need is a backup infielder, the Kevin Newman replacement if you will.
Some will say "just put Jose Barrero there". At this point, I would rather sign or trade for someone who has proven more at the Major League level than Barrero. The Reds have given him chances and it hasn't worked out. If you plan to compete, I'd rather something a little more stable than Barrero. Maybe he's moved for a complementary piece.
With Marte, Steer, McLain all being about to play around the infield, it makes things a little easier. Finding another veteran to improve the depth, say like Gio Urshela, would be perfectly fine. Maybe you look for another piece who can play all over like Adam Frazier, a lefty.
Outfield
Current Options: Will Benson, Jake Fraley, TJ Friedl, TJ Hopkins, Nick Martini, Bubba Thompson, Stuart Fairchild, Spencer Steer (UTL), Rece Hinds, Blake Dunn
Need: Righty Bat that's a starter level player
How confident are you in the Reds outfield? I'm very high on Spencer Steer no matter where he plays. TJ Friedl is a good player and I expect him to continue to be a major part of this outfield. Will Benson has a ton of talent and Jake Fraley is a solid option as well. The issue is neither of those two can hit a lefty.
There are ways to shift the roster around and pretty much put out the same product as last year. That's good, but I think there's room for improvement. Adding a righty bat that could DH, maybe play first, and/or platoon in the outfield is ideal.
I keep coming back to Teoscar Hernandez. His production ticked down a bit, but I think his power could really play up in Great American Ballpark. Just for fun, his expected home runs in GABP in 2023 was 40. I'd happily sign up for that. Lourdes Gurriel Jr. would be another player I'm in on.
As high as I am on these young hitters already on the roster, I feel adding someone with experience who's a proven commodity (and isn't 40) is important. We are past the days of seeing if the Bubba Thompson's and Nick Marini's can provide some value. Yes, Blake Dunn and Rece Hinds are intriguing prospects but the plan being to count on them is too high of variance for my liking. You have the luxury of being in a position to afford proven assets, now go get them.
Overview
Unlike recent winters, this one should have exciting moves and investment into winning. I know, some of you will struggle to buy into that narrative, and I get it. Cincinnati has very little money tied up into guaranteed contracts, they have tradeable assets, an a core that will be cheap the next few season. There's no room for excuses.
Your two biggest moves should be a starting pitcher and one more impact bat. Fill out the bullpen and depth, and there's your team. You are banking on a lot of plyers taking their game to the next level, and I think they should. Those players have the talent to be counted on in that way.
Their "window" is here. No more tearing down in hopes of building back up. The Reds are in year one of what looks to probably be a sustainable window, and it's time to act like contenders.