Feature
Seven Predictions for the 2023 Colorado Rockies
The Rockies will not be good, but they will be better than folks expect -- and prospects will see playing time.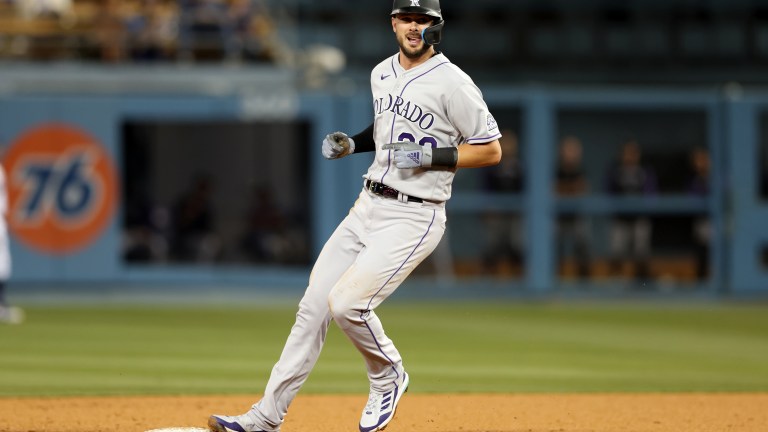 Welcome to the first day of the 2023 MLB season!
For the Colorado Rockies, it promises to be a pivotal year, and with this in mind, here are seven predictions.
Prediction 1: Ryan McMahon Is Good
This year, Ryan McMahon is good — as in Gold-Glove, All-Star good. For years, he's been a defensive wizard with two Gold Glove nominations at third base, and in 2023, his move to second, replacing an injured Brendan Rodgers, will lead to him winning the award.
In addition, McMahon, whose career at the plate has shown steady improvement, will finally find his swing (aided by a banned shift and a new hitting coach). He hit three home runs in Spring Training with a .975 OPS as of Monday. I know: Spring Training stats don't mean anything, but when the Rockies start their season in San Diego, Ryan McMahon will pick up where he left off. (Eno Sarris predicts 30 home runs, but I'm going with 25.)
Prediction 2: Germán Márquez Is Back
In 2022, the former All-Star pitcher had his worst year since his rookie season, finishing with an ERA of 4.95 and an HR/9 of 1.49 and a BB/9 of 3.12. To be fair, Márquez was very bad in the first half of the season (5.47 ERA) and then corrected course in the second half (4.27 ERA).
A number of factors could be to blame: The lockout interrupted his offseason training or maybe just a career spent at Coors Field. Still, Germán Márquez does not want to repeat 2022.
His Spring Training numbers suggest he won't. Granted, Márquez has only pitched 17 innings (in large part because he was benched due to a hamstring injury), but currently, he has an ERA of 0.53, the lowest in Spring Training. That's obviously a small sample size, but as of Monday, he's also struck out 20 batters while walking only two.
Look for him experimenting with a four-seamer arm side to support his fastball and curveball.
Bud Black has selected Márquez as the Rockies' Opening Day starter, which suggests his trust in the ace.
The rest of the Rockies rotation, save Kyle Freeland, probably won't be much good, but Germán Márquez will have teams calling to ask about trades at the deadline. (The Rockies, again, will not trade Márquez even though this marks the end of his five-year contract. The contract includes a 2024 club option.)
Prediction 3: Kris Bryant Finally Hits a Home Run at Coors Field
Okay, this one is easy, but it's worth noting that in the 42 games in which Bryant appeared, none of his five home runs were at Coors.
That changes now.
Bryant has hit four home runs in Spring Training as of Monday with an OPS of 1.085. (Only Elehuris Montero has more home runs in terms of the Rockies roster.)
In the limited playing time he had in 2022, Bryant was effective for the Rockies with a wRC+ of 125, so if the Rockies are to have any chance at all, they will need Bryant to be healthy. While he will see more action in 2023 than he did in 2022 and he will be productive in those appearances, injuries will limit him to around 100 games.
Prediction 4: Injuries Continue to Plague CJ Cron
In 2022, the Rockies' first baseman had an April-July that led to Cron's earning a place on the All-Star Team. After the break, however, Cron struggled with a wrist injury that left him largely ineffective offensively. For the first half of the season, Cron carried a batting average of .298 and was a monster at Coors Field. The second half? He had a batting average of .197.
Clearly, that was last year, and there's no reason to think the Cron would not have healed up over the offseason. However, as of Monday, he has appeared in only 12 Spring Training games due to back issues and hit one home run while striking out 10 times. This year, the 33-year-old first baseman will continue to address injuries, which will lead to 34-year-old Mike Moustakas seeing the majority of playing time at first base (though his health, too, will be precarious).
Look for Michael Toglia to be the Rockies' everyday first baseman by the All-Star Break.
Prediction 5: The Lefty Relievers Are a Bust
Last year, the Rockies had the worst bullpen in baseball (4.85 ERA), and in the offseason, general manager Bill Schmidt set out to address the problem. He made a number of signings, but two notable ones were picking up Brent Suter off waivers and signing Brad Hand. The Rockies have also announced that Ty Blach, who spent last season in the Rockies' system, will be on the Opening Day roster.
So far, the lefties are two for three — Hand currently has an ERA of 9.00; Suters' is 2.57, and Blach's is 0.77. After the season begins, the Coors Effect will kick in, and the results will not be good. (As a reference point, Blach was not effective for the Rockies in 2022 with a 5.89 ERA in 44.1 innings pitched.)
While the lefties will skid, righties Jake Bird, Justin Lawrence, Pierce Johnson, Dinelson Lamet, and Daniel Bard will be solid.
The Rockies bullpen will be bad — but less bad than it was in 2022 — and the team will trade Johnson and Lamet at the trade deadline.
It's also worth noting that the Rockies' preferred lefty, Lucas Gilbreath, underwent Tommy John surgery earlier in the month, so he will miss the season. Gilbreath had become an effective TikTok producer prior to his injury and will TikTok his way through rehab.
Giving Gilbreath a follow would be worth your time.
Prediction 6: Ezequiel Tovar Is a Rookie of the Year Finalist
If you follow the Rockies at all, you know that Tovar's defense is for real.
This year, he shows he can hit, too. Perhaps you remember his first MLB home run from last October?
Why, yes, that's Clayton Kershaw on the mound. In 2023, he shows the hit tool is real. As of Monday, Tovar is slashing .352/.429/.781, and those numbers should improve as he settles into the season.
For a beleaguered Rockies fanbase, Tovar represents a dose of hope.
Prediction 7: Zac Veen Is Promoted to the Rockies by the Trade Deadline
He'll only be 21, but Veen will show he can hit at Hartford and be promoted to Triple-A Albuquerque by mid-May. From there, he'll wait until the Rockies make their trade deadline moves and then arrive in Denver. The move will give Veen playing time and keep fans coming out to games.
Finally, Some Miscellaneous Predictions
The Rockies will not be good, but they will be better than folks expect. Even better, their prospects will see significant playing time. The Rockies' 2023 record will be 73-89.
There will be promising pieces, but the whole won't come together, largely hindered by injuries, marginal pitching, and inconsistent offense. (Drew Romo cannot become the Rockies' starting catcher soon enough.)
The most surprising team: An overlooked Arizona Diamondbacks, who will be Wild Card contenders.
The biggest disappointment: The New York Yankees.
The Padres win the NL West and the NL Pennant.
They'll meet the Astros in the World Series with the Astros going on to repeat their championship.