Analysis
The Rangers Will Put Cristian Javier's Slider to the Test
Cristian Javier dominated the Twins with his slider in the ALDS, but he might need another trick up his sleeve to shut down the Rangers' offense.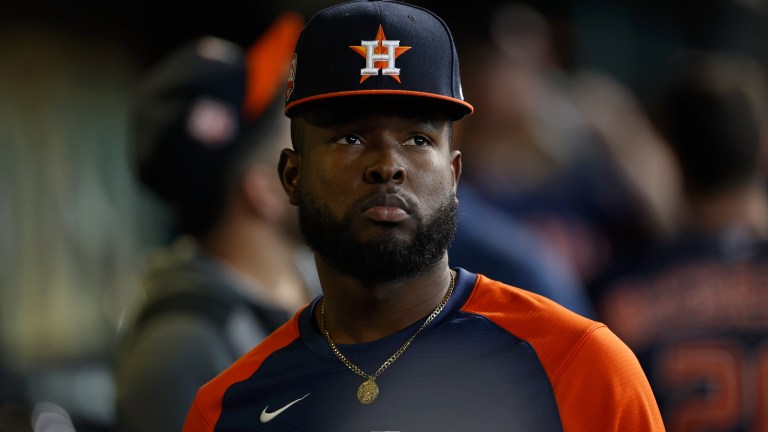 Cristian Javier was electric in the ALDS, holding the Twins scoreless over five innings. Nine of his 15 outs came on the strikeout, and 16 of his 53 strikes were of the swinging variety. Needless to say, he collected the win, the fifth of his postseason career.
By this point, the 26-year-old righty has established himself as something of a playoff sensation. He may be young, but he has already thrown 37.2 postseason innings with a 1.91 ERA. No active pitcher (min. 25 IP) has a lower career ERA in October. The Astros have won in 12 of his 15 appearances, dating back to the 2020 Wild Card Series.
In a few days' time, he'll face, perhaps, his biggest test yet. Javier is on tap to start Game 3 of the ALCS. The Rangers are red-hot. They've scored 34 runs in the postseason, an average of 5.67 per game. No starting pitcher has been safe.
In his lone start against Texas, Javier gave up eight runs in 4.1 innings of work. It was the worst start of his season, and arguably the worst of his career.
Game 3 will take place at Globe Life Field, where the Rangers have gone 50-31 this season. Javier, meanwhile, has a 5.17 ERA and a 5.25 FIP on the road, compared to a 3.71 ERA and a 3.65 FIP at home.
On top of that, there's a good chance Javier will be facing a future Hall of Famer. The Rangers haven't announced their Game 3 starter just yet, but Max Scherzer is the most likely candidate. The eight-time All-Star is coming off an injury and hasn't played in over a month, but at his best, he's one of the greatest pitchers of his generation and a true postseason legend.
Suffice it to say, the stakes will be high.
Cristian Javier's Secret Sauce
The Astros will ask Javier to recapture the magic from his outing against the Twins. Alternatively, they'd take the magic from his scoreless outings against the Yankees and Phillies last postseason, too.
So what's the secret sauce? In all three outings, Javier's slider was buzzing:
| | | | | |
| --- | --- | --- | --- | --- |
| Game | Slider wOBA | Slider xwOBA | Slider Whiff% | Slider RV |
| 2023 ALDS vs. Twins | .000 | .023 | 81% | +2.7 |
| 2022 WS vs. Phillies | .000 | .003 | 63% | +0.6 |
| 2022 ALCS vs. Yankees | .000 | .145 | 30% | +1.0 |
via Baseball Savant
Cristian Javier has a great fastball. That's no secret. Over the past four years, his four-seam fastball has generated +39.9 run value, per Baseball Savant. That's seventh-best in the game.
However, his four-seam isn't so overpowering that he can get by on fastballs alone. Few starters can. Thus, he's at his best when his secondary pitch, a slider, is working for him.
On Tuesday in Minnesota, his slider was the best it's ever been. He threw the breaking pitch 32 times, earning 22 strikes and 16 swings. On those 16 swings, his opponents missed 13 times.
Javier threw 17 sliders outside the zone. The Twins swung at seven, missing every time. They swung at nine sliders inside the zone, missing six, fouling off two, and hitting just one into play – a weak fly-out to left field.
After five innings, Javier had racked up +2.7 run value with his slider. By that metric, it stands as the most valuable pitch of the 2023 postseason. No other offering has topped +2.3 RV, and no breaking ball has topped +1.7 RV.
If Javier is going to shut down the fearsome Rangers' lineup, he needs to keep generating outs with his slider. That doesn't mean repeating his outing from last week (although the Astros would certainly take another gem), but it means locating his breaking ball where he needs it and continuing to challenge hitters with his slider in and outside the strike zone.
However, even that might not be enough. Not only did the Rangers score more runs and hit for a higher OPS than any other team in the American League this season, but they were far and away the most dangerous AL lineup against sliders.
Whichever version of pitch-type run value you prefer, the data leaves no room for doubt: the Rangers feasted on sliders in 2023. Take a look for yourself:
| | | | |
| --- | --- | --- | --- |
| Team | SL RV (Statcast) | SL RV (Pitch Info) | SL RV (Sports Info Solutions) |
| TEX | 20.1 | 28.5 | 32.0 |
| TBR | 13.4 | 14.9 | 21.9 |
| HOU | 0.3 | 2.3 | 8.9 |
| MIN | -3.7 | -0.5 | -3.9 |
| BAL | -13.8 | -2.6 | -6.1 |
| TOR | -21.4 | -19.1 | -9.5 |
| DET | -18.3 | -11.9 | -12.6 |
| CLE | -18.3 | -15.2 | -13.4 |
| BOS | -21.2 | -12.8 | -13.5 |
| CHW | -24.0 | -17.3 | -14.9 |
| OAK | -38.3 | -33.2 | -24.6 |
| KCR | -30.8 | -28.9 | -26.5 |
| LAA | -34.9 | -36.5 | -28.7 |
| NYY | -32.5 | -33.9 | -30.2 |
| SEA | -34.7 | -41.4 | -36.3 |
AL team run value against sliders, via FanGraphs
To make things even harder, this offense has no weak spots when it comes to sliders. The Rangers are among the best teams in the league against sliders in the heart of the zone, the edge of the zone, and outside of the zone. They hit low sliders, and they punish high sliders.
Earlier this year, the Rangers pummelled Javier's own slider, posting a .602 wOBA and producing +2.1 run value. They let half his sliders go for balls and only whiffed at two, while reaching base on four of the five they put in play.
This isn't to say that Cristian Javier should eschew his slider in Game 3. It's an essential part of his arsenal, and after all, the Rangers can crush pretty much every pitch type. They're a great offense, and that's what great offensive teams do.
However, Javier will need to bring his best breaking stuff on Wednesday. If he throws his slider well and locates with precision, he can keep the Rangers at bay. The margin for error is just a whole lot slimmer.
Game 3 of this series could be a major turning point for the Astros. They're already down 1-0, and momentum has shifted in the Rangers' favor. A red-hot Nathan Eovaldi is starting today against Framber Valdez, who struggled in his first postseason outing. Beginning on Wednesday, Texas will have home-field advantage for the next three games.
Taking Game 3, the first at Globe Life Field, would be huge for Houston. Scherzer is a wild card, and surely he won't pitch deep into a game. If Javier can outduel the three-time Cy Young winner, momentum could shift back in Houston's favor.
It's a tall order for Cristian Javier. Still, if his past postseason performance is any indication, he should be up for the task.