Analysis
Potential Trade Landing Spots for Eduardo Rodriguez
One of the top starters available, moving Eduardo Rodriguez for the right package will likely make or break the Detroit Tigers trade deadline.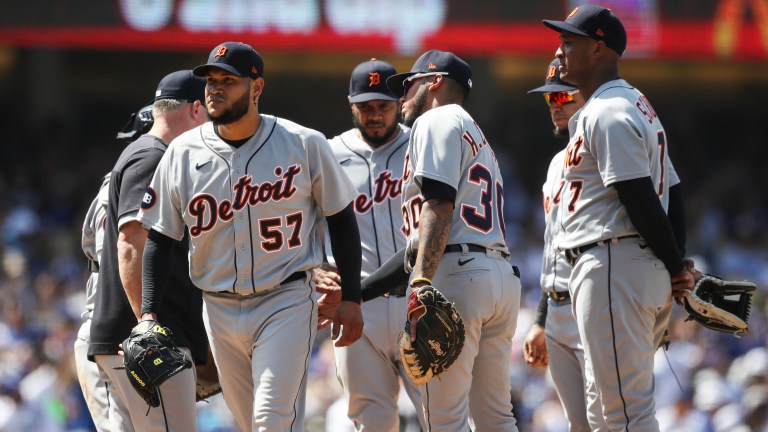 A bizarre 2022 combined with a phenomenal 2023, injury, and contract situation makes Eduardo Rodriguez a puzzling trade piece. The good news for Detroit? There are more buyers than usual and not many pitchers who are more talented on the market. So, let's dive in and see what makes sense as potential landing spots for Detroit's lefty.
Contract

Rodriguez joined the Tigers as part of the 2021/2022 winter spending spree in Detroit, signing a five-year, $77 million deal. A deal that looked potentially worrisome last season, and a steal this season. While things have not gone well for the Tigers, Rodriguez pitched to an All Star level and 2.13 ERA before injury cost him the the month of June.
The starting pitching market at this years deadline lacks front-end talent, pushing Rodriguez into the category for many teams. Shane Bieber, Marcus Stroman, and perhaps a surprise name might be the only pitchers carrying more value than Rodriguez. Even with his 10-team no-trade clause, I would imagine contenders will not make that list.
Sure, Rodriguez is probably being viewed as a rental by most teams. However, there is a risk that comes with acquiring the 30-year-old lefty. Let's say he either gets hurt again or this previous injury hampers his ability to get back to where he was in May. Rodriguez can opt into his contract, and the acquiring team would be on the hook for $18 million in 2024, $16 million in '25, and $15 million in '26. Much more risk than any other "rental", but also more upside.
2022 Deadline Comps
While each deadline is not created equally, let's quickly look back at last season's deadline moves for starters who are closest to the level of Rodriguez.
Tyler Mahle (Extra year on control) for Spencer Steer (#7), Steven Hajjar (#18), and Christian Encarnacion-Strand (#23)
Jose Quintana and Chris Stratton for Johan Oviedo and Malcon Nunez (#10)
Frankie Montas (Extra year of control) and Lou Trivino for Ken Waldichuk (#5), Luis Medina (#10), J.P. Sears (#20), and Cooper Bowman
While not perfect matches, you can see where I'm going here. Mahle had another year of control, and at the time now top 100 Christian Encarnacion-Strand was barley considered a top 25 Twins prospect by some publications. Quintana was the only pure rental on this list, and brought back a top 10 organizational prospect and a young arm with little major league experience, but upside.
We also see teams add a major league relief pitcher to the trade in order to sweeten the pot, as trading a relief pitcher alone usually does not bring back as many high-end options. With the Tigers having a few bullpen pieces that are pitching well, this is a route I could see them taking.
Most Likely Trade Partners
Baltimore Orioles
Level of need: 10/10
SP Options: Tyler Wells, Kyle Bradish, Dean Kremer, Kyle Gibson, Cole Irvin, Grayson Rodriguez (minors)
The need for a bona fide starting pitcher in Baltimore has been evident since they elected to bring in Cole Irvin and Kyle Gibson instead of a bigger name this offseason. I'd imagine Bieber is their first option, but Rodriguez would be a good consolation, and would cost less. This would allow the O's to be more completive this season, while keeping their top prospects available for an offseason trade.
The logjams in Baltimore are real, and more names are coming. They essentially have to move a couple of their young pieces. The names I listed are the cream of the crop, but this system is so deep there's still great value into the teams top 15-25 prospects.
In the limited sample of Scott Harris trades we have to work with, we have seen him target players who are major league ready, and in need of a larger role. That description fits so many names in this Baltimore organization. Harris could add a relief pitcher to this package and sweeten the pot, and try to increase the return.
Potential Trade: Connor Norby (INF)/ Drew Rom (SP) for Eduardo Rodriguez and Jason Foley
Adding Foley, who is under team control through 2028, helps Detroit get a Norby who could slot into their lineup immediately. Rom adds an interesting lefty with great stuff that Chris Fetter can help refine.
Arizona Diamondbacks
Level of Need: 10/10
SP Options: Zac Gallen, Merrill Kelly (IL), Zach Davies, Ryne Nelson, Tommy Henry, Brandon Pfaadt (minors)
The Diamondbacks have been one of the more exciting teams to watch. Their rise to first place has been mostly because of their offense, and not their starting pitching. Even with a healthy Merrill Kelly, a third option is much-needed as none of the current options would be great matchups in the playoffs.
Their system is not nearly as deep as Baltimore's (few are) but they do have several options who are not only close to major league ready, but offer plus upside. I feel like Arizona is the most likely trade partner with Detroit, especially if Baltimore lands Marcus Stroman or Bieber.
Potential Trade: Blaze Alexander (INF) and A.J. Vukovich (OF) for Eduardo Rodriguez
Blaze Alexander is a talented hitter that's ready for the majors without a spot in Arizona and could slot in at third or second for the Tigers. A.J. Vukovich is a tremendous athlete who can play all over the outfield or third with legit home run power.
Texas Rangers
Level of Need: 7/10
SP Options: Jon Gray, Martin Perez, Andrew Heany, Nathan Eovaldi, Dane Dunning, Glenn Otto. Owen White, Cody Bradford
Texas is not messing around. They have talent, young, depth, and enough of a farm system to add. With deGrom out, they could look to add another option especially with Perez not looking like he did last year. We know they are going to be aggressive, and with few holes in the lineup, pushing their chips in on another starter could make them the favorites in the playoffs.
Potential Trade: Justin Foscue (INF), Tekoah Roby (SP), Alejandro Osuna (OF) for Eduardo Rodriguez and Jason Foley
Yet again, another infielder who can reach the majors soon. Foscue has hit at every level and adds another option to a weak infield system. Roby has struggled, but is a 21-year-old arm with enough average to above average pitches to stick as a starter. Osuna is a 20 year-old with enough tools to take a swing on.
Less Likely Trade Partners
Cincinnati Reds
Level of Need: 7/10
SP Options: Hunter Greene (IL), Nick Lodolo (IL), Graham Ashcraft, Andrew Abbott, Brandon Williamson, Luke Weaver, Ben Lively (IL)
The surprise team of 2023, the Reds are in first place and have been more exciting than any point in the last decade. Andrew Abbott has stepped up in a big way to show he's a legit option going forward. With Greene and Lodolo soon coming off injury, having some veteran insurance would only strengthen this team.
Relying on Williamson and Ashcraft, who have had ups and downs, is fine but obviously riskier than Rodriguez. Cincinnati has a deep farm system that could really boost Detroit's, but I still feel this trade is unlikely. The Reds could choose to target a lower cost option, or ride with what they have.
Potential Trade: Victor Acosta (SS), Bryce Hubbart (SP), Austin Hendrick (OF) for Eduardo Rodriguez
The Reds have several exciting, young, infield options and while moving Acosta might be tough, they can afford to do so. The switch-hitting shortstop is a couple years away from making his debut. Hubbart is a lefty starting pitcher the Reds selected in the third round who is not a high velocity arm, but projects well due to his pitch mix. Hendrick is a former first-rounder who's struggled and could use a change of scenery.
Philadelphia Phillies
Level of Need: 7/10
SP Options: Aaron Nola, Zack Wheeler, Taijuan Walker, Ranger Suarez, Cristopher Sanchez, Bailey Falter (minors)
Philadelphia is getting some good innings out of Walker, but he's not ideally your #3. Rodriguez would not only add a top-three pitcher to this rotation, he would add much-needed depth. The Phillies farm system has interesting players, but I am not sure how many would be a fit for Scott Harris and Detroit, pushing this deal to less likely.
Potential Trade: Alex McFarlane (SP), Ethan Wilson (OF) , Orion Kerkering (SP) for Eduardo Rodriguez
McFarlane brings Detriot a pitcher with velocity and stuff that projects well as a starter in the future. Wilson adds another outfield option to the mix while Kerkering is a college arm dominating the minors and rising fast.
Houston Astros
Level of Need: 6/10
SP Options: Framber Valdez, Jose Urquidy (IL), Lance McCullers (IL), Luis Garcia (IL), Cristian Javier, Hunter Brown, J.P. France, Spenser Watkins (minors)
Houston, we have an injury problem. The Astros, even with injuries, still have a top three that can get them to the playoffs. Getting Rodriguez as a rental makes sense as they really only need someone for this season. Rodriguez adds another lefty to their rotation and could make them more flexible in the playoffs if they ever wanted to use Brown in a bullpen spot like they did last year.
Potential Trade: Colton Gordon (SP), Zach Dezenzo (INF) for Eduardo Rodriguez
Gordon is a lefty with a whippy 3/4 slot with plus command and movement that helps him miss bats. Dezenzo is a big infielder with some pop who's really exploded this year and is already in Double-A.
Conclusion
I expect this trade to happen very close to the deadline. Rodriguez is probably the number two or three candidate for most teams and waiting until one of, or both, the top options are moved might force the hand of other GM's to pay a bit more for Rodriguez.
The returns proposed might seem light if you glance at prospect list, but keep in mind we are talking about a rental, who could turn into a three year option if things go south. Detroit needs help to bolster the farm, and Rodriguez is their best trade piece. Rental or not, he's going to bring back good value.