Analysis
The Phillies Need Aaron Nola. But at What Cost?
Re-signing Aaron Nola is a top priority for the Phillies this winter, but what are their alternative options if an agreement is out of reach?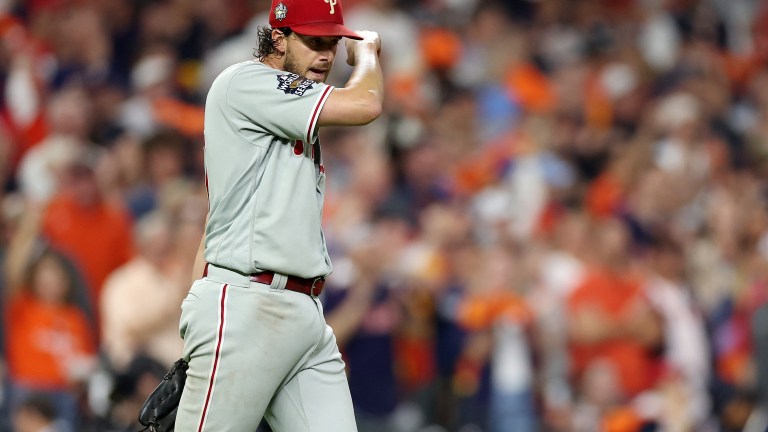 In a move that should surprise absolutely no one, the Philadelphia Phillies extended a qualifying offer to Aaron Nola on Monday afternoon. And in a move that will surprise absolutely no one, Nola will reject that offer sometime in the coming days.
The qualifying offer was set at approximately $20.325 million this offseason. Nola will be looking for at least that much annually on a six or seven-year deal. Indeed, he's surely hoping for even more. The analysts at MLB Trade Rumors think he'll command six years and $150 million ($25MM AAV), as do the crowdsourced predictions at FanGraphs.
Meanwhile, Tim Britton of The Athletic projects an even bigger figure – six years and $180 million ($30MM AAV).
The best recent comparison for Nola – indeed, perhaps the only valid comp – is Carlos Rodón, who signed a six-year, $162 million contract with the Yankees last winter. That deal hasn't worked out so well for New York thus far, but unlike Rodón, Nola is the dictionary definition of durable. For teams in need of a young but proven right-hander with high upside and an equally high floor, Nola is in a class of his own. I'd be pretty surprised if he couldn't reel in a similar guarantee.
In fact, Nola himself reportedly sought an eight-year, $200+ million extension with the Phillies ahead of the 2023 campaign. A number that big is almost certainly out of the question – there's a reason the two sides didn't come to an agreement – but it illustrates Nola's lofty expectations. He's looking to get paid, and as much as he has enjoyed his tenure in Philadelphia, there is little reason to think he'll accept a hometown discount.
And why should he? Over the past seven years, Nola ranks third among all pitchers in Baseball Reference WAR and fourth in FanGraphs WAR. The five pitchers surrounding him on each list are Max Scherzer, Gerrit Cole, Jacob deGrom, Zack Wheeler, and Justin Verlander. Those five have earned an average of $24 million per year over the past seven seasons. None has earned less than $100 million in that time. Nola, on the other hand, has made just $58.4 million in his big league career.
Will the Phillies Give Nola His Money?
Nola will get his money, no doubt about it. The big question is whether or not his long-time ballclub will be the one to pony up the dough.
Needless to say, this team has money to spend. The Phillies have more than $30 million coming off the books this winter, and president of baseball operations Dave Dombrowski knows how to convince managing partner John Middleton to increase the payroll for the right players.
Nola, for his part, is certainly the "right" player. Losing his arm would be a huge blow to the rotation, which has ranked as the best in the NL by fWAR in each of the past two seasons. The starting staff has played a major role in Philadelphia's recent postseason success, and the team certainly doesn't want to take a step backward in 2024.
Yet while the Phillies have the resources and they have the need, they could still be forced to make a difficult decision this winter. It could come down to this: Are they willing to go all out for Nola?
For the right price, a reunion makes perfect sense. Even if it takes a bit of an overpay, Middleton should open up his checkbook. However, there's a chance that the bidding war for Nola's services simply gets out of hand.
Presumably, Dombrowski has a limit he won't go past, even for Nola. If a desperate team like the Cardinals, Yankees, or Dodgers is willing to hand him a blank check, the Phillies might have to say their goodbyes.
Potential Suitors for Aaron Nola
The Cardinals are desperate for starting pitching. They need an ace, and they need one ASAP if they're going to get back into contention while Paul Goldschmidt and Nolan Arenado are still at the top of their game. The Yankees, meanwhile, are in panic mode after finishing 82-80 this past season. Chairman Hal Steinbrenner has said that "everything is on the table" in terms of free agent signings and offseason spending.
The Dodgers aren't ever desperate, and they had another wildly successful season in 2023. That said, their starting rotation is utterly depleted, and they boast immeasurable financial resources. The team is also facing pressure to perform better in the postseason after a couple of early exits.
Nola is the safest frontline starter on the market, and the Cardinals, Yankees, and Dodgers should all be willing to pay a premium for such a pitcher. If they start bidding against one another, the price will only rise.
And those aren't the only potential suitors for the veteran righty. What if the Orioles decide Nola is the big splash they're going to make this winter? They certainly have the payroll space to offer a mega-sized contract if ownership finally decides to start spending after the team's 101-win season.
On the other end of the spectrum, you can never rule out Steve Cohen and the Mets. Some have said they're aiming to return to contention in 2025, but that could change at any moment. If the richest owner in baseball wants a top free agent, there won't be much that can stand in his way.
All this to say, any number of teams could make Nola a ludicrous offer, one that he would be foolish to reject – and one the Phillies might not be willing to match.
Alternative Options for the Phillies
Dave Dombrowski has already started pondering his options. He wouldn't be Dave Dombrowski if he hadn't. He knows the Phillies will need a replacement from outside the organization if Nola does not return.
Presumably, the president of baseball ops will do his due diligence and check in with all the top arms available. However, the best fit – besides Nola – is certainly Sonny Gray.
Outside of Yamamoto and Nola, Gray is the only top-of-the-rotation righty on the market. Considering the Phillies already have two southpaws penciled into the rotation (Ranger Suárez and Cristopher Sánchez), one would think they'd prefer a righty arm.
That said, if they miss out on Nola and Gray (Yamamoto is probably out of the question), they could pivot and go after another lefty. Ultimately, finding the best upgrade available is more important than balancing the handedness of the staff. That means names like Blake Snell, Jordan Montgomery, and Eduardo Rodriguez aren't off the table.
Finally, Dombrowski has the trade market to work with, too. A free agent signing seems more likely – the Phillies are richer in money than prospects – but Philadelphia has the necessary pieces to pull off a blockbuster trade if all the stars align. The number one name to keep an eye on is Corbin Burnes; the former Cy Young winner wouldn't just be a replacement for Nola, but he is one of a scant number of options who could actually be an upgrade.
Philadelphia needs Aaron Nola – or at least an arm of his caliber – in the rotation for 2024 and beyond. However, the team and its fanbase should be prepared to go in a different direction. For the first time in a long time, the Phillies are entering the offseason without a sense of desperation; they're already an excellent team. Thus, they need to make the most of that opportunity and approach the offseason as the top dogs that they are.
If the Phillies want to spend "stupid money" again this winter, I'm all for it. It's not coming out of my wallet. However, they don't need to be a stupid money kind of team anymore, and if they're going to spend a stupid amount of money, they should do it in the smartest way possible. That could mean a reunion with Aaron Nola, but it also means knowing when to walk away.