Analysis
Edmundo Sosa: The Best Trade Deadline Move You Didn't Hear About
Philadelphia Phillies utility infielder Edmundo Sosa has turned out to be one of the very best players dealt at the 2022 trade deadline.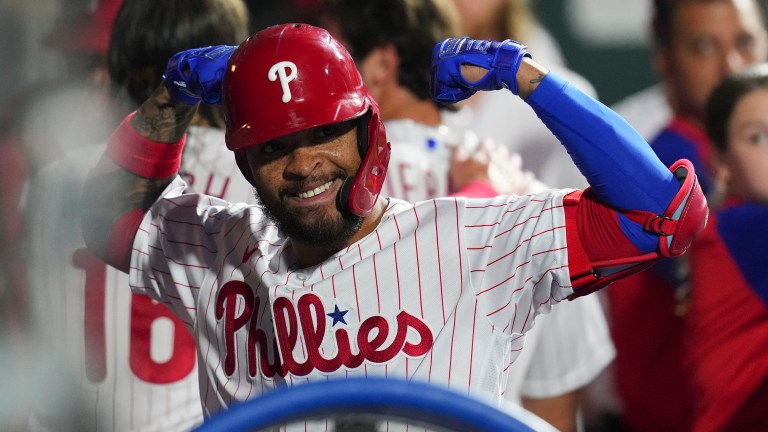 When the Phillies and Cardinals completed a trade to send utility infielder Edmundo Sosa to Philadelphia in exchange for relief pitcher Jojo Romero, it didn't make many headlines.
Why would it?
Two contending teams swapped a bench player for an inexperienced reliever. It certainly wouldn't be the biggest move either team made at the deadline.
In fact, the move left plenty of Phillies fans scratching their heads. Romero was still a promising young reliever, and the team already had several utility infielders on the 40-man roster. Sosa would upgrade the defense to be sure, but would he even get enough playing time to make the deal worth it?
The short answer? Yes.
Indeed, Sosa has been an absolute miracle find for Philadelphia. In 53 plate appearances since the deadline, he is hitting .347/.365/.653. He has been an excellent baserunner too, legging out three infield hits and stealing three bases on three attempts.
As expected, Sosa's infield defense has also been tremendous. In just eight games at shortstop and nine at third base, he has already made a full highlight reel's worth of great plays. While he has only played 76 games this season, he might even be a dark horse candidate for the new utility player Gold Glove Award (depending on yet-to-be-announced playing time requirements).
When Dave Dombrowski pulled the trigger on this trade, he knew he was getting an elite defensive shortstop. The caveat was that Edmundo Sosa might not hit well enough to warrant much playing time. A great glove doesn't do much sitting on the bench.
As it turns out, however, he has been anything but a liability at the plate. He has hit so well as to force his way into the lineup, competing with highly-touted Phillies youngsters Bryson Stott and Alec Bohm for playing time.
By FanGraphs WAR, Sosa has been the second-most valuable position player on the Phillies since the deadline, behind only J.T. Realmuto. He ranks sixth among all NL shortstops, and he has had far less playing time than all five players ahead of him.
There is even an argument to be made that, since the trade deadline, he has been the very best hitter traded at the deadline. Pretty amazing stuff for a guy batting .189 when he was dealt.
What to Expect From Edmundo Sosa Going Forward
Ah yes, the inevitable question when a player is having unforeseen success: can he keep it up?
The simple answer is, well, of course not. Sosa is hitting like Mike Trout right now, and that's not going to last.
But Sosa is showing some promising signs of development at the plate, proving he should continue to be a serviceable big league hitter. He strikeout rate, one of the biggest problems plaguing him in St. Louis, is down. Way down. He is whiffing at fewer pitches and making significantly more contact than he was in the first half of the season.
What's more, he's not just making more contact, he's making better contact too. He is hitting a ton of line drives and he is recording more hard hit balls. His Statcast xwOBA has been steadily rising since he arrived in Philadelphia.
All of these developments, it must be said, have come in a very small sample size, 54 plate appearances can only reveal so much about a hitter and his true talent level. Still, these are great signs, and no one can argue Sosa has merely been "lucky" over the past six weeks.
Edmundo Sosa has proven to be a brilliant acquisition for the Philadelphia Phillies. In limited playing time, he has been one of the best players in the sport since the beginning of August.
His trade may not have made the headlines at the time, but it's making them now. And if Sosa helps the Phillies break their eleven-year postseason drought? You can bet your bottom dollar he'll be making more headlines in the near future.