News
Orlando Becomes Latest City To Make Push for MLB Team
A group called the Orlando Dreamers has put together a pitch for an MLB expansion team in Orlando, Florida.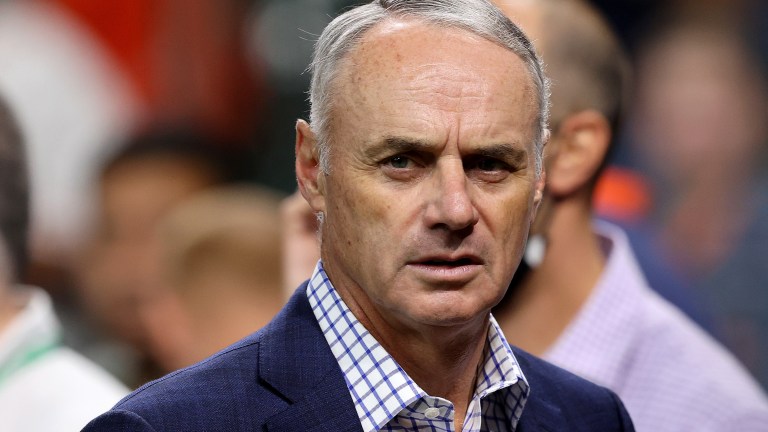 Between Disney World and Universal Studios, Orlando is arguably the amusement park capital of the world. But it's a new kind of park that the city hopes to add that's making waves.
Greg Fox of NBC 2 in Orlando says that MLB "is widely expected to add two more teams next year to begin play in 2028," and says that a group called the "Orlando Dreamers" is hoping to be in the running for said expansion team. While MLB has not publicly indicated a timeline for expansion, commissioner Rob Manfred has previously acknowledged that he would like to expand from 30 teams to 32 at some point in the future.
The Orlando Dreamers pitch is being led by Pat Williams, who was at the forefront of the inception of the Orlando Magic in the late 1980s. Now, Williams has the following plans for a potential park in Orlando:
"A new study commissioned by the Dreamers estimates a new stadium will cost $1.7 billion with a capacity of 45,000 and, next to it, 1,000 hotel rooms…The study further suggests construction will create 20,000 jobs with 25,000 permanent jobs and an annual economic impact for the region of $1.2 billion…Williams proposes using $975 million in tourist tax dollars, according to paperwork obtained by WESH 2 Investigates. County Mayor Jerry Demings would like more of the money to come from private investors."
As Owen Poindexter of Front Office Sports pointed out, Orlando would have to make a strong case as to why baseball would thrive there when the sport hasn't been able to build a consistent foothold in either Miami or Tampa Bay.
The best case Orlando might have is if the Rays cannot secure funding for a new stadium in Tampa; Orlando could present a destination for relocation. The Oakland A's are currently at the forefront of that discussion, but with it increasingly feeling like a matter of when (and not if) that franchise is moved to Las Vegas, the Rays will become the center of attention. Tropicana Field has been home to the Rays since they began play in 1998, and while it was never viewed especially favorably, it feels embarrassingly outdated in 2023.
But even if the Rays were looking for a new city and preferred to go somewhere that would allow them to remain in the AL East, why would Orlando have a leg up on Nashville, Montreal or Charlotte?
The reality is if MLB hopes to get to 32 teams in the near future, there will be divisional realignment of some sort. So whether it would be the Rays franchise moving or a potential expansion team, Orlando would have to prove it could be a better host city than other contenders. Ultimately, if they secure enough public funding for an MLB-caliber stadium, that would put them in a good position. But it just feels hard to imagine a 45,000-seat stadium in Orlando — a city known for tourists coming and going — consistently drawing large crowds. If a 37,000-seat stadium in Miami often feels empty, why would building a much larger stadium in Orlando be wise?