Analysis
No Time Like the Present for an Aaron Nola Extension
Dave Dombrowski's top priority between now and Opening Day should be signing his homegrown ace to a longterm contract.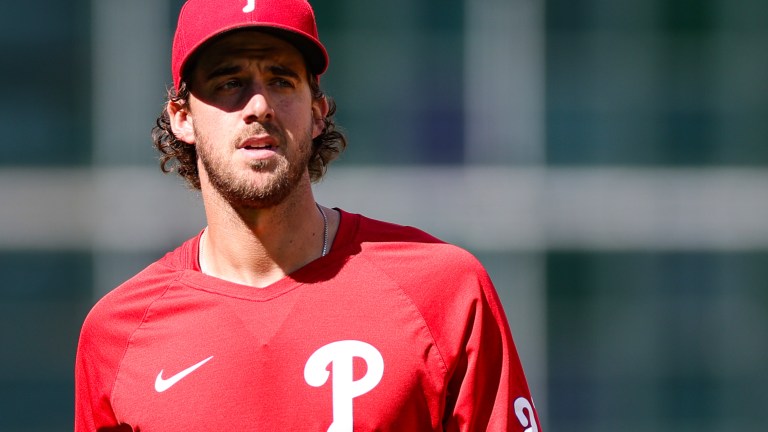 Last week, I wrote a piece under the assumption that the Phillies were done making moves. Not long after, they signed Josh Harrison to a one-year, $2 million contract. In my defense, Dave Dombrowski himself said he was finished until spring training, and Harrison isn't a major signing anyway. Regardless, the lesson I learned is to never presume Dombrowski is finished tinkering, no matter what he says. Going forward, I'll refrain from suggesting the Phillies have wrapped things up on the free agent market.
Nevertheless, if I were the Phillies president of baseball operations, my top priority for the next two weeks would not be the 2023 roster. Instead, I'd be looking toward the future and doing everything in my power to sign Aaron Nola to a long-term extension. Now is the perfect time to do so.
By mid-February, pitchers and catchers will be reporting to spring training. Nola will be focused on his preparations for the upcoming season, and things will only get busier for the front office as April draws near. By the time the season begins, Nola and Dombrowski might prefer to focus on the task a hand, leaving extension talks on the back burner until it's too late. Once Nola reaches free agency, anything can happen.
Therefore, the next two weeks present the ideal window to get this thing done. If the two sides come to an agreement, Nola will enter the 2023 season without the pressure of a walk year or the stress of extension negotiations weighing on his shoulders, and the Phillies can rest easy knowing their ace is here to stay.
Aaron Nola Is Quickly Becoming a Phillies Legend
The Phillies have every reason to want to keep their homegrown ace around. Nola was one of the best pitchers in baseball last season, tossing 205 IP with a 3.25 ERA. He led the National League in FanGraphs WAR while finishing second in Baseball Reference WAR and Baseball Prospectus WARP. In his eight-year career, Nola has a 3.60 ERA and 3.28 FIP with an elite 10.11 K/9.
As fearsome as he is on the mound, Nola is equally durable. The 29-year-old leads all of baseball in innings pitched over the last five seasons, and he has not gone on the injured list since 2017. He averages more than six innings per start.
With his consistent excellency, Nola is quickly becoming one of the greatest pitchers in Phillies franchise history. He currently ranks seventh in strikeouts and ninth in fWAR, with a good chance to climb up each leaderboard in 2023. With a few more years in red pinstripes, he could join the upper echelon of Phillies pitchers that includes Steve Carlton, Robin Roberts, and Grover Cleveland Alexander.
After his dominant performance to clinch Philadelphia a postseason berth last October, the team should be more incentivized than ever to keep Nola around for the long haul.
Free Agents Next Offseason
If the Phillies let Aaron Nola reach free agency, they run the risk of losing their best homegrown pitcher since Cole Hamels. The free agent market next winter lacks top-end talent, and Nola could be the top starting pitcher available.
Obviously, Shohei Ohtani will be the crown jewel of the 2023-24 free agent class, but Nola has a longer history of success and durability as a starting pitcher. Other star pitchers reaching free agency will include Clayton Kershaw, Yu Darvish, and Julio Urías. Kershaw and Darvish will be in their late 30s, and Urías doesn't have Nola's track record or his advanced metrics.
As for position players, the biggest stars will be Ohtani and Manny Machado (presuming he opts out of his deal with the Padres). Nola isn't on the same level as either of those superstars, but he might actually have the largest pool of suitors. Ohtani's market will likely come down to a handful of teams willing to dole out a record-breaking contract. Machado's market will be limited to clubs with an opening at third base. Nola, however, could appeal to almost every contending team. In other words, the Phillies will have some serious competition.
Given his age and skills, Nola should be looking for a deal similar to the six-year, $162 million contract Carlos Rodón signed with the Yankees. However, Rodón entered free agency the same year as pitchers like Jacob deGrom and Justin Verlander, in addition to star position players like Aaron Judge, Carlos Correa, and Trea Turner. Nola, on the other hand, will be one of only a few stars available next winter. That being the case, an intense bidding war could take place and drive up his price.
With that in mind, the Phillies would be fools to let their ace hit the open market, especially when they have a prime negotiating window right in front of them. When the season starts, there will always be bigger fish to fry. When the season ends, anything can happen in free agency. Therefore, the next two weeks are the perfect time to make this extension happen. There's no time like the present.