List
NLWCS: 10 Immaculate Grid answers for Marlins-Phillies
Here are ten players who suited up for both the Phillies and Marlins, the two teams facing off in the NL Wild Card Series today at 8:00 PM ET.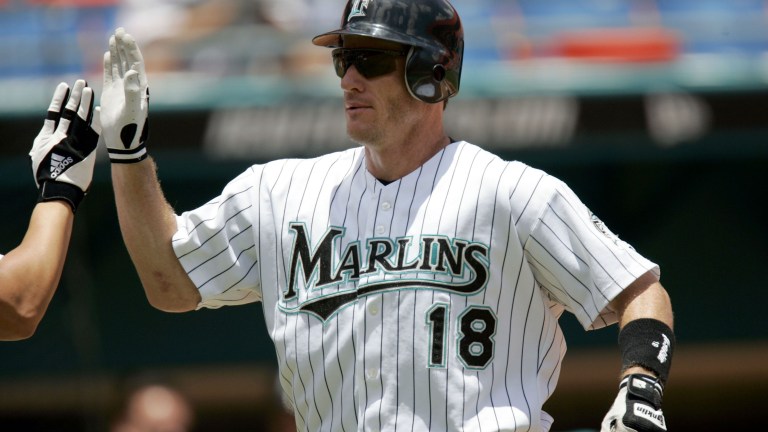 The Philadelphia Phillies are hosting the Miami Marlins in a best-of-three NLWCS that will be played Tuesday, Wednesday, and, if necessary, Thursday at Citizens Bank Park. While the Phillies will be favored in the series, the Marlins actually won the season series 7-6, so this should be an interesting playoff matchup between two NL East rivals.
As we prepare for this Marlins-Phillies postseason series, here are 10 names to keep in mind for potential Immaculate Grid answers if the two franchises overlap in the popular daily game anytime soon.
The Marlins, of course, didn't begin play until 1993, so just about all of these names will be relatively recent players. We're going to assume J.T. Realmuto, Darren Daulton, Juan Pierre and Jean Segura are pretty obvious, so these answers may help to increase your rarity score.
Randy Wolf
The Phillies selected Wolf in the second round of the 1994 MLB Draft, and he spent the first eight years of his career in red pinstripes, making an All-Star Game appearance in 2003. That, you probably remember. What you might not remember is when Wolf went 1-3 with a 5.26 ERA in six games, four of which were starts, for the 2014 Marlins.
Paul Bako
Bako made his living as Greg Maddux's personal catcher with the Atlanta Braves but had less memorable stints with a pair of other NL East teams. Before he ever played for the Braves, Bako appeared in 56 games for the Florida Marlins in 2000, driving in 14 runs. He was part of the 2009 Phillies team that won the NL pennant, homering three times in the final 44 games of his career.
Arthur Rhodes
The well-traveled lefty reliever struggled mightily for the Phillies in 2006, going 0-5 with a 5.32 ERA in 55 games. Two years later, Rhodes was acquired by the Marlins in a mid-season trade from the Seattle Mariners, going 2-0 with a 0.68 ERA in 25 appearances for the Fish.
Greg Dobbs
Between 2007 and 2010, Dobbs was one of the best pinch hitters in baseball for the Phillies. That was part of the franchise's golden era, as the Phillies won four division titles, two NL pennants and a World Series during Dobbs' tenure. Largely a corner infielder, Dobbs would post a .669 OPS over parts of the next four seasons with the Marlins.
Vance Worley
Worley was part of one of the greatest rotations in MLB history for the 2011 Phillies, going 11-3 with a 3.01 ERA and 3.32 FIP over 131 2/3 innings pitched. In his rookie season, Worley shared a rotation with Roy Halladay, Cliff Lee, Cole Hamels and Roy Oswalt.
Despite a strong start to his career, Worley only would pitch in parts of eight MLB seasons. The final of those came in 2017, when he went 2-6 with a 6.91 ERA and 4.90 FIP in 12 games for the Marlins, eight of which were starts.
Benito Santiago
Santiago won the NL Rookie of the Year Award while playing for the San Diego Padres in 1987 and the NLCS MVP as a teammate of Barry Bonds on the San Francisco Giants in 2002. In between those two accomplishments, the strong-armed catcher played for both the Marlins and Phillies.
Santiago hit 24 home runs while playing for the first two Marlins teams in 1993 and 1994. He was very productive in his lone season with the Phillies in 1996, homering 30 times and driving in 85 runs.
Jeff Conine
Affectionally referred to as "Mr. Marlin," Conine was part of both the 1997 and 2003 World Series teams in Florida. He always seemed to get big hits against the Phillies, homering 14 times and driving in 70 runs against them in his career.
Hall of Fame general manager Pat Gillick acquired Conine from the Baltimore Orioles in 2006, as the Phillies looked to end a lengthy playoff drought. As luck would have it, the Phillies finished the season at 85-77, the first team left out of the postseason back when there was just one Wild Card spot per league.
A.J. Burnett
An eighth-round pick by the Marlins out of Central Arkansas Christian High School, Burnett went 49-50 with a 3.73 ERA in parts of seven seasons with the Fish, in which he flashed superstar potential but frustrated almost as often.
Burnett frustrated pretty much all of his lone season with the Phillies in 2014, as he led baseball in losses (18), earned runs (19) and walks allowed (96) during his penultimate MLB campaign.
Plácido Polanco
Polanco had two stints with the Phillies, first coming to the team in the July 2002 trade that sent Hall of Famer Scott Rolen to the St. Louis Cardinals. Polanco came back to the Phillies from 2010-2012. The Miami Dade College product would finish his career with the Marlins in 2012, recording 98 hits in 118 games.
A fun fact about Polanco is that while he spent quite a bit of time playing second base in his career, he had enough time at third base to qualify at the hot corner, where his .983 fielding percentage is the top mark in MLB history, just above Marlins great Mike Lowell.
Antonio Alfonseca
The righty reliever — who had six fingers on his right hand — had two stints with the Fish, pitching in Miami from 1997-2001, and then again in 2005. He pitched for the Phillies in 2007, posting a 5.44 ERA in 61 games during his final season.