Feature
JB Exclusive: Nestor Cortes' Improbable Journey to the Bronx
From being a late-round draft pick, to becoming a fixture in the Yankees rotation, Nestor Cortes has taken his own path to big league success.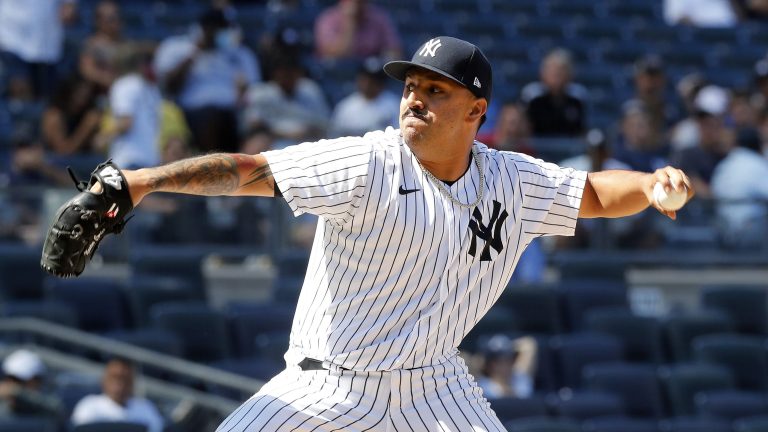 "I started working out because I wanted to feel good and look good living in Miami," Cortes said with a laugh.
Going into his senior year, Cortes had added 10-15 pounds of muscle and when he toed the rubber at a showcase, he was shocked to find out that he had hit 90 mph on the radar gun. Scouts began to approach Nestor's father with questionnaires and all of the sudden, scouts were attending his high school games pointing their radar guns at him.
Even then, it was more scouts just doing their due diligence because of Nestor's video game numbers his senior year of high school. Nestor's head coach at Hialeah High Shane Fulton got the sense that scouts wanted to see him get outs at a higher level before using a draft pick on him; especially because the lefty was more frequently sitting in the upper 80s with his fastball and stood at 5-foot-10, 210 pounds.
One scout felt a bit differently though. Carlos Marti, an area scout for the Yankees at the time, had coached Cortes on his summer team, the Florida Legends. The Legends are a non-profit travel organization that offers players the opportunity to play in the summer circuit and travel to tournaments all over the region. Notable alumni include Anthony Rizzo, Manny Machado, Luke Jackson and Chi Chi Gonzales among other big leaguers.
With the litany of elite players that Marti had come across through the years, something stood out about Nestor. The same thing that stands out today. How in the world was this kid getting so many whiffs from high-end talent on a low-velocity fastball?
"We were facing one of the best summer teams in the country and Nestor was just mowing them down at 85-87 miles per hour," Marti said. "We called it the 'invisi-ball'."
Marti did not have access to Rapsodo or Trackman data, but the swings and misses were undeniable. Beyond that, Marti loved what he saw from Nestor on the mound; he was a bulldog even in front of the biggest of crowds.
Once the spring came back around for Nestor's senior season, Marti wanted to keep tabs on the lefty. Not only because of his Yankees area scout gig, but because he wanted to see Nestor succeed at the high school he used to coach at.
Nestor's profile was somewhat of a non-starter for most Yankees scouts and Marti felt as though he was yelling into the void when he tried to sell his higher ups on the Hialeah native. Marti was relentless with his push to convince the Yankees to take a flier on Nestor late in the draft and he eventually was able to successfully talk them into taking him in the 36th round.
"Nestor did the most unbelievable job with an opportunity you can do," Marti added. "In an organization full of guys throwing 100 miles per hour, he embraced his strengths and versatility. I'm really proud of him."
Debuting at 18 years old professionally, Nestor was stellar from the jump. He would pitch to a 2.57 ERA while striking out more than a batter per inning in nearly 500 minor league frames before getting his big league shot.
The jump from the upper minors to the Major Leagues was a difficult one for Nestor. Bouncing back and forth from the Bronx to Triple-A Scranton, then to Baltimore for a cup of coffee, Seattle shortly after and then back around to New York is not something that just any player can handle. Nestor's tireless attitude and competitive edge kept him afloat and earned him another opportunity with the Yankees last season, which as we all know, he more than took advantage of.
"Nestor is the most competitive baseball player that I've ever coached," former Hialeah High baseball coach Shane Fulton said. "I still see that fearless Hialeah kid on the mound when I watch him pitch on TV. He's just having fun."
Both Marti and Fulton always believed that Nestor Cortes Jr. could be a big leaguer. Maybe even more so than Nestor did himself. They saw the qualities that the Yankees faithful now love him for when Nestor was just a teenager. The craziest part? Nestor has even exceeded the expectations of those who believed in him the most. Not only is he a big leaguer, but he's a damn good one.
As for Nestor, he's still the same guy. Fearless, but humble. Hopeful, but hungry. He's still going to rock his iconic mustache, ride the subway and shake anyone's hand who comes up to him.
"I love being a Yankee," Nestor said. "It's still hard to believe I'm here, but I am going to keep working hard to get better and give my team a chance to win in whatever role I'm in."