Analysis
New York Yankees Offseason Outlook for 2023-2024 Free Agency
After their most disappointing season in years, it's time for the Yankees to make some big moves and reestablish themselves as the Evil Empire.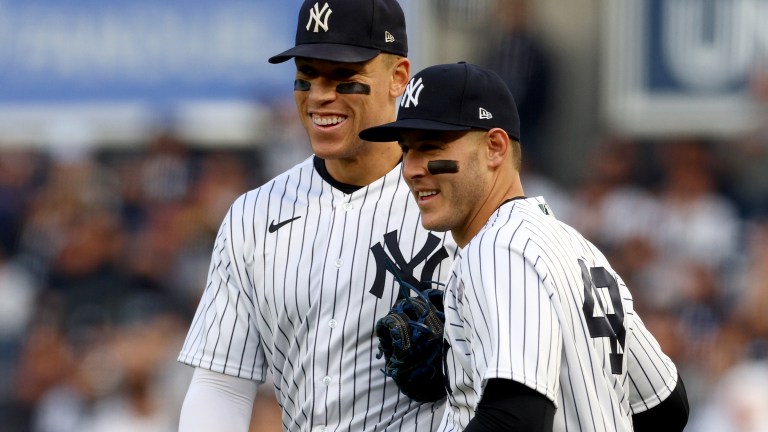 For Yankees fans, it was like watching your ex get married and live happily ever after.
Seeing Jordan Montgomery, Nathan Eovaldi, Aroldis Chapman and Andrew Heaney pose together for a picture after winning the World Series made the Yankees faithful sick to their stomachs.
That moment encapsulated the team's 2023 season.
To speak honestly, it was a failure, top to bottom. Don't just take my word for it. Take Aaron Judge's. I'm guesstimating here, but I'd say the Yankees captain has — on at least five or six occasions – demanded some form of change be made. As recently as last week, he said this after winning the Roberto Clemente Award:
"We haven't made it to the big dance in quite a few years, so we have got some work to do… Especially even on the players' side — we have got a lot of work to do on the players' side. I am looking forward to hopefully getting us back to the promised land with some good ones."
That's what Yankees fans want to hear. But now it's time to put those words into action. Let's dive in on how they should do it.
The Outfield
Current options: Aaron Judge, Giancarlo Stanton, Jake Bauers, Jasson Dominguez, Oswaldo Cabrera, Estevan Florial, Everson Pereira
Need: Left-handed bat(s)
This has been a conversation among fans for two-plus years now. It is BY FAR the team's biggest need, one that reared its ugly head from day one of the season. The Yankees had nobody reliable to play left field. What's more, the lineup was way too right-handed heavy, and it made them easy to pitch to. Just walk or pitch around Judge, and you can have relative success. That has to change next year.
The funny thing about the Yankees (and what makes this blog easy to write) is that you don't have to really dig too deeply to come up with solutions. We've known for months they've inquired about Juan Soto. Those rumors popped up again not too long ago, when Andy Martino reported the two sides (New York and San Diego) have already had a conversation this offseason:
The thought is that Soto, in line to earn roughly $27 million in arbitration, would be available in the right deal. I can't stress this enough: If that were to happen, it would be an absolute game-changer for the Yankees. I don't have to tell anyone how good Juan Soto is. And he fills every need this team has; he's a left-handed power bat, an everyday left fielder, protection for Judge, a young superstar to build around after Judge, and a source of excitement for the fanbase. The list goes on and on.
He could be what Bryce Harper should've been years ago. But would general manager Brian Cashman view this as "too obvious"? As ridiculous as that may sound, it was allegedly part of the reason the team never seriously pursued Harper way back.
That said, there are other options outside of Soto. The best one is probably Cody Bellinger. The former MVP turned his career around with the Chicago Cubs this past year, slashing .307/.356/.525 with 26 home runs and 29 doubles.
Obviously, there are concerns about his ability to repeat that performance. After all, the two-time All-Star was outright bad in 2021 and '22. However, Bellinger and his camp maintain it took that long for him to recover from his torn labrum. One thing he can provide that Soto can't is the ability to play center field, and until Dominguez is back in the fold, that's a critical need.
After Bellinger, things get interesting. Would the Yankees take a flyer on Kevin Kiermaier as a plug-in center fielder? Or would they shoot for a lefty-righty combo of Joc Pederson and Tommy Pham to hold down left field? Might they try to reach overseas and swing for Jung Ho Lee?
Lee, like Bellinger, fills a defensive need with his ability to play center. He's also known as a high-batting average player. He was the KBO MVP in 2022, hitting .349 with 23 home runs and a .996 OPS. This year, he hit .319 with an .863 OPS. The obvious question there is how the skills will translate. For the record, Lee hit .429 in four games for Team Korea in last spring's World Baseball Classic.
But wait…there's more.
Derrick Goold from the St. Louis Post-Dispatch reported on Wednesday the Yankees and St. Louis Cardinals are back to discussing trade possibilities, specifically regarding Brendan Donovan and Alec Burleson. Goold said the Cardinals have interest in Triple-A pitcher Clayton Beeter and reliever Ron Marinaccio.
These two teams talked near the deadline about a possible trade, but nothing ever materialized. I wonder how much of that had to do with Donovan's arm injury and impending surgery? Anyway, at this stage, it's just something to keep in the back of our minds.
Not sure I meant to go on this long about one thing. But like I said, the outfield is the team's biggest need, and it must be addressed.
The Infield
Current options: Anthony Rizzo, Gleyber Torres, Anthony Volpe, Oswald Peraza, DJ LeMahieu, Jose Trevino, Kyle Higashioka, Austin Wells, Ben Rortvedt
Needs: Utility infielder, third baseman, backup first baseman
When I started to write this over the weekend, I initially wrote that "I feel" like this is the least of the team's worries. Then, amid his profanity-laced, hour-long conversation with reporters Tuesday, Brian Cashman said infield was a surplus for the team and that other teams would "try to prey on that." He also said the team needed to figure out what to do with Gleyber Torres, who is going into the last year of his contract.
Those comments made me second-guess myself, starting with the Torres comments. He was great last year at the plate, by far the team's second-best hitter (not a high bar, for the record). But he's boneheaded at times on the bases and in the field. The trade rumors have swirled for years, and it is possible this winter could be the year they come to fruition. Gun to my head, I say he's not traded and extended, but I've been wrong before.
If Torres isn't dealt, you'd think the Yankees' starting infield is mostly set going into the year. Anthony Rizzo, the aforementioned Torres, Anthony Volpe and DJ Lemahieu are the presumed foursome. Oswald Peraza would likely start the year as the utility infielder. And while fans may not be in love with that, it is what it is…for now.
I think there are a few situations that could throw some wrenches into the plan. The first: What if Rizzo is a part of the Soto trade? I truly don't think he will be. I think it's more likely Stanton heads west, for a myriad of reasons. But if he is, the Yankees instantly need to fill that void.
It still seems unlikely, but I think Rhys Hoskins might make some sense if he's willing to take some sort of 'bridge, prove-it' deal. I think Austin Wells could also get a look at first base in that scenario. He proved, at least in a handful of games last year, that his power can play in the Bronx.
Lastly, what about getting Judge a few games at first base? After all, he is 6'7," nearly 300 pounds and coming off a torn ligament in his toe. He'll be 32 years old in April, and getting him off his feet a little bit would probably be a good thing. The Philadelphia Phillies are doing it with Bryce Harper.
The Yankees also could use another Swiss Army Knife type of infielder, somebody like Isiah Kiner-Falefa, who seems unlikely to return in free agency. Ideally, that player could field multiple positions, put the bat on the ball and run a little bit too. Think LeMahieu, but not 36 years old.
Somebody like Kiké Hernandez would make a little bit of sense. So would – funnily enough – Giovanny Urshela. But here's a scenario I think might make the most sense. What if Brian Cashman does make a move to relieve the infield backlog and subsequently (finally) brings in a third baseman worth a damn? I think the most logical candidate in that scenario would be Jeimer Candelario, for every reason discussed back in July. He only slashed .234/.318/.445 in his tenure as a Cub, but he would bring a much-needed switch hitter into the fold, one who totaled 64 extra-base hits last year.
Just as a throw-in here, they're going to HAVE to figure out what to do with the catching combination of Higashioka, Wells, Trevino and Rortvedt. Couldn't tell you how, but you don't have to be in a team's front office to know they can't carry four catchers.
Starting Pitching
Current options: Gerrit Cole, Nestor Cortes, Michael King (maybe), Randy Vasquez, Carlos Rodón, Clarke Schmidt, Jhony Brito, Clayton Beeter, Drew Thorpe, Chase Hampton
Need: Mid-to-frontline starter
We've all seen the damn graphic.
Cole-Rodón-Severino-Cortes-Montas. "The best starting rotation in baseball."
Or so we thought…
What it devolved into was more or less a nightmare, only to be compounded by the guy they shipped out of town last summer finishing the year by standing on the World Series podium.
I'll start by giving credit where it's due. Gerrit Cole was masterful. He will win the American League Cy Young Award. But behind him was a car wreck. Carlos Rodón was hurt then bad. Cortes was bad then hurt. Severino was hurt, then bad, then hurt again. And Montas didn't take the ball until the last game of the year.
The Yankees did get some impressive, perhaps unexpected, contributions. Clarke Schmidt made 32 starts. Jhony Brito and Randy Vasquez showed flashes. Michael King was absolutely brilliant as a starter. Meanwhile, at the minor league level, Drew Thorpe was the Pitching Prospect of the Year at the MiLB Awards Show. I'd go so far as to say that was unexpected.
But this team always has injuries to the rotation, and they're going to need an established arm behind Cole to push them over the edge. With that in mind, who are the options?
The first is the most obvious one – Japanese star pitcher Yoshinobu Yamamoto. The 25-year-old has a career 70-29 record overseas. He went 16-6 this season with a 1.21 ERA and 169 strikeouts in 164 innings. Known for his kitchen sink's worth of breaking balls, Yamamoto is expected to sign a contract worth at least $200 million. We KNOW the Yankees have interest. Brian Cashman wouldn't have taken a flight to Japan if they didn't.
This would be a major addition to the rotation and would buy the Yankees a major insurance policy if Rodón once again underperforms. It would also show a clear prioritization of the starting rotation, something we saw the Texas Rangers do en route to a World Series.
But will the Yankees spend another $225-$250 million on a starting pitcher, when they just spent $162 million on Rodón a year ago? I'm a bit skeptical. There are other teams that need starting pitching, including the one owned by the guy with a giant bag of money in Queens. It wouldn't shock me if Yamamoto ends up in New York, but in a different borough.
There have been some rumblings about bringing Jordan Montgomery back to the Bronx. And for good reason. We saw what he did this postseason — 31 innings, a 2.90 ERA, and a ring. But do we really think Montgomery would come back to the Bronx, especially after he wasn't in the postseason plans last season? Again, I'm skeptical.
I'll throw out a few more names. We've already heard reports the Yankees are interested in bringing Frankie Montas back as a depth piece. I wouldn't necessarily be against it. Before he was hurt, Montas was considered a very good starting pitcher. He was pitching to a 3.18 ERA with 109 strikeouts in 104.2 innings before he was traded to the Bronx in 2022. In 2021, he started 32 games and pitched to a 3.37 ERA, striking out 207 batters in 187 frames. So it's in there somewhere…and it'd be relatively cheap.
I also don't hate the idea of bringing in someone like Nick Martinez. He can do a bit of everything and pitch out of almost every role. Over the past two years with San Diego, Martinez pitched to a 3.47 and 3.43 ERA, respectively. He's also struck out 201 batters in a total of 216.2 innings. Even better, he's a Fordham University guy. He's also someone they could get relatively cheap.
I can tell you this right now: Aaron Nola, Blake Snell and Shohei Ohtani aren't happening. So remove them from your wish lists before you get your hopes up.
Relief Pitching
Current options: Clay Holmes, Jonathan Loáisiga, Lou Trivino, Ron Marinaccio, Albert Abreu, Scott Effross, Ian Hamilton, Tommy Kahnle, Luis Gil, Anthony Misiewicz, Greg Weissert, Nick Ramirez
Needs: Left-handed power arm, depth pieces
As bad of a season as the Yankees had, their bullpen was quite the bright spot. And that bright spot was in spite of the fact they lost two of their most important pieces to start the year in Scott Effross and Lou Trivino. Those two will be back next year, bolstering an already solid 'pen.
Two names not mentioned above are Keynan Middleton and Wandy Peralta, who are technically free agents, but guys I expect to be back in the fold soon. Middleton seemed to love his time in pinstripes, while Peralta has, at times, been the team's most important arm back there. One of those "onions" kinda guys.
Before I get into a few other names, there are some logistical things worth bringing up. If Michael King shifts to the starting rotation, which I believe he will, that opens up an opportunity for someone like Vasquez, Brito, Beeter or Thorpe to become the three-inning, once-through-the-lineup guy. That's a role Nick Martinez could play too, if they were to bring him in.
Now that that's out of the way…
Brian Cashman also said Tuesday he was always looking to add pitching. And say what you want about the organization's assessment of hitters and starting pitchers, but the Yankees have really found some outstanding bullpen arms over the past few years.
I think there are several options – both name-brand and off-brand, if you will – that can help this team. Let's start with Josh Hader. The left-handed power closer has struck out 648 batters in 388.2 career innings. It's exactly the kind of high-octane stuff the Yankees could use from the left side. Not to mention, Holmes' stuff, as sick as it can be, plays much better against righties than it does lefties. Hader would be a helluva 1-2 punch with Holmes, as lockdown as it gets in the late innings. But what kind of contract will he command? Who knows.
I think it's much more likely Cashman digs a little deeper to find some value. Let me throw out a couple of names.
What about Reynaldo López? He can certainly miss bats, posting the highest K% of his career (29.9%) in 2023. Granted, that also came at the expense of the second-highest BB% (12.2%) of his career, but it's still stuff that can play late in the game.
What about Phil Maton or Ryne Stanek? They're two guys who know what it means to get it done in postseason games. Plus, they'd be coming over from the Houston Astros.
I could also see the Yankees taking a flyer on someone like Michael Fulmer. He's a pitcher Cashman has liked for years, dating back to when he was a starter in Detroit. Obviously, he's had some injuries and is a little bit older, but he has a good breaking ball and a lot of experience late in games.
Overview
I've written a lot, so I'll sum it up briefly.
For the first time in a long time, it feels like there's a lot of work to do in the Bronx. There are glaring, obvious needs that must be addressed. Neither Hal Steinbrenner nor Brian Cashman inspired any confidence with their recent comments. If anything, they made the fanbase feel worse. If it's one thing New Yorkers don't like, it's being spoken to like they're stupid.
It seems like the only way to get the fanbase back on board for 2024 is to make the big changes Hal has promised on several occasions, and make them soon.