Analysis
Morning Metrics: June 28, 2021
It was a bad weekend to be a baseball.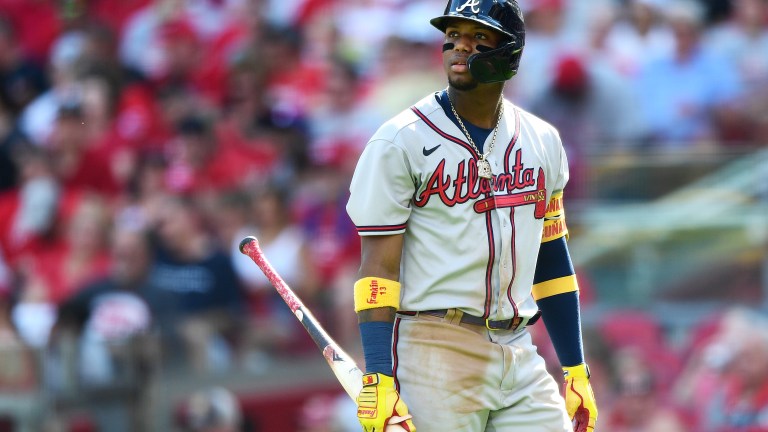 I apologize, but metrics don't run on Sundays. Monday will be a weekend round-up. All the biggest plays and coolest metrics from the weekend. Let's get into it!
Numbers of the Weekend
Pure Flames: Jacob deGrom – 101.3 MPH
Jacob deGrom threw his 27th pitch greater than 101 MPH this season on Saturday. Two relievers, Emmanuel Clase and Aroldis Chapman, are the only pitchers who have thrown more pitches greater than 101, which they do on 10% of pitches. deGrom has thrown 172 pitches greater than 100 MPH this season and all other starters have combined to throw 60 pitches over 100 MPH. Degrom + Morning Metrics = Match made in heaven.
Biggest Bomb: Paul Goldschmidt – 470 feet
Paul Goldschmidt hit his 11th homer as well as the 11th home run greater than 470 feet in all of baseball this season. The ball left Goldy's bat at 108.9 MPH, which was actually the lowest exit velocity of all of the homers greater than 470 feet.
Franchy Cordero, who is now in the minors, had the highest exit velocity on homers greater than 470 feet at 118.6 MPH. Cordero has 202 wRC+ in 113 PA in triple-A and should return to the big leagues for the Red Sox soon.
Taking the Cover off the Ball: Ronald Acuna Jr. – 117.4 MPH
One pitch after almost being hit in the hands for the second time this season, Acuña hit a screaming line drive over the center field fence for a solo shot. Acuña was clearly fired up after the high and tight fastball and unloaded for his second batted ball over 117 MPH this season.
Only eight players have batted balls over 117 MPH and Giancarlo Stanton leads the group with 13 such batted balls. The Braves went on to beat the Reds, but are still 5 games back of the Mets for first place.
Sweet & Sour: Tarik Skubal – 7 IP, 1 ER, 9 K, 21 whiffs, 10 hard hit balls
Tarik Skubal pitched a gem against the Houston Astros, who seem to bully even the best pitchers with ease. Skubal finished the night with 21 whiffs and a very balanced approach. Coming into this start, Skubal went to his four-seamer on 49.2% of pitches and favored his slider 21.8% of pitches as a clear secondary.
Last night, Skubal mixed in four-seamers and sinkers almost equally and used change-up 19% of pitches. It's a really encouraging sign that Skubal feels more confidence in his change-up and does not need to rely on only slider to get whiffs. Unfortunately for Skubal, he's not going to strike out the entire lineup.
He was extremely lucky to escape this outing only giving up one hit on ten hard hit batted balls. Balls in play averaged 100 MPH. Strikeouts get the highlights and the big outs, but soft contact is the backbone of any consistent pitcher.
Panic Button – New York Yankees
The Yankees were once again swept by the Red Sox this past weekend and are now 40-37 and 6.5 games back of the Red Sox for first place. I can almost hear the woes coming from the Bronx in Connecticut.
The most up to date projections from FiveThirtyEight gives the Yanks a 37% chance of making the playoffs with a record of 87-75. Coming into the season, many expected the Yankees to win at least 100 games and that was even being conservative. Now, the Yanks find themselves ranked 14th in team wRC+ and 9th in ERA and fans are beginning to lose patience with their sloppy base running and situational hitting.
The Yanks rank dead last in Fangraphs' base running stat as they rank last in steals and have a knack for running into outs. The Yankees also lead the league in double plays, which are the bane of run scoring. Now is time for Brian Cashman to get on the phone with other GM's and make moves to salvage the season before it completely gets away.
For more on the Yankees struggles, check out Jake Graziano's deep dive into what has gone wrong.
Pitcher of the Weekend – Clayton Kershaw
Pitching line – 8 IP, 13 K, 1 BB, 4 H, 1 ER
Kershaw dazzled in front of a massive national audience on Sunday Night Baseball. As our own Jack McMullen said, "appreciate greatness in real time". It's a privilege to watch vintage performances like this from an all-time great pitcher. Kershaw dominated with the tunneling nightmare of four-seamers up in the zone and sliders low and out of the zone.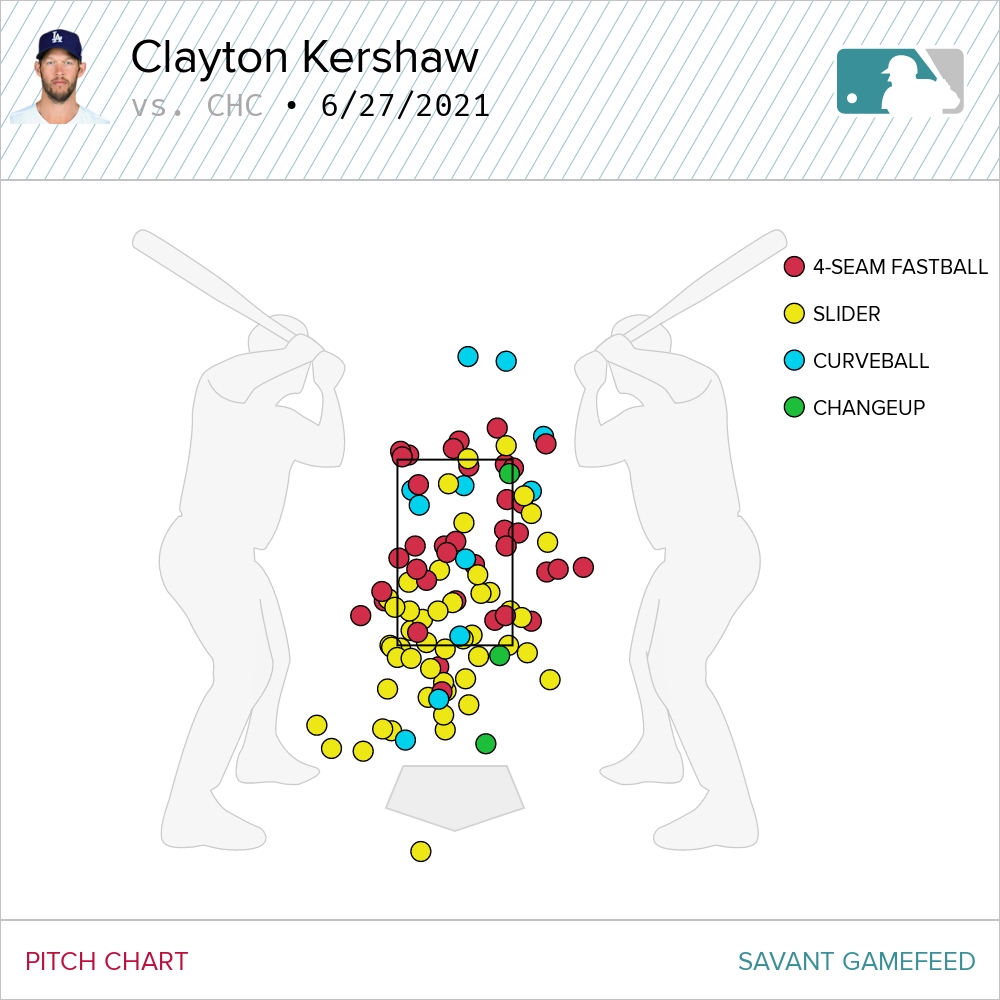 Kershaw was able to rack up 22 whiffs on 33 swings on the slider and he ended the night with 26 total whiffs and 51% whiff rate, which is a season high. Kershaw carries a 2.02 ERA over his last four starts into July, a month in which he has a 1.70 ERA over the span of his career.
Hitter of the Weekend – Teoscar Hernandez
Batting line – 4 for 9, HR , 2B, 5 batted balls > 100 MPH
Teoscar Hernandez had a huge weekend for the Jays as they won two games against the Orioles and continue to battle the Red Sox for first place. Hernandez flies under the radar in a star studded Jays lineup. He hits the ball over 95 MPH, which is considered a hard hit ball, 49% of the time, ranking 25th in baseball. Hernandez averages 418 feet on home runs, which is fifth in all of baseball behind Devers, Soler, Dickerson, and Mercedes. Teoscar is on my wish-list for the home run derby at the moon base in Denver, Colorado.
Can't wait for the full list of participants to come out! Metrics preview of the HR derby will be out when the full list is announced.