News
MLB Injury Report: Yordan Álvarez Among New Players With Injuries
While injuries continue to hit some MLB teams hard, the news for others takes a positive turn for the first time this season.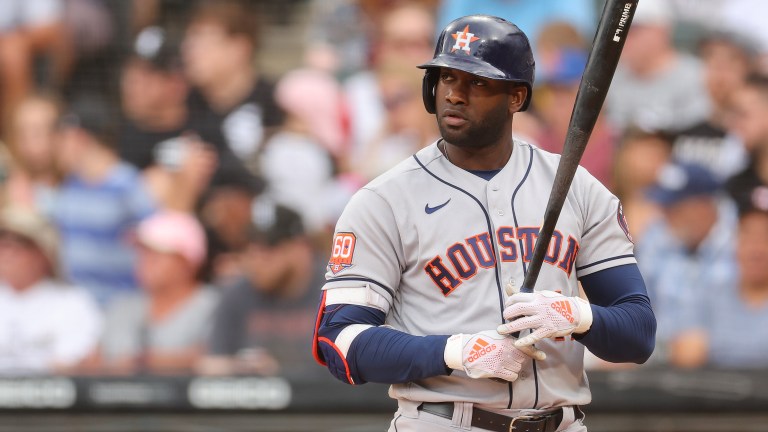 While injuries continue to pummel some Major League Baseball teams, the news for others takes a positive turn. For the first time this year, it doesn't seem — at least to me — like this week's injury report is all gloom and doom!
Several superstars are rehabbing and will be back in their respective lineups sooner as opposed to later. On the other hand … there are the Yankees.
Let's take a look at this week's injury report.
Yordan Álvarez leaves the Astros' road trip
Houston, we have a problem…maybe.
Astros slugger Yordan Alvarez didn't join his teammates in Tampa Monday, but instead was sent back to Houston for tests on what the Astros are calling a sore neck.
Manager Dusty Baker said he's been dealing with the problem for about a week, and said he was hopeful his big lefty wouldn't need a stint on the injured list.
Funny thing about this injury.
It didn't look like it affected him at all over the weekend, when he smashed two go-ahead home runs and a game-tying single against the Atlanta Braves.
If that's what he can do with a bad neck, imagine when it's not cranky.
Overall, Alvarez is slashing .253/.367/.533 and is second in the league with 27 RBI. The underlying numbers are a bit of a mixed bag, though. He currently sports a 148 wRC+ and a 12.2% walk rate. On the other hand, he has the highest strikeout percent of his career to start 2023 (27.8%) and is only hitting .186 off breaking balls, with 34.5% whiff rate.
So, maybe a few days off will help. Astros are back home on Friday. We'll see where he's at then.
In the meantime, Kyle Tucker has slid into the 3-spot, while rookie Corey Julks has taken over in left field.
On a positive note, Michael Brantley started a rehab assignment at Triple-A Sugar Lan and could be back in early May.
Oh no, O'Hoppe!
Man, the Angles are snakebitten on so many different levels.
Now, their promising rookie catcher, Just Baseball's #20 prospect Logan O'Hoppe is expected to miss 4-6 months with a torn labrum in his left (non-throwing) shoulder. He'll need surgery to repair it.
It looked like he initially hurt himself against the Red Sox, but made things worse after he went to the ground in pain after this swing.
O'Hoppe's been not just a great story, but also a real difference maker for the Halos. In 16 games to start the year, he ranked seventh among all MLB catchers in batting average (.283), fourth in slugging percentage (.547), tied for second in home runs (4), tied for fourth in runs batted in (13), fifth in weighted on-base average (.377), and fifth in wRC+ (141). There was big potential in his bat.
Now, it's likely we don't see him again all year, a tough break for this Angels team that needs all the talent it can get. Chad Wallach and Matt Thaiss have seen time behind the plate since O'Hoppe went down.
And update on the list of injured Yankees
Let me talk to the Yankee fans really quickly. I know nobody cares about your problems. But I just want you to know that I feel for you.
Carlos Rodón had another back setback. He went for more tests. Aaron Boone said nothing is wrong, structurally. Then he played catch on Sunday.
Luis Severino, dealing with a right lat strain, threw a couple innings of live batting practice Monday. He's scheduled to throw again Thursday.
Jonathan Loáisiga, dealing with right elbow inflammation, played catch without problems Monday. He's weeks away from a rehab assignment.
But wait, there's more.
Per Brian Hoch, Tommy Kahnle, who has a biceps injury, is traveling with the team to Texas this weekend. Boone says he's doing well, and is scheduled to throw from a bullpen mound while in Texas. He's on the 60-day IL, so not eligible to return until May.
Lou Trivino also had a setback last weekend. While rehabbing in Tampa, he "felt discomfort" in his right elbow. So, he's been sent back to New York. That sounds really bad.
The biggest update on Giancarlo Stanton, isn't even about Giancarlo Stanton. He's still out, nursing a strained hamstring. But the update is about Aaron Judge, who's hitting .152 (5-for-33) with one homer, three RBI, and 12 strikeouts since Big G hit the IL.
There is one bright spot for the Yanks. Harrison Bader is progressing on his rehab assignment. He was just transferred to Triple-A Scranton, and the speculation is that he'll be roaming centerfield for the Yankees starting May 5 against the Rays.
Blue Jays hit with first string of minor injuries
From one AL East team to another.
The Toronto Blue Jays have October aspirations. They're young, talented, deep, confident and have gotten off to a very solid 15-9 start.
But this week, the Jays got clipped by a few injuries.
Chris Bassitt left his start Monday against the White Sox with lower back tightness. Adam Cimber hit the IL with a rhomboid strain. That's a muscle between the middle of your back and shoulder. And, Santiago Espinal hasn't played since he took a 98 mile-per-hour fastball from Gerrit Cole off his hand. The X-rays are negative, though.
These may not seem like the biggest, or most concerning, injuries in the league. And they probably aren't. Bassitt, who's chucked four straight quality starts, has said he doesn't plan to miss any time. But, it's definitely worth monitoring.
For the time being, they've recalled hard-throwing righty and former #1 prospect Nate Pearson. The next time he steps on a big league mound, it'll be the first time since 2021.
Now, For the good news
I told you this wasn't all gloom and doom. Bring on the rehab assignments!
Michael Harris II (back) passed his final tests and is ready for a rehab assignment. He starts Wednesday, and while there's no timetable, that's great news for the Braves.
Sandy Alcántara, who didn't make his last start because of biceps tendinitis, is cleared to pitch Wednesday against the Braves. Phew! Marlins may've dodged a huge bullet.
Justin Verlander (teres major strain) threw three innings of a simulated game with no problem Sunday, and he's ready for a minor league rehab start this week. If that goes according to plan, it could mean JV's NYC debut is coming soon.
Tim Anderson (knee) had "impressive batting practice sessions" while the Sox were in Tampa over the weekend, and appears close to a rehab assignment.
Ladies and gentlemen, Bryce Harper is THROWING.
Look!
He's been making major strides as he continues to work back from Tommy John surgery. We've seen him taking tons of batting practice and taking grounders at first base. He has a follow-up appointment in May, and if he gets good news, it will be full speed ahead trying to get back in a Phillies lineup that has desperately missed him.
Tyler Glasnow (oblique) threw 22 pitches from the mound Monday. Apparently, there was no issue. He's looking at a mid-May return.
One more, I promise.
Two weeks after straining his left hamstring, Corey Seager is already back to performing baseball activities. The Dallas Morning News reported Seager played catch and took some swings Monday in Cincinnati for the first time since he suffered the hamstring injury.