News
MLB Injury Report: Ryan Helsley's Injury Latest Cardinals' Setback
A forearm strain to the Cardinals' closer adds another blow to what's been a disappointing season for one of the World Series favorites.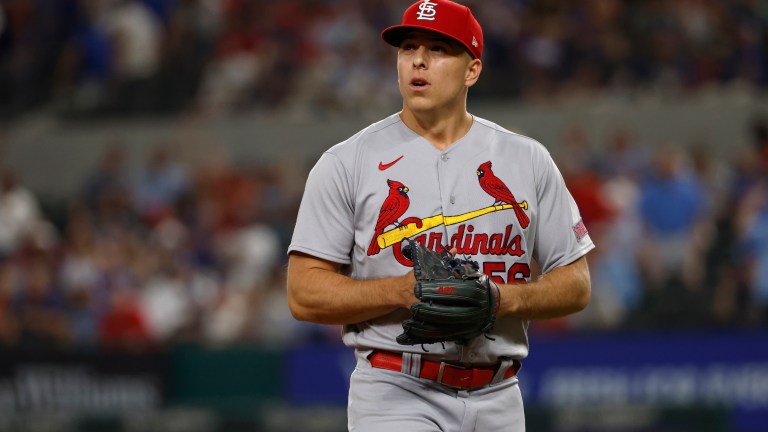 Welcome to June, the time of the year where baseball finally reigns supreme.
The NBA Finals are over, the Stanley Cup has been lifted and NFL training camp hasn't quite started yet. This is where the Boys of Summer earn their nicknames.
But as the days — and the season — grow longer, the injuries pile up.
Let's check out this week's injury report.
'Hels No' – Ryan Helsley injures throwing arm
It's been truly a season to forget for the St. Louis Cardinals.
The bad starting pitching, the injuries, the Willson Contreras saga, the list goes on and on.
It's all bubbled together for a dismal 27-41 record, the worst in the National League.
And the news hasn't gotten much better of late.
Earlier this week, the Cards placed star closer Ryan Helsley on the IL with a strained right forearm. Per John Denton, Helsley's elbow pictures came back clean. Still, he'll be on a 10-day 'no-throw' plan, before starting a rehab program.
In 2023, Helsley's been – for the most part – as good as advertised. He's struck out 33 batters in 25 innings. His 'under-the-hood' stats all look good too – among the league's best in xBA, xSLG, xWOBA, xERA and K%, though his K% is down roughly seven percentage points from last year (39.3 to 32.0). the Whiff Rate on all his pitches is down too, but not enough for us to look at the numbers and say, "WOAH."
With the fireballer on the shelf, Giovanny Gallegos naturally slides into the closer role. But this injury also means more responsibility for Jordan Hicks, Chris Stratton and Drew VerHagen. I wouldn't say any of the three have truly inspired confidence, although Hicks did have 10 consecutive scoreless appearances before back-to-back rough outings against Cincinnati.
Sticking with the Cardinals for a second, manager Old Marmol said Lars Nootbaar (back) is finally starting to feel better, and said he took BP and did some sprints before Monday night's game. At this point, he'll need a rehab assignment before joining the team.
Where's Tyler O'Neill?
Cue the Firesale? – Chris Sale's injury could deal fatal blow to the Red Sox's season
Like the Cardinals, the Boston Red Sox's season is on the brink.
They're 33-35, last in the AL East, and more than likely have an insurmountable hill to climb to get back in the playoff discussion.
That mission got that much harder Friday when Chris Sale was placed on the 60-day IL with a stress reaction in his left scapula. Add this injury to the long list of setbacks for Sale, ones that likely cost the lanky lefty his shot at Cooperstown.
For folks who want to see what that injury really is, look here.
To recap, Sale had Tommy John surgery in March 2020, which knocked him out until August of '21. Then he suffered a stress fracture in his rib cage, a broken left pinkie finger and a broken right wrist. Those three injuries limited him to two starts last year.
The awful part is, he came into camp healthy and was just starting to find his form, too.
After a rough April, he bounced back with a very nice May, striking out 30 batters and walking just 4 in 26 innings, pitching to a reminiscent 2.42 ERA. In his last start, he was pumping 96 mph on his fastball, before it all drastically fell apart.
Sale's injury leaves the Sox in an interesting predicament. The rotation now consists of James Paxton, Garrett Whitlock, Tanner Houck, Brayan Bello and Kutter Crawford. Three of them (four, if you want to include Whitlock) are still finding their ways as starters in the big leagues.
Bigger picture though, the playoff chances are slipping fast. Do they take a serious look at trading Adam Duvall, Nick Pivetta or James Paxton? What about Justin Turner, who they signed in the offseason. Alex Verdugo sureeeeeee would look good in pinstripes (this is never going to happen).
Disorder in the Court – Judge's freak injury sparking anxiety in Yankeeland
Speaking of the Pinstripes, last week It was all going according to plan.
Anthony Rizzo was back in the lineup. Giancarlo Stanton and Josh Donaldson were finally off the IL. Jose Trevino was back to his rightful place behind the dish.
And what happened? It fell apart again for the Yankees.
One swift kick to a right field gate sent Aaron Judge to the IL with a sprained right big toe. From what people have said, it seems like his injury is similar to turf toe in football.
That injury is now a week old, and if there were any questions about his validity as the American League MVP, I think they've been put to rest.
The offense is ABYSMAL without him, sporting the fourth-worst team on-base percentage. The three teams behind them are the Tigers, White Sox (who they just lost two out of three games to) and the Royals. And while the injury itself isn't news anymore, the news about the injury is why I included him in this week's report.
Neither the Yankees or Judge seem to have a timeline. Judge actually said himself, "I don't think there's a need for a timeline."
Yankee fans already know what they're going to get from Aaron Boone. But isn't funny even Yankees owner Hal Steinbrenner answered a few questions about the situation.
The mystery around the injury is curious, if not alarming, especially as the team is 4-4 without him. Doesn't help that DJ Lemahieu, Stanton, Rizzo and Donaldson went 6-for-66 during the last homestand. Credit where credit is due though. The Judge-less offense took it to Max Scherzer Tuesday night.
Two positives – Carlos Rodón and Harrison Bader are close to rehab assignments.
Two Twins Back on the IL
I present to you, the AL Central, where the division leader is one game over .500.
As it stands, the Twins are two and a half games up on the Guardians, but it's not like their season has been completely smooth sailing. They're just 5-6 in June, have been up-and-down as a whole so far this season, and have been hit hard with injuries to key players.
Speaking of key players, Carlos Correa is definitely back.
Back to the injuries.
Both Jorge Polanco and Caleb Thielbar re-aggravated their respective injuries this week, Polanco his hamstring and Thielbar his oblique. Polanco was reinstated from the IL on June 1, after he missed 12 games with the same injury. Thielbar had been reinstated just two days before he went back on the shelf.
When our Fantasy Baseball Holds God first went on the IL, I wrote here, "But without Thielbar, that leaves rookie Jovani Moran as the lone lefty. Moran will undoubtedly get some more high-leverage looks, but he's not the only arm that needs to pick up the slack. The Twins will need Emilio Pagan and Brock Stewart to toss some zeros in the meantime."
This is still the case, except Emilio Pagán has already blown a lead in a pretty big spot, courtesy of Cavan Biggio.
As for who replaces Polanco, it'll likely be another opportunity for Edouard Julien. He got the majority of playing time the first go-round and there's no reason why things should be any different now. So far in 2023, he's slashing .260/.353/.493 with four home runs.
Liam Hendriks' season takes another turn
Liam Hendriks has been, without a doubt, the best story of the 2023 season.
Liam Hendriks was on the mound in a Major League Baseball game roughly six months after he announced he was diagnosed with non-Hodgkin lymphoma. It's an inspirational, and borderline unbelievable, recovery story.
But Hendriks' season quickly took another turn Sunday, when the White Sox placed him on the IL with elbow inflammation. White Sox GM Rick Hahn said Hendriks' injury presents similar to his flexor strain from last season, but said it's also too early to know for sure.
His injury comes as the Sox are trying to dig their way out of the mud and back into the conversation in the AL Central. They're currently in third place at 29-39, but just 5.5 games out of first. They'll continue to turn to Kendall Graveman in the ninth inning. So far in 2023, he's thrown well, pitching to a 2.86 ERA and 0.95 WHIP. The underlying numbers aren't bad either.
However, he blew a save against Miami Sunday and almost blew a save against the Yankees Thursday, had Gleyber Torres' shot down the right field line stayed fair.
If he can keep the ship steady, and the White Sox can keep pace, getting Hendriks back a second time will be a major pick-me-up.
Other Injury Updates
I want to throw these in here, because the last time we talked was much too long ago.
Here a few other injury notes and updates.
Cedric Mullins (groin strain) has started baseball activities for the Orioles.
Max Fried (left forearm) has yet to throw off a mound. Manager Brian Snitker said his flat ground sessions are going well, but the Atlanta ace isn't ready to take the next step…yet.
Julio Urías (hamstring) was set to be activated for Sunday's game against the Phillies, but he suffered a setback after a Thursday bullpen session. He'll be limited to flat ground throwing for the time being and will now need a rehab assignment before he rejoins the big club.
Pete Alonso (left wrist) says he expects to be out around 3-4 weeks. In the meantime, the Mets have signed 2020 home run champ Luke Voit.
Cody Bellinger (knee) played first base for Triple-A Iowa on Tuesday. He went 0-for-3 with a strikeout. His teammate Justin Steele (forearm) threw a bullpen session Tuesday night as he continues to progress. He's tracking towards being able to return when first eligible, Saturday against the Orioles.