News
MLB Injury Report: Aaron Judge Goes Down, Adds to Yankees' Long Injured List
The New York Yankees' captain was among the latest Yankees to hit the IL, while the Astros deal with injury issues of their own.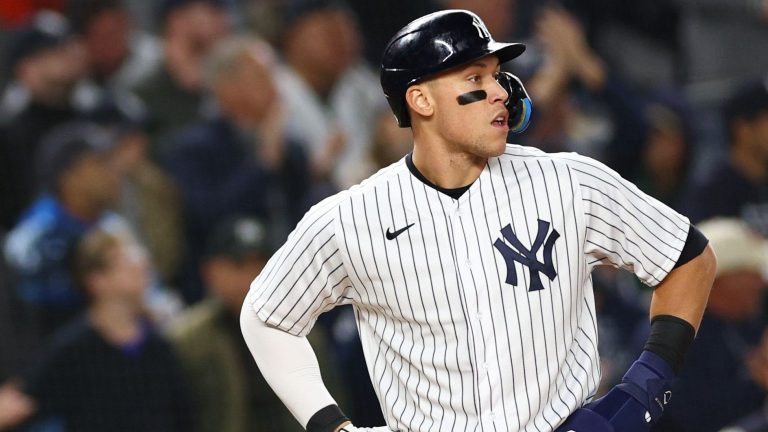 Welcome back to the weekly MLB injury report, or as it has become known as lately, the "update on all the Yankee players who are injured" report.
While Aaron Judge isn't the only player to suffer from an injury, he is the most notable.
So let's start there, shall we?
Court Is Adjourned: Aaron Judge Out of Yankees' Lineup
We all watched. We all held our breaths. We all let out a collective sigh of relief.
And then, it happened anyway. Aaron Judge landed on the injured list.
It all started last week, on Judge's birthday as a matter of fact, when (for whatever reason) the reigning American League MVP decided to take off for third base in a 5-0 ballgame. He was thrown out and immediately got up holding his right hand.
He went down into the clubhouse, emerged minutes later and stood on the top step of the dugout. The camera cut to him constantly, and each time there he was, shaking and squeezing that hand. He was not removed from the game, took the rest of his at-bats, and the Yankees beat the Twins 12-6.
Case closed, right? Not exactly.
Judge was removed from the next game after this swing
It looked like he aggravated whatever hand injury he suffered on that slide. Turns out, he left the game with right hip discomfort. We all knew where this was headed.
Sure enough, Judge hit the IL Monday with a hip strain, leaving an already-anemic Yankees offense without its best run producer. By my count, Judge marks the thirteenth Yankees player to hit the IL this season.
To that point, it was announced on Tuesday that reliever Lou Trivino needs Tommy John surgery and will miss the rest of the year. Manager Aaron Boone also said Jonathan Loáisiga had successful surgery to remove a bone spur in his right elbow and won't throw a ball for three-to-six weeks. Finally, Boone said Carlos Rodón "can't get over the hump" with his back injury.
This has been a ho-hum start to the year for the Yankees, who are now 15-15 and in sole possession of last place in the AL East after Monday's borderline gut-wrenching home loss to Cleveland.
At least Harrison Bader was reinstated on Tuesday night.
Un-Cleared for Landing: José Urquidy, Luis Garcia Add to Astros' Pitching Problems
When I wrote about Yordan Álvarez's neck injury last week, I said, "Houston, we have a problem…maybe."
I feel like we could turn that maybe into a definitely.
On Monday night, Luis Garcia left his start against the San Francisco Giants after just eight pitches. The team called it "elbow discomfort."
This is what it looked like.
Scary for a team who just lost José Urquidy 24 hours before that. He left his Sunday start and was placed on the IL with "shoulder discomfort."
He talked to reporters Tuesday afternoon. Here's a piece of that:
He said this injury isn't similar to the one he suffered in 2021. It's in a different area near his armpit and is nothing more than inflammation. In Urquidy's place, the Astros called up Brandon Bielak, who was forced into the game Monday when Garcia got hurt. He threw four innings, giving up two hits, three walks, and two runs, while striking out six batters.
In Garcia's place, the Astros have called up left-handed pitcher Matt Gage.
This is now three of the Astros' five best starting pitchers on the IL, if you include Lance McCullers Jr., and it's a pretty big deal for the reigning World Series champions. What was their obvious strength has now become a glaring uncertainty behind Framber Valdez and Cristian Javier.
So where do they turn?
Bielak seems like one obvious choice, but behind him are question marks. They could try J.P. France or Forrest Whitley. France has had a nice start to his 2023 season, striking out 26 batters across 19 innings while pitching to a 2.33 ERA. Whitley has been much more up-and-down, pitching to a 6.00 ERA across five games.
Will the Astros have to go outside the organization to find starts?
Ranger Danger: Jacob deGrom Out Again
It's hard to have much to say here.
It happens every season. Jacob deGrom dazzles for a few starts and then gets hurt.
We already got our first scare a few weeks ago, when he was pulled from his start four innings and 58 pitches into a no-hitter. The Rangers called it "right wrist soreness" and said he left the game as a precaution.
This time, it seems more worrisome.
He left his last start with elbow inflammation and was put on the 15-day IL.
This is a big blow for the first-place Rangers, who've somehow managed to start 17-11 without their star shortstop Corey Seager and ace deGrom. Seager is already back to performing baseball activities but is still probably a couple of weeks away from returning from his strained hamstring.
In deGrom's place, Dane Dunning came in and gave up three hits and two runs over 3.1 innings. He's had a nice start to the year in long relief. The team also called up Terry Rodriguez, but nobody can replace deGrom. He's the best pitcher in baseball when he's on the bump. It's just a shame he'll always go down as a "what-if," perhaps the greatest "what-if" of all time.
Hopefully, he avoids a long stint on the shelf. The game needs him.