Analysis
The Marlins Need Sandy Alcantara to Return to Cy Young Form
He's still pitching deep into games, but the Miami Marlins need more from reigning Cy Young Sandy Alcantara.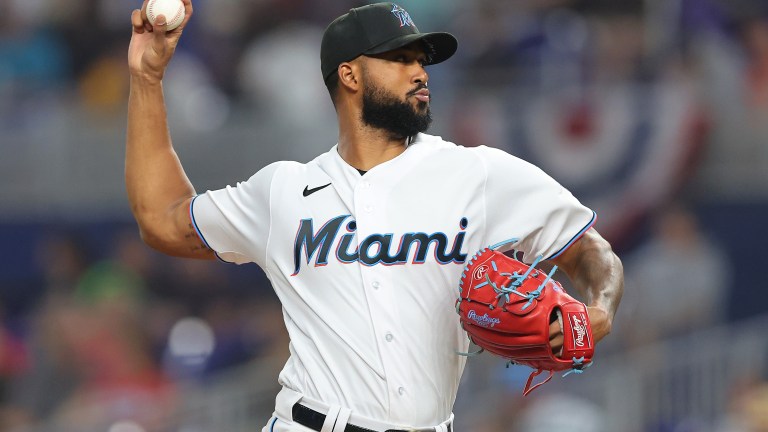 At the beginning of the season, if you were to tell Marlins fans they were battling for a Wild Card spot this late into August, they would have called you crazy. Now, however, when the vibes around the team are a little shaky given their recent performance, the fans just aren't happy.
Coming into the season, the Fish had moved on from Don Mattingly and hired first-time manager Skip Schumaker to lead the team. They also made a trade from their surplus of major league starting pitching to acquire Luis Arraez.
Oh yeah, and they had the reigning Cy Young award winner to lead their promising starting rotation toward what many hoped to be the start of the franchise's turnaround.
Unfortunately, Sandy Alcantara just hasn't been able to replicate his success from 2022. Now, there was no way to expect him to dominate the way he did last year, but now more than ever, the Marlins need some form of Cy Young Sandy to return if they are going to have any hopes of maintaining their playoff hopes late into September.
As we head into play on August 23, Sandy's stat line currently looks like this:
164.1 IP/4.11 ERA/1.18 WHIP/4.21 xERA/3.96 FIP/3.82 xFIP
If you were to look across the board at his other stats as well, his K/9 has dropped by 0.5, his BB/9 is up 0.3 and his HR/9 rate has nearly doubled from what it was last season.
This raises the question: What in the world is going on with Sandy?
When someone makes reference to a struggling pitcher in 2023, it won't be long before the pitch clock comes up. While it very well could be a factor, I tend to believe it's more that Alcantara has changed up his approach. His fastball velocity is still up with the best in the league, in terms of percentile rankings.
The number one reason, it seems, for Sandy's decline in 2023 is how ineffective his changeup has been compared to how dominant it was last season. Ranking as one of the best pitches in all of baseball in 2022, he would often use it effectively to put hitters away consistently, generating an elite 24.5 RAA (Runs Above Average). This season, it is at -6.5 (!).
The amazing part is that, even with the struggles, Alcantara is still able to go deep into games for the Marlins. The blow-ups usually occur in one inning, and he is quickly able to settle in right after. The issue is that they are coming more often than the team anticipated and more frequently than they can afford to withstand at this point in the season.
It is remarkable what the Marlins have been able to accomplish up to this point. In a loaded NL East division, they have been reluctant to give in to the negative noise around them, and they continue to battle down to the very last out.
Now, with the season's end quickly approaching, the Marlins are going to need Sandy Alcantara to regain his Cy Young form. Baseball finds itself in a day and age where workhorses are few and far between. Even with his struggles, Marlins fans expect Sandy to go late into games every time he takes the mound.
While he did allow three home runs in his last start against the Dodgers, most of the start showed us flashes of what a dominant Sandy looks like when he is locked in.
The Fighting Fish are, indeed, fighting for their playoff lives right now. With question marks surrounding the availability of Eury Pérez down the stretch, Edward Cabrera down in Triple-A trying to find his command, Trevor Rodgers nowhere to be found, and Jesus Luzardo showing signs of fatigue after already surpassing his career-high in innings pitched, the Marlins need Sandy Alcantara to step up and lead his team if they are going to have any chance to stay in the race.