Analysis
Max Scherzer vs. Brandon Pfaadt Could Decide the World Series
A battle between a future Hall of Famer and rookie on the rise, tonight's pitching matchup could very well decide the 2023 MLB World Series.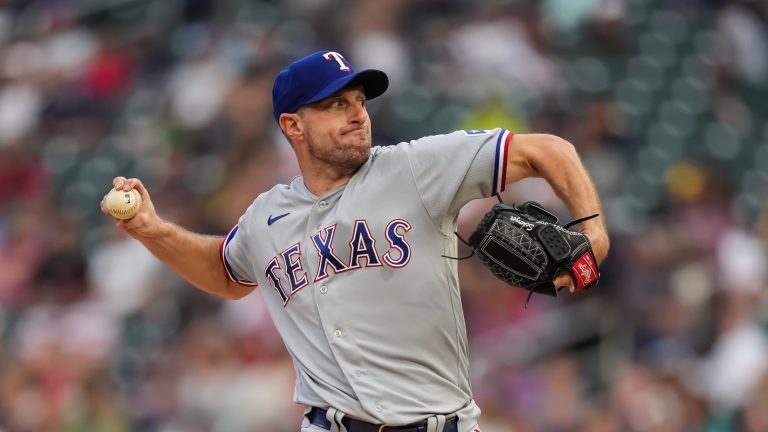 When we were writing up our World Series preview a few days ago, I teased in the article that we would have an upcoming feature on the Game 3 pitching matchup between Max Scherzer and Brandon Pfaadt, which could decide the World Series.
Now here we are a few days later with this series knotted at one game a piece, essentially turning this into a five-game set. The pitching matchup we will see on Monday night could be a tease of what would lie ahead, with a series that has the making of one that could go the distance.
When it comes to the matchup of Scherzer vs. Pfaadt, we will get to see two guys who are at different ends of their careers, both getting a chance to add to their own personal legacy.
For Scherzer, this is a future Hall of Famer who is getting what could be one of his last shots at glory. The 39-year-old already has one World Series ring to his name, but is now three wins away from another.
If Scherzer could win the World Series, he'd join a list of only three pitchers in MLB history to have won multiple World Series, win multiple Cy Young Awards, throw multiple no-hitters, and earn multiple All-Star selections. Sandy Koufax, Tim Lincecum and Justin Verlander are the three who have done it already.
On the other side, Pfaadt is beginning his MLB career and is getting the chance to pitch on the biggest stage and make a name for himself. He has thrown the ball great over his last few starts, having played a key role in getting the Diamondbacks to the World Series.
Now Pfaadt will look to outduel one of the game's great pitchers, but under circumstances where he is not seen as some big underdog on paper. Who will come out victorious for their team?
What Can We Expect From Scherzer?
The Texas Rangers traded one of their top prospects in Luisangel Acuna at the deadline to get Max Scherzer in an all-in move that declared them as World Series contenders. Their play had certainly warranted such a distinction, but it was their aggression at the trade deadline that made it known that they were serious about winning now.
While Scherzer is the move that stole the headlines at the deadline, it has been their underrated acquisition of Jordan Montgomery that has them in the Fall Classic. With Scherzer finishing his season on the IL, Montgomery filled his shoes as the Rangers Game 1 starter to open the playoffs.
It has been Montgomery and Nathan Eovaldi that have carried the Rangers through each round of the playoffs, with no other starting pitching having made a real impact up to this point. To win this series, that will have to change.
Scherzer went from having not made a start since September 12th, to pitching in Game 3 of the ALCS against the Houston Astros a little over a month later. Scherzer had a strain of the teres major muscle, which shut him down from throwing for multiple weeks.
Jumping straight into intense postseason competition is not easy, and that certainly showed when Scherzer gave up five runs over four innings pitched in his first start. Scherzer got the ball for Game 7 in his second start, but manager Bruce Bochy had him on a short leash, pulling the veteran with two outs in the third inning in favor of Montgomery out of the pen on short rest.
In this Game 3 start, Bochy might not have the luxury of pulling the hook on Scherzer early, as he has three consecutive games to worry about managing with his bullpen and no clear Game 4 starter.
That is what makes the strategy so fascinating for both of these managers, because they really need length out of their starters, who they clearly don't trust right now. As we will get to in a minute, Brandon Pfaadt is throwing the ball really went right now, but he still isn't being allowed to face a lineup three times through.
Could that change though depending on the circumstances of the game? Of course, that is the unpredictable nature of the World Series.
While Pfaadt has shown the flashes, Scherzer is the guy who has done it before and can always find that way to click himself back in. Across eight starts with the Rangers prior to the injury, Scherzer pitched to a 3.20 ERA and went 4-2. There is every chance he finds something and is able to silence the D-backs feisty offense. It is just hard to count on that considering what we have seen lately.
What Can We Expect from Pfaadt?
Brandon Pfaadt has basically come to maturity as a big league pitcher over the last few weeks in the playoffs. His regular season ERA is three runs higher than the 2.70 ERA he is currently sporting in the postseason.
Across 16 2/3 innings pitched, Pfaadt has 22 strikeouts and just three walks allowed. That is a strikeout-to-walk ratio better than seven to one.
Pfaadt's first start wasn't even that great, when he was pulled in the third inning after giving up three runs in Game 2 of the Wild Card round against the Milwaukee Brewers. The Diamondbacks still won that game and went on to give Pfaadt his next chance in Game 3 of the NLDS against their rival, the Los Angeles Dodgers.
This is where Pfaadt began his star turn, allowed just two hits and no runs over 4 1/3 innings pitched in a series-clinching victory. In the next round, again it was Pfaadt's turn to pitch in Game 3, and he would go on to deliver the best start of his young career.
The 25-year-old pitched into the sixth inning and struck out nine Phillies, while allowing just two hits and walking none. This start gave Arizona more confidence in him when it came time for a Game 7 start as a rookie to close out the NLCS.
Pfaadt delivered for the D-backs, giving them four strong innings to start the game, where he racked up seven punchouts. He did however give up two runs and with Arizona having just taken back the lead by a run in the top of the fifth, manager Torrey Lovullo went to his bullpen.
It will be very fascinating to see how long Lovullo sticks with Pfaadt in this tough matchup against the Texas Rangers.
Who Has the Edge?
There are two very distinct factors that will ultimately decide this matchup, if not the rest of this series. Ability and experience.
Considering the stuff we have seen from Pfaadt lately, compared to Scherzer coming off an injury, it is fair to say that the youngster has better stuff right now. He is in more of a rhythm and also gets the benefit of a home crowd behind him.
With that said, experience is clearly on Scherzer's side.
While his arm might not be what is once was, Scherzer's mind is still as sharp as ever. If there is a puzzle to be solved with this Diamondbacks offense, you better believe he has figured it out in preparation for this start. The question isn't on the gameplan for Scherzer, the question lies in the execution.
Does Scherzer still have the ability to execute his pitches against tough batters on the biggest stage?
Dating back to last season, Scherzer has been struggling in big games, particularly as it relates to keeping the ball in the yard. In his 27 starts this season between the Mets and the Rangers, Scherzer has allowed 28 home runs. Throw in the two he has given up in the playoffs and you have 30 allowed in 29 starts.
He just might get burned by the home run ball again in this start. Putting the Rangers behind in a hurry. Luckily for Scherzer, Texas has the ability to punch back and could get him back in the game multiple times if this turns into a slugfest.
In a game such as that, the advantage goes squarely to the Rangers, because veteran pitchers like Scherzer are better-suited to put a bad inning behind them and still be able to execute and give their team length. Considering how the bullpens could get taxed come Game 4, Scherzer owes his team innings in this game more than anything else.
For Pfaadt, this is a very difficult task he has at hand, without the near-two decades of experience his opposition has to counter it. Pfaadt was able to fare just fine against the Phillies vaunted lineup, so we can't discount his ability to mow down great hitters.
Still, this Rangers team is built a little different.
Navigating this lineup is a mine field that will be very difficult for Pfaadt. If the D-backs grab an early lead on Scherzer, don't be surprised if Lovullo goes to his bullpen to grab the game in hand and worry about Game 4 tomorrow.
Regardless, both Pfaadt and Scherzer are set to take center stage in a matchup that very well could decide the World Series. Either guy is capable of a dominant pitching performance, or to be out of the game by the second inning. We will just have to wait and see what actually happens.