Analysis
Los Angeles Dodgers Trade Deadline Guide
The L.A. Dodgers don't need to add much to make a deep playoff run this year but could use some more pitching and an infielder up the middle.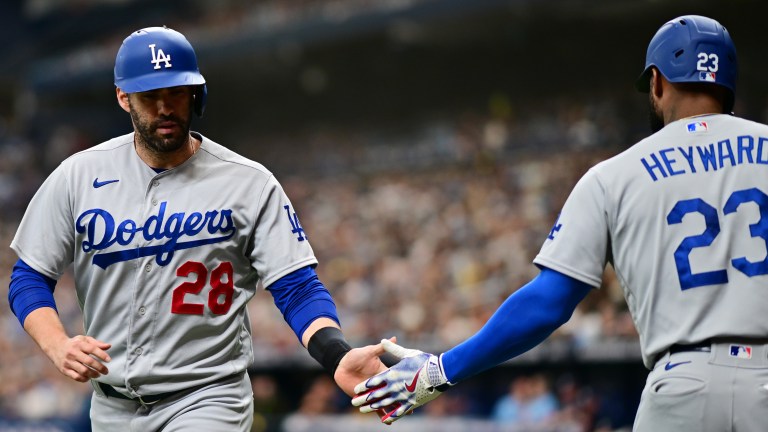 The Dodgers currently find themselves in first place, a few games up on the Giants and Diamondbacks. Although the roster is not littered with a hilarious amount of All-Star names, like we have seen in recent years, they still keep finding a way to win.
The Dodgers have had to rely on more rookies than usual with James Outman, Emmet Sheehan, Bobby Miller, Gavin Stone, and Jonny Deluca all playing a somewhat significant roll to this point. If there's one thing we know it's that the Dodgers are never satisficed. Although they are in first, I still expect them to be one of the top buyers at the deadline.
Not only do they have the money to make big trades, their farm system continues to reload and reload allowing these blockbuster deals to be possible. No matter how big the name, the Dodgers are always in play.
Now, let's look at their needs
Pitching
Clayton Kershaw is currently injured. Walker Buhler has missed the entire season and is working to get back. Dustin May is back on the shelf yet again. Noah Syndergaard is out along with Ryan Pepiot. On top of the injuries, Julio Urias and Tony Gonsolin have not been the most inconsistent of any point in their careers.
Adding a starter is priority number one in my eyes. With questions about Urias, the Kershaw injury (only IL-15), and the reliance on rookies, I don't see the Dodgers getting cute and rolling the dice. Which starter will they target is the next question.
| | | | | |
| --- | --- | --- | --- | --- |
| | Team | Contract | ERA | FIP |
| Dylan Cease | White Sox | $5.7 Million (Arb-1, FA '26) | 4.04 | 3.63 |
| Lucas Giolito | White Sox | $10.4 Million (Expiring) | 3.79 | 4.46 |
| Marcus Stroman | Cubs | $25 Million (Opt-Out after Season) | 3,09 | 3.51 |
| Eduardo Rodriguez | Tigers | $14 Million (Opt-Out after season) | 2.69 | 3.14 |
| Jordan Montgomery | Cardinals | $10 Million (Expiring) | 3.37 | 3.59 |
As expected, most of the big names are fits. The White Sox are in an obvious selling situation and need to capitalize on their expiring contracts, and even a few with team control. Getting Dylan Cease would be a huge win, but I think he's one Chicago holds onto at this deadline.
So, let's shift our focus to a Santa Monica kid, Lucas Giolito. A solid vet on an expiring deal who's been pretty consistent. You know what you are going to get with Gio and sometimes that's better than a volatile option. Jump on Route 66 Lucas, and drive on home.
Stroman and Rodriguez each have player options, but are looking more than likely to exercise them, making each a rental. Both have been putting up some of the best numbers of their careers and the Dodgers have what it takes to match most other teams offers. Unlikely to take one of your top 3-5 prospects, the rental route is looking like the most reasonable plan for the Dodgers.
Lastly, lefty Jordan Montgomery is an option. In a similar tier to everyone listed below Cease, Montgomery can step into the number three or four spot in the rotation and add a veteran arm, taking some pressure (and innings) off a rookie.
Not only has the rotation been hit with injuries, the bullpen has too. At least five regulars are currently on the IL. They have been able to get by, but we know all contenders could also use another bullpen option, even something as simple as a Phil Bickford upgrade.
Oh yeah, where's Shoehi Ohtani? Of course I would love the fit, that goes for any team. Something tells me the Angels will look elsewhere than the Dodgers to pull off the "most talented player blockbuster" type trade.
Lineup
When the Dodgers added David Peralta, Jason Hayward, J.D. Martinez, and Miguel Rojas, I think a lot of people were underwhelmed. Well, besides Rojas those moved have worked out rather well. The outfield has enough going right that it is not at the top of the "needs" list. In fact, the lineup as a whole is pretty well set besides middle infield.
Miguel Rojas and Chris Taylor is not going to cut it. Taylor has still filled the super utility role well, but the Dodgers need to find help at either short or second, if not both. The easiest solution is adding Tim Anderson to a package with Giolito from Chicago.
Anderson has struggled to stay healthy for a couple of years and now his bat has disappeared. Once a lock to hit .300, Anderson sits at .241 with no home runs and a 56 wRC+. Maybe he's a bounce back candidate and you target him, cross your fingers, and hope for the bounce back. Honestly, that might be the best course of action. The market is pretty thin.
If you strikeout on the rental market, why not see if you can land a player with some control? Costly, but fixing shortstop should be a top priority. The tough part is finding a trade partner who's willing to part with a shortstop with team control. Not an easy task.
Conclusion
It does not get much more cut and dry than this. A starter, a middle infielder, and the luxury of an added bullpen arm. The Dodgers check all the boxes to pull off a big trade. With the market so thin on bats, especially shortstops, they could look to put all their focus towards arms.
If you can add one starter from the above list and bring in another bullpen option that might just be enough. The shortstop just might not be out there for them.
Either way, they are still in first place after all their injuries. Get a few guys healthy, add on the edges, and get ready for another deep playoff run.