Analysis
J.T. Realmuto Is Reclaiming His Title as the Best Catcher in Baseball
After a slow start that had fans worried about his future, Philadelphia Phillies catcher J.T. Realmuto looks like a superstar once again.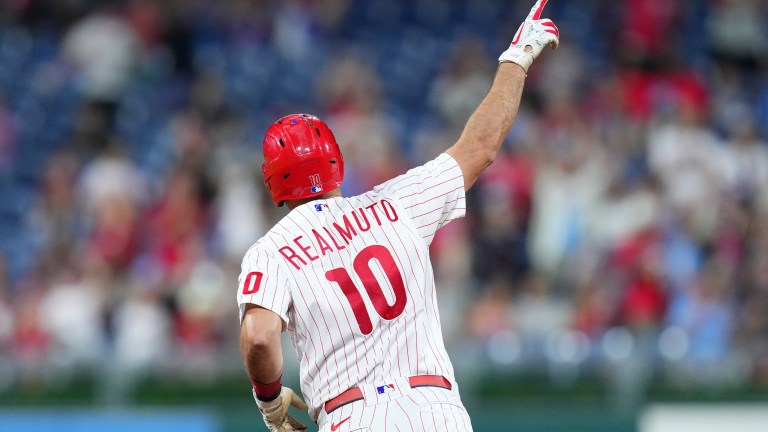 In 2019, after a superstar-worthy performance in his Philadelphia Phillies debut season, J.T. Realmuto was given a nickname: BCIB.
Best catcher in baseball.
It was a fitting title. Realmuto won the Gold Glove and Silver Slugger that season. He earned All-MLB First Team honors. He led all backstops in runs, RBI, stolen bases, innings behind the plate, and runners caught stealing. Consequently, he ranked first in both FanGraphs and Baseball Reference WAR.
The BCIB followed that up with an equally impressive 2020 season, one that could have netted him some more hardware had injuries not limited him to 47 games (36 at catcher). Even so, he made the All-MLB Second Team.
Prior to the 2021 season, he signed a five-year contract with the highest average annual value ever given to a catcher. He more than earned his millions that year, making his third career All-Star team and finishing as the only catcher in the National League to qualify for the batting title.
He ranked just fourth in fWAR and fifth in bWAR that season, but he was one of only two catchers to finish in the top five by both metrics (the other being Yasmani Grandal). There were several players with a decent claim to the BCIB title – Buster Posey, Salvador Pérez, and Will Smith to name a few – but Realmuto was still firmly in the conversation.
In the first half of the 2022 season, however, concerns began to rise. Through the first three calendar months (April 8 to July 8), Realmuto hit just .239 with a .684 OPS and seven home runs. Compared to other backstops, those are still respectable numbers (the offensive bar for catchers is low), but it was a far cry from the offensive production fans had come to expect from the BCIB.
For a player as great as Realmuto, one poor month can be written off as bad luck. Two poor months can be written off as a slump. But three poor months in a row? It seemed like something might be seriously wrong.
Was J.T. Reamuto starting to decline? Was he no longer the all-around stud he was in his prime? Was he no longer the BCIB? All of these were valid concerns at the time. But as it turns out, there was absolutely nothing to worry about.
Since July 9, the star catcher is slashing .329/.400/.604 with a 175 wRC+. He has hit nine homers and 24 extra-base hits in 46 games. Combine that with top-notch defense and baserunning, and you get one heck of a ballplayer.
Not only has Realmuto been one of the best catchers in baseball during that time, he's been one of the players in baseball, period. In fWAR, he ranks second behind only Aaron Judge and Freddie Freeman.
On the season, he now ranks ninth in the National League in fWAR and eighth in bWAR. He is pushing his way into the back-end of the MVP conversation, something that would have been unthinkable just a couple months ago.
Barring an end-season-collapse, 2022 will go down as the best season of Realmuto's career. For a player who has won a Gold Glove, Silver Slugger, and All-MLB honors, that's really saying something. For a catcher north of 30? It's even more impressive.
Simply put, J.T. Realmuto is the best catcher in baseball. And if his performance this season is any indication, he won't be giving up that title any time soon.