Analysis
The Surprising Strength That's Keeping The Yankees Afloat
Strong starting pitching has kept the Yanks in contention so far this season.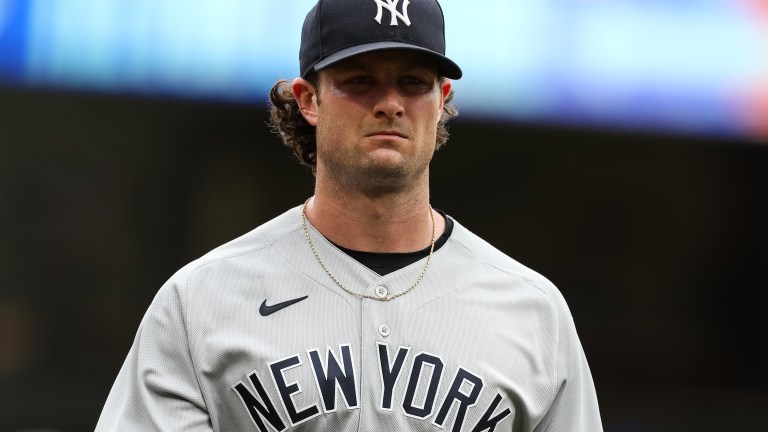 Let's be positive for a moment here. It's no secret that the Yankees have disappointed through their first 71 games in 2021, but we're not going to focus on that. We're not going to talk about how the Yankees don't have a competent left-handed bat in their lineup, how they're a horrible situational and fundamental team or how their organizational depth has plummeted in recent years. We'll have plenty of time for that in the days and weeks to come. No, today we're going to delve into the major positive that has come out of the Bronx this season: starting pitching.
Thought to be the team's biggest weakness coming into the season, starting pitching has instead been a critical strength for the Yankees. New York ranks 12th in baseball with a 3.93 starter's ERA, and 11th with a 3.77 FIP. Yanks' starters are also eighth in K/9 (9.53) and fifth in BB/9 (2.47). By almost all metrics, this group has been extremely strong. They've needed to be to keep the Yankees in contention. After featuring a top-five scoring offense every season from 2017-2020, the Bronx Bombers (might be time to retire this nickname) have fallen off a cliff this season. New York is an abysmal 25th in runs scored. They're also in the middle of the pack in more advanced stats like wRC+ (14th), wOBA (13th) and ISO (16th). They certainly aren't the same savages in the box they once were, despite having many of the same players.
In lieu of the offense's issues, it's been on the pitching staff to pick up the slack. Now, let's take a deeper dive into the Yankees' Opening Day rotation and beyond:
Gerrit Cole – The Ace
When Gerrit Cole signed a nine-year, $324 million deal with the Yankees in December 2019, the expectation from the New York media and Yankees fans was that he'd serve as a franchise savior/mythical hero. Incredibly, he has somehow lived up to, and quite possibly exceeded, the lofty standard set for him. Through his first 26 starts with the Yanks, Cole has a 2.55 ERA with 211 strikeouts in 162.2 innings. He has given the Yankees something they haven't had since 2009-2012 CC Sabathia: a true workhorse ace. If the Yankees find a way to win a World Series anytime in the next several seasons, it will likely be Gerrit Cole who leads them there.
So far in 2021, Cole has a 2.31 ERA and 117 strikeouts in 89.1 innings. In addition, his 34.7% strikeout rate and 3.6% walk rate rank in the top 10% of baseball. His strikeout to walk ratio of 9.75 is tops amongst all qualified pitchers as well. Yet, New York is somehow only 8-6 in games he starts, an indictment on the offense and something that will need to improve if the Yankees want to make the playoffs this season. If Jacob deGrom didn't exist, you could make a very strong argument for Cole as the best pitcher in the sport.
Corey Kluber – The Wily Veteran
Corey Kluber was signed a free agent this past offseason to help stabilize a Yankees rotation littered with question marks. After all, Kluber was one of the best pitchers in the sport from 2014-2018 with the Cleveland Indians, winning two American League Cy Young awards and making three All Star games. However, he brought with him questions of his own. In 2019, his last season in Cleveland, Kluber was riddled with injuries and ineffectiveness. He ultimately posted a 5.80 ERA in just 35.2 innings. Additionally, Kluber lasted only one inning in Texas last season, before a shoulder injury shut him down for the year. Then, through four starts with the Yankees this year, doubt was certainly creeping in. Kluber owned a 5.40 ERA and didn't make it past four innings in any start.
However, from that point onward, Kluber turned back the clock and became elite again. In his next five starts, the 35-year-old had an electric 1.78 ERA over 35.1 innings. That stretch was capped off by no-hitter during that multi-week span in May where almost every pitcher that toed that rubber was achieving the formerly rare feat. Unfortunately, the durability concerns for Kluber came to the forefront in his very next start, as he suffered a shoulder injury that will sideline him for at least two months. Even if Kluber doesn't return strong, at least he and the Yankees will always have that fateful night in Texas, right?
Jordan Montgomery – Solid, but Unspectacular
In his young career, Jordan Montgomery has always been a capable, middle-of-the-rotation arm. He has shown some flashes of possessing a higher ceiling than that, but has never fully put it together. For now, that's okay. He has given the Yankees exactly what they've needed out of him so far this season. Through 14 starts in 2021, Montgomery owns a 4.03 ERA in 76 innings. That's right on par with his career ERA of 4.11. The 27-year-old lefty has also been a major model of consistency, pitching between 5-6 innings and allowing four or less runs in nine of his 14 starts this season. His best, and most frequently used, pitch this season has been a curveball that opponents are batting just .167 against. You know what you're getting from Montgomery, and in a Yankees rotation with very little certainty, that's a good thing.
Domingo German – The Wild Card
Coming into the season, I don't think anyone knew what to expect from Domingo German. The uncertainty largely stemmed from German's season-long suspension in 2020 after violating the league's domestic abuse policy. He also only had one solid MLB season to his name (2019). Then, much like Kluber, German got off to a horrible start this year. The 28-year-allowed seven runs over seven innings in his first two starts. Ultimately, he was optioned to the alternate site on April 11th before being recalled on the 22nd. Something must have clicked during that week and a half away, because since then, German owns a 3.63 ERA spread across 11 starts and 62 innings. However, there is some cause for concern with German allowing 11 runs over his last two starts. With Kluber out, the Yanks need either him, or the next pitcher we'll look at, to get back on track.
Jameson Taillon – The Weak Link
Jameson Taillon was one of the top pitchers in the National League in 2018 (3.20 ERA over 191 innings) before his career was derailed by numerous hurdles over the past few seasons. A former top prospect, Taillon has had to overcome two Tommy John surgeries and a bout with testicular cancer. After Taillon missed the 2020 season, Brian Cashman saw an opportunity to grab a quality, controllable starter at a reasonable price. In January, the Yankees acquired Taillon from the Pirates for four prospects. So far, the returns have left much to be desired. The 29-year-old righty has a 5.59 ERA over his first 13 starts and 58 innings in the Bronx. Additionally, he's lasted more than five innings only twice this season. His curveball, once his best put-away pitch, is now getting knocked around at a .311 clip. Simply put, Taillon needs to be better to sustain the rotation's success.
Best of the Rest
This is where the Yankees have some reason to worry. As is the case throughout the roster, the Yankees have very little starting pitching depth beyond their top 4-5 options. The obvious name to watch here is Luis Severino, as he would easily slot in as the Yankees #2 starter behind Cole if healthy. However, the 27-year-old righty has thrown just 12 innings over the last three seasons as he's dealt with a multitude of injuries. Most recently, Severino strained his groin in a rehab start working his way back from Tommy John surgery. It's impossible to know if, or when, he'll be back this season and what his role might be.
Beyond that, the Yankees don't have a Big League ready starter in their organization. Top pitching prospect Clarke Schmidt has been injured all year. Their other highly touted young arm, Deivi Garcia, has shown he isn't quite ready. This has left Michael King to start games in Kluber's absence. Through four starts, it's become evident King's better suited as a long reliever. Therefore, don't be surprised if the Yankees go after a back-end starter at the deadline to shore up their rotation (think of the Jaime Garcia and Lance Lynn trades of years past). Obviously the hope is that the offense will stabilize as the year goes on, but if not, it's going to be on the guys mentioned above to save the Yankees from a nightmare season.