Feature
JB Highlight Reel: Miguel Cabrera Delivers Walk-Off Win in Detroit
All of the highlights you have to see from Thursday's MLB action.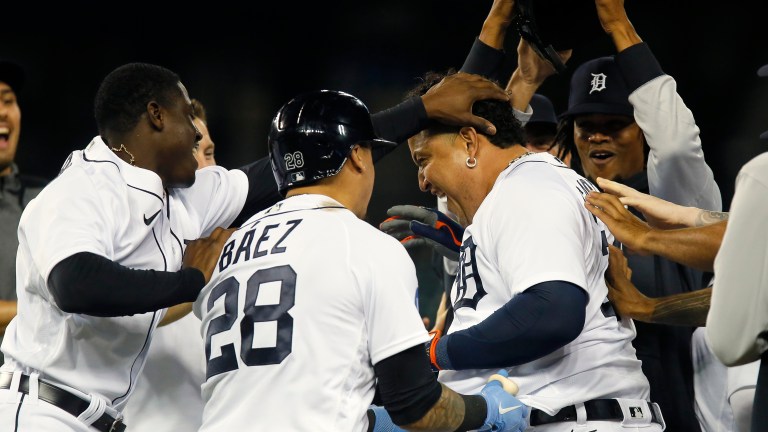 Tigers 4, Guardians 3
If you only watch one highlight from Thursday night, I hope it's this one. We might not have many Miguel Cabrera moments left. A vintage night for Miggy, who collected three hits including the game-winning single.
Detroit started the scoring when shortstop Javy Baez singled to right to score Robbie Grossman in the first. A sacrifice fly and single pushed the Tigers lead to 3-0 before Cleveland started chipping away.
A Luke Maile double and Owen Miller two-run single tied it before Miggy sent the fans home happy.
Tarik Skubal pitched yet another great game. Seven innings, five hits, three runs. He's elevated his game to another level in 2022 and is still improving.
Reds 20, Cubs 5
Nope, not a typo. An eight-run third inning throttled the Reds to a big victory for the only afternoon game on Thursday. You know the drill, big blowout = just highlights.
If you need to see them all, it will take about seven minutes.
Fine, fine, fine, here's a Cubs highlight
Yankees 7, Rays 2
The Yankees collected six hits and seven runs to cruise to victory and extend their lead in the standings over the second place Rays. Nestor Cortes was brilliant going eight innings of four-hit ball allowing only one run.
I wanted to take advantage of the rare opportunity for a Miguel Andujar highlight. His "single" made it 3-0, Yankees.
Anthony Rizzo added a double making it 7-0 in the ninth. The Rays added a couple of runs in the bottom of the ninth thanks to a single and ground out.
New York takes game one of the four-game set, moving to 32-13 on the year.
Nationals 7, Rockies 3
The Nationals jumped all over German Marquez in the first inning, scoring four runs on the former All-Star and raising his ERA to 6.30. Yikes.
Charlie Blackmon drove a ball toward the right foul line, which Juan Soto misplayed, leading to an RBI triple that cut the lead to 4-2. Then C.J. Cron knocked in Blackmon.
That is as close as the Rockies would get though. Cesar Hernandez doubled to extend the lead before a few uneventful plays pushed the final to 7-3.
Phillies 4, Braves 1
Aaron Nola was ON Thursday in Atlanta. He went 8.1 innings allowing five hits, one run, and 10 strikeouts.
The scoring started with a J.T. Realmuto home run in the third, his third of the season.
Phillies added on two more in the seventh when Odubel Herrera committed some lefty on lefty crime pulling the ball down the right field line for a double.
Royals 3, Twins 2
A game Minnesota will want back as the spoiled a fantastic Devin Smeltzer start. Seven strong innings of two-hit ball only to be blown by the bullpen.
The Twins offense couldn't generate a big hit as a couple singles gave them a 2-0 lead. In the eighth, Tyler Duffey came in and surrendered three runs.
Whit Merrifield, who's hitting .347 over his past 17 games, pushed the ball into the right-center gap and scored two, tying the game.
(Bobby) Witt followed Whit's lead and picked up the eventual game-winning double with two outs.
Brewers 4, Cardinals 3
A big series between the two good teams in the NL Central saw game one go the Brewers way. Milwaukee jumped out to a two-nothing lead thanks to a Luis Urias home run and Tyrone Taylor single.
The Cardinals tied it up on a single and sacrifice fly, before Christian Yelich singled to break the tie. Paul Goldschmidt brought the Cardinals within one with a home run in the seventh.
The Cardinals had two on in the ninth but Josh Hader and his 0.00 ERA were on the mound. Game over.
Red Sox 16, White Sox 7
The Red Sox are BACK. After a slow start to the season the offense has kicked it in gear. Several players had multi-hit games, including Alex Verdugo who had four hits including two doubles.
Enrique Hernandez is in one of his typical hot streaks and started the scoring with a home run.
Trevor Story has been on a heater of his own, adding another home run giving him nine in May.
If the Red Sox can get Verdugo going to add to this hot offense, they could really pick up some ground fast. Pause the Xander rumors.
Blue Jays 6, Angels 3
Ohtani was on the mound tonight, but George Springer could not care less. Springer took him yard for his 48th career leadoff home run.
Santiago Espinal singled in a run before Bo Bichette doubled scoring Espinal.
Toronto's 4-2 lead was extended to 6-2 thanks to home runs from Vlad Guererro Jr. and Danny Jansen.
Dodgers 14, Diamondbacks 1
The Dodgers put up 24 hits including seven doubles, a triple, and two home runs. Freddie Freeman had a four-hit day with five RBI. Mitch White started for the Dodgers and went four innings allowing only two hits.
Let's roll the highlights.
Rangers 4, Athletics 1
This was one of the better games of the night and I am sure many missed it. Martin Perez continued his improbable start going seven innings allowing four hits and one run. Frankie Montas topped him going seven of his own, three hits, one run (unearned) with 11 strikeouts.
The only runs scored before the ninth were on a wild pitch and bases loaded walk. A pitchers duel, combined with two struggling offenses might do that.
In the ninth, Adolis Garcia came up clutch doubling to score Eli White and give the Rangers a 2-1 edge.
Nathaniel Lowe added his third home run of the season to extend the lead before Joe Barlow closed it out.
A great, yet strange, day of baseball. Some vintage Miggy, blowouts, a 20-run game, and position players pitching. That's why we watch everyday, you just never know what will happen.