Analysis
C.J. Cron Has Found a Home with the Colorado Rockies
C.J. Cron has put up some big numbers in his first two years with the Rockies, as altitude has helped turn him into one of the league's most productive hitters.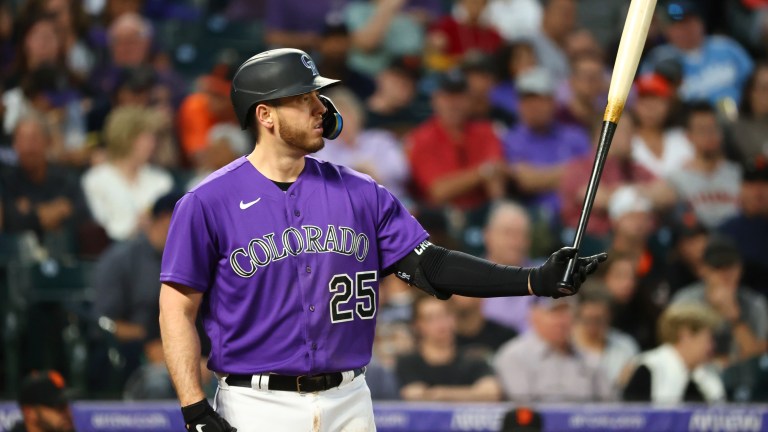 After nine years in the league, it feels like C.J. Cron is still underrated. The 32-year-old first basemen has put up a wRC+ over 100 in eight of those seasons, six of which were over 110.
Cron bounced around the league a bit, filling in as a one-year stop gap for Tampa Bay, Minnesota, and Detroit before finding a home in Colorado. What power hitter would not love being in Coors field for half their games.
In 2021, Cron's first season at Coors Field, he slashed .326/.412/.661 with 19 of his 28 home runs. Cron finally landed an extension, settling at two-year, $14.5 million contract, taking him through his age-33 season with the Rockies.
So far, the deal looks great. In 2022, Cron has slashed .321/.366/.604 with 11 home runs and a 156 wRC+.
Why has Cron been so successful? Well, to put it in the most elementary way possible, he just hits the ball really hard.
In 2022, Cron ranks above the 88th percentile in Barrel%, max exit velocity, and expected slugging. Dumb it down? Fire Engine red bubbles on his Baseball Savant page. We all love red bubbles.
Cron currently has a 13% barrel rate, up from his 10.8% career mark. His hard hit percentage sits at 42.4% with a max exit velocity of 115.5 mph. Again, crushes baseballs.
Colorado is a perfect match for Cron. The ball tends to fly in the high altitude and that benefits Cron. Take a look at his road slips. Away from Coors, .197/.234/.377 with only two home runs. At Coors, .398/.444/.745 with nine home runs.
Most people look at a tall, big, power hitting first basemen and assume he's just mashing fastballs and nothing else. That's the power hitter type right? Not for Cron.
| | | | |
| --- | --- | --- | --- |
| C.J. Cron | Average | Slugging | Hard Hit % |
| 4- Seam Fastball | .205 | .538 | 63% |
| Sinker | .471 | .559 | 33.3% |
| Slider | .212 | .452 | 30% |
| Changeup | .500 | .950 | 38.9% |
| Cutter | .429 | .857 | 50% |
| Curveball | .286 | .786 | 66.7% |
Splitter excluded due to sample size (10 pitches)
He's still hitting fastballs, but has improved drastically on off-speed. Last season, Cron hit .225 against off-speed pitches with only four home runs. So far in 2022, he's improved to a .478 average and two home runs while seeing 1% less off-speed pitches.
Cron has also improved against righties. Seen as more of a platoon bat for much of his career, Cron actually has fairly even splits early in the season slashing .328/.367/.580 against righties and .300/.364/.675 against south paws.
A fan favorite fixture at first is something the Rockies have been lacking since Todd Helton left in 2013. With Cron's age and success in Colorado, it makes sense for him to stick around for another contract. Hell he's probably tired of moving around.
The Rockies have shown they want to keep their players, signing several to extensions over the past year. Could their be something positive Brewing in Colorado besides beer? Time will tell.