Analysis
Seven Young MLB Players Winning Everyday Jobs in 2023
Getting your first taste of big league action is sink or swim time for a lot of young players in MLB. Here are some who are thriving in 2023.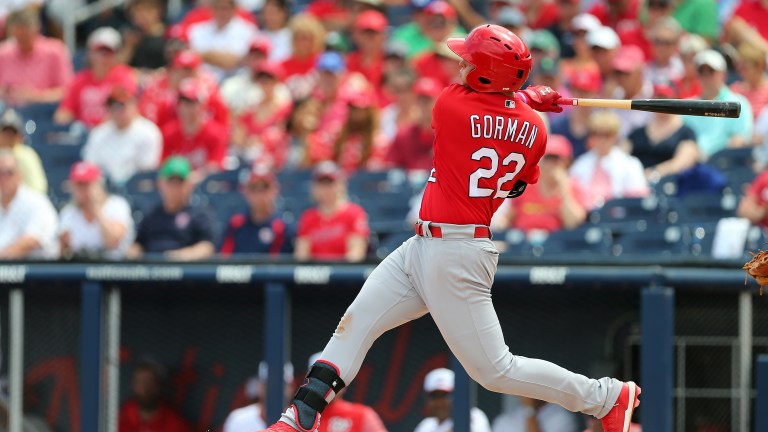 If you have checked around baseball lately, the youth movement is all the rage. Guys are making their debuts sooner and sooner, with teams plucking future stars from the farm every day and putting them under the bright lights of the show.
At the beginning of every season there are a handful of young players who take the league by storm and win everyday jobs. Here are seven guys that have burst onto the MLB scene to start the season and secured a place in their teams starting lineup.
Nolan Gorman: Second Baseman, St. Louis Cardinals
Nolan Gorman is in his second season in the big leagues, and the youngster is off to an impressive start at the plate, especially given his struggles his rookie season. Highlighted by a grand slam he hit as part of a 14-run Cardinals offensive outburst against the Diamondbacks, Gorman has put up gaudy offensive numbers.
As of April 20, Gorman is leading the Cardinals in bWAR, and has five home runs and 18 RBIs. The 22-year-old is slugging .649, which ranks third in the National League, and his OPS of 1.052 is fourth in the NL. If Gorman is able to maintain anything close to this red-hot start, he figures to play a major role in any St. Louis' successes this season and for years to come.
James Outman: Outfielder, Los Angeles Dodgers
The rich continue to get richer as the Dodgers have graduated yet another phenomenal prospect from their seemingly endless pipeline of talented young players. The 25-year-old, left-handed hitting Outman has made a splash in the Dodger lineup, hitting .281 to go along with 10 RBIs, 10 runs scored, three home runs and two stolen bases.
The California native has not only contributed offensively, but has used his stellar speed and athleticism to add another great defender to an already talented Dodger outfield.
Josh Lowe: Outfielder, Tampa Bay Rays
Everything has broken the right way for the Tampa Bay Rays to start the 2023 season, and a big reason why has been the play of Josh Lowe. Lowe already has an incredible 10 extra-base hits, 13 RBIs, and 11 runs scored, to go along with a stellar .362 batting average and a 1.156 OPS.
The 25-year-old Lowe has already contributed 0.8 bWAR, and has played as much of a factor in the Rays success as other, more well-known players like Wander Franco and Randy Arrozarena. If the Rays are able to maintain their historic dominance and finally get over the hump and win a World Series this October, it is safe to say that Lowe will play a significant part.
Ji-hwan Bae: Utility, Pittsburgh Pirates
In the words of Trevor Plouffe, Ji-hwan Bae is making the utility player role "sexy." The 23-year-old has played a significant role in the Pirates early season success, and if the Buccos hope to shock the league and play meaningful baseball down the stretch, Bae will have to pick up a lot of the slack left by the O'Neill Cruz injury.
To start the season Bae has 11 runs scored, eight RBI, and five steals. He adds even more value to this young and talented Pirated team through his defensive versatility, playing all over the infield and the outfield. His ability to step in and allow other players to take a day off will not only help keep everyone in Pittsburgh fresh, but it will also allow Bae to get every day at-bats, which should help him continue to improve his offensive numbers.
Trevor Larnach: Outfielder, Minnesota Twins
The Minnesota Twins have jumped out to an early lead in the AL Central despite the fact that some of the more recognizable players, like Carlos Correa and Byron Buxton, have struggled. The team has weathered the storm, though, thanks in part to the contributions of Trevor Larnach.
The former first-rounder is off to a solid start offensively this season, compiling 13 RBIs, eight runs scored, and sporting an OBP of .338. His balance of power and average at the plate is complemented by a strong arm on defense, and his ability to play the outfield has allowed the Twins to keep Buxton at DH and off the IL.
Garrett Mitchell: Outfielder, Milwaukee Brewers
Garrett Mitchell has helped propel the Brew Crew to an early lead in the NL Central. The 24-year-old is hitting .259 to start the year, with three home runs (including a walk-off against the Mets), nine RBIs, and a stolen base.
The youngster has also contributed with above-average defense, and figures to be a part of a very talented Brewers outfield of the future once prospects like Sal Frelick and Jackson Chourio arrive. Unfortunately, Mitchell was recently placed on the IL with a left shoulder subluxation, but there is hope he will return to the lineup sooner rather than later.
Drey Jameson: Pitcher, Arizona Diamondbacks
The Diamondbacks have surprised many with their hot start, and if they hope to remain near the top of one of the most talented divisions in baseball, they will need continued contributions from Drey Jameson.
The 25-year-old righty has thrown 16 innings to the tune of a 2.25 ERA. He has posted 15 strikeouts to nine walks, and already has a save and has made two starts. Jameson profiles similarly to Spencer Strider in that he hits 98 with his fastball despite being undersized. He also features a sweeping slider and a hammer curveball, creating a three-pitch mix that has kept hitters off balance to start the season.