Analysis
Jake Burger Is Fun When Others Around Him Are Not
The Chicago White Sox are having another incredibly disappointing season, but Jake Burger has been a bright light in all the darkness.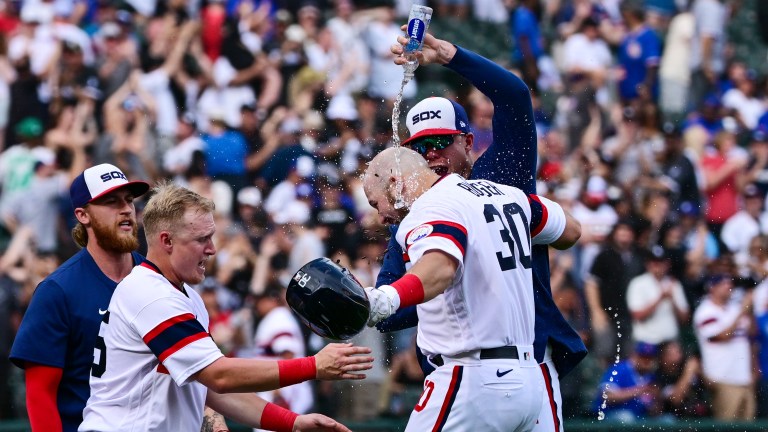 The Chicago White Sox are in the midst of another incredibly disappointing season. It has somehow been worse than last year, even though the White Sox are supposed to be in a contention window following a rebuild that led to a tremendous 2021 season. While most things have gone wrong, a few have gone right, some of which have been unexpected.
The full breakout of Luis Robert Jr. has been impressive but not unexpected to many due to his five-tool ability that just needed health in order to shine. He's been one of the best players in baseball recently, as he's currently second in the American League with 22 home runs while playing exceptional defense in center field.
The only other bright spot in the lineup this season in Chicago is a player that wasn't even expected to be part of the major league roster prior to the season. Jake Burger, AKA The Burger Man in Chicago, has broken out with his power and clutch ability, both of which have made him not only a fan favorite but an impact bat in a lineup that needed one.
Burger was a 2017 first-round pick by Chicago, but an Achilles tear that was then re-torn essentially caused him to miss both of the 2018 and 2019 seasons. After missing two years of development time, few thought Burger still had a future in MLB. He spent the shortened 2020 season at the alternate site and worked his way back into baseball form.
Moreover, the story of his mental battle throughout his injury experience is inspiring, and he's done a lot for many in the White Sox community as well:
He made his triumphant debut in 2021 and appeared in a few games. He performed decently but didn't have much of a role on a team that had World Series aspirations that year. Despite his impressive development after a brutal injury history, Burger did not have a defined role on a team with Yoan Moncada penciled in at third base and a slew of designated hitter options on the roster.
In 2022, Burger was used often in the first half of the season and started to show his promise in June when he put up a .887 OPS with four home runs in his 74 at-bats during the month. Various injury issues and the lack of a roster spot led Burger not to appear with the team after July 5, as he spent the rest of the year hurt or with Triple-A Charlotte.
Fast forward to the current season and Burger wasn't even on the Opening Day roster but has been the second most impactful hitter in the lineup to this point. He made his first appearance with the team on April 6 and went on to be one of the best hitters in baseball during the first month of the season, with a .994 OPS and seven home runs in his first 62 at-bats.
While his production has declined as the season has progressed, and he's starting to face more types of pitchers, Burger has a knack for the clutch that has come in handy many times this season.
With 17 home runs on the year, a few being walk-offs, Burger is second on the team by a wide margin in power production and has produced an excellent .540 SLG on the season. His stats have decreased over the past month, yet he's still at a 116 wRC+ with a .318 ISO which ranks third in the entire league behind only Aaron Judge and Shohei Ohtani (min. 150 PA).
A huge part of Burger's ability to drive the ball and be impactful despite poor contact skills is his top-tier ability to hit the ball harder than almost anybody. He's in the top 5th percentile for hard-hit rate and has the third-highest barrel rate in baseball, an unreal 12.1% rate. While his surface-level stats and plate approach suggest he isn't very good, his ability to drive the ball is up there with the best, and he has proved as much in key moments this season.
The next step in Burger's development as a true piece of the future for Chicago is improving upon his general approach and especially his strikeout-to-walk ratio. Unfortunately, he has one of the highest strikeout rates in baseball, and his walk rate is currently below 5%, which is troublesome.
Burger's natural power and the frequency with which he has impacted the ball this season means he can strike out more than average without issue, but being more patient and earning walks would make him a legitimate threat at the plate.
His ability to catch lightning in a bottle like he did a few weeks ago in Los Angeles has made him such a fun player to watch this year, as he can easily get into a rhythm and hit four home runs in a given weekend.
Burger is not the most complete player by any means – his plate discipline and defense need work – but he's punishing baseballs like few others this year and has brought energy to a White Sox team that can't find it in many places this season. It's not always easy to remain a positive player from an energy and production standpoint when on a team in the midst of a disappointing year, but Burger has done just that this season.
I have rather enjoyed the Burger Man experience this year, as he's been one of the few bright spots on a primarily hard team to watch. With improved discipline, Burger could be one of the few players who stick around in Chicago!