Analysis
Is Tim Anderson The Miami Marlins Next Big Move?
The Miami Marlins are clearly aggressive buyers at this year's trade deadline. Could trading for Tim Anderson be their next big move?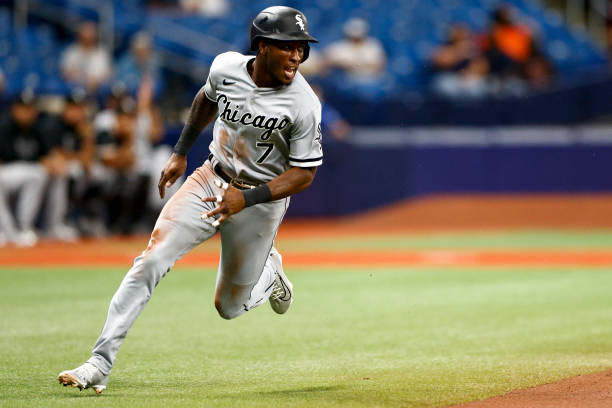 The Miami Marlins have come out firing as we barrel towards the trade deadline this week. The Fish have a big-time need for right-handed arms in the pen and addressed it immediately. So far they have made two deals for right-handed relievers, and acquired arguably the best reliever on the market.
Earlier this month, Marlins' owner Bruce Sherman stated that he would provide resources to allow the team to be aggressive at the deadline. Many doubted Sherman, because he has made similar statements in the past and not followed through. That doubt only grew after the Marlins lost eight-straight games coming out of the All-Star Break.
So far, the doubters are wrong. The Marlins have been aggressive and already made two deals that I consider to be strong moves for Miami. However, they still have plenty more to go. The Marlins are reported to be in on starting pitching and we all know they need bats.
One name that has been floated around is Nationals 3B Jeimer Candelario, per Ken Rosenthal of The Athletic.
However, there is another name that has been floated that many Marlins fans have been keen on all season. That is Chicago White Sox shortstop Tim Anderson, per Jesse Rogers of ESPN.
Anderson seems destined to be moved from Chicago as the Sox are in the midst of a big sell job, and he has a club option for 2024. The one-time AL batting champ has struggled mightily in 2022, but many believe a change of scenery could do him good. Could Miami be the perfect place to make it happen? Before we get there, let's take a look at what the Marlins have already done.
RHP Dylan Floro for RHP Jorge López
I actually really love this reliever swap for the Marlins. Floro has been a liability in the bullpen for the Marlins, and is one of the main reasons they desperately need right-handed relief help. He has a 4.54 ERA, has blown two of nine save opportunities and boasts just a 62.9 left-on-base percentage (LOB%). The Marlins picked up Floro before the 2021 season and he had 2.5 really solid years in Miami, but it was time to move on.
Enter Jorge López, who has also really struggled this season. He has a 5.09 ERA, blown four of seven save opportunities and a 71.8 LOB%. He is also only striking out 6.88 batters per nine innings, really low for a reliever with his kind of stuff. On paper, it may seem like the Marlins lost the trade.
Here is why I love it though: 1) the Marlins have shown an ability to maximize guys with great stuff and 2) they got younger and added control for an expiring contract.
López has much better pure stuff than Floro and we all know what Mel Stottlemyre Jr. can do with guys with good stuff. Just look at how he has transformed arms like Jesús Luzardo and Sandy Alcantara. The Marlins can develop pitching with the best of them and Craig Mish of the Miami Herald reported they love López's stuff. That should excite Marlins fans. When they trade for a guy they think they can turn into something, it usually works.
The best part of this deal is the Marlins traded an expiring contract and acquired control. Adding control is something the Marlins should be looking to do across the board this year. Floro will be a free agent following this season, while López will be one after 2024. He is also two years younger than Floro and has much higher upside.
The Marlins will definitely have to work their magic again, but I trust them to do so. López will likely slot into a lower-leverage role, which should take some pressure off him. He was an All-Star with Baltimore last year, and if the Marlins can help him find that form…look out!
INF Marco Vargas and C Ronald Hernandez for RHP David Robertson
This is the move that officially announced to the league that the Marlins are buyers. It was also a huge statement from the Marlins to their fanbase that they are not messing around. The Marlins moved two low-level, but high-upside, prospects for a rental reliever. It is an aggressive and potentially dangerous move, but an exciting one.
The Marlins got arguably the best reliever that we know for sure is available at the deadline. Robertson has been nothing short of fantastic this year, posting a 2.05 ERA, 1.00 WHIP, 14 saves in 17 chances and an 84.6 LOB%. He slots in immediately as their closer, which will take a ton of pressure off the struggling A.J. Puk.
Not only is Robertson great, but this move should make the entire Marlins bullpen better. Puk has blown too many saves of late, and a huge reason is because he has thrown far too many high-stress innings this year. The Marlins play a ton of one-run games, and when you are in that many close games things are likely to go awry every now and then. Adding Robertson not only gives them a lights out closer at the back end, but it also gives them multiple options to go to in the ninth.
Vargas and Hernandez have flashed a ton of potential in the Complex League, but it is the Complex League. These kids are too far away to be worrying about while the Marlins are finally in a playoff race. That is just how I see it. I know plenty of people disagree and think the Marlins gave up too much, but you have to put it in perspective.
This is the first time in my life I feel like the Marlins are legit buyers. Getting Nick Johnson in 2009 and Fernando Rodney/Andrew Cashner in 2016 were not real buyer moves. They were desperate moves by a front office that showed time-and-time again they had no idea what they were doing. The Marlins are in a much better position now than they were in both those years and taking this kind of risk feels more warranted.
They may come to regret moving these kids, but we likely will not know for another three-to-five years. They could also move to a level higher than Rookie ball and completely blow up and we never hear from them again. I think this is a good move for both sides. The Mets get a ton of upside for a rental reliever. If the Marlins make the playoffs, people will barely even remember in five years if Marco Vargas makes his Major League debut. Hopefully.
Still Work To Be Done
The Marlins still have plenty of work to do. They need to acquire a starting pitcher, and maybe even two. Sending down Eury Pérez has killed their pitching depth and they have struggled to make up for it. The good news is, they are reportedly in on starting pitching, so they are aware of their flaws.
The biggest thing they still have left to do is acquire bats. Not a bat. Bats. Plural.
The Marlins have been in search of more offense for years and that search continues into the deadline. Jeimer Candelario and Tim Anderson seem to be options as mentioned earlier, but the one I want to explore is Anderson.
The dude has been dreadful this year, no two ways around it. He has a .564 OPS, 56 wRC+ and -0.6 fWAR. He also has -10 defensive runs saved at shortstop, which I do not need to tell you is awful. You may be asking yourself why the hell the Marlins would even think about him.
Well, TA has shown that he is a very good baseball player. He is just a year removed from hitting .301 with a .734 OPS, 110 wRC+ and 2.0 fWAR. Not great numbers, but that high-average type hitter is something the Marlins have been chasing of late.
He has hit .335 and .320 in past seasons, posted two seasons above 4.0 fWAR and he does not strike out a whole lot. At his best, Anderson is the exact type of bat the Marlins need. He has also come alive recently, hitting .347 with a .407 OBP and a .795 OPS over the last two weeks. He still has yet to homer, but hitting for high average would be a huge boost to the Marlins.
Of course the question lingers: are those days behind him? Is the Anderson we have seen this year more like the player he truly is? Probably not. The frustrations with the White Sox are well documented and he clearly needs a change of scenery.
If the price is low enough, Anderson is absolutely a flyer worth taking if you are the Marlins. Again, that is if the price is low enough. Considering his expensive 2024 club option and his struggles, the Marlins cannot sacrifice what little they have left of a farm for him.
I do think TA could find his batting-champ form again in a different city. He is certainly going to be moved, there remains little doubt about it. The big question will be how much he costs. I think the Marlins have better options–and Candelario is one of them–but this would be a good move at the right price.
I keep going back to that, but for a team with nothing in the farm, that piece is key. The Marlins are not winning the World Series this year, they CANNOT risk too much for a player as risky as Anderson. Period.
That said, I will be really happy if the Marlins make this move. It would show an aggression and an awareness of needs fans have wanted from ownership for a long time. I think ownership has already shown they are aware of needs. They lost eight in-a-row, and instead of waving the white flag they got aggressive. They went out and got the best reliever available, a move suggests the Marlins are far from done making moves at this deadline.
How many more moves and how quality they are is a huge question mark, but one thing is for sure: the Marlins are going for it. I just really hope they are calculated in how they make it happen.