Analysis
Hyun Jin Ryu Has Made a Strong Return for Toronto Blue Jays
Hyun Jin Ryu returned to the Blue Jays rotation in early August, roughly 14 months after undergoing his second Tommy John surgery.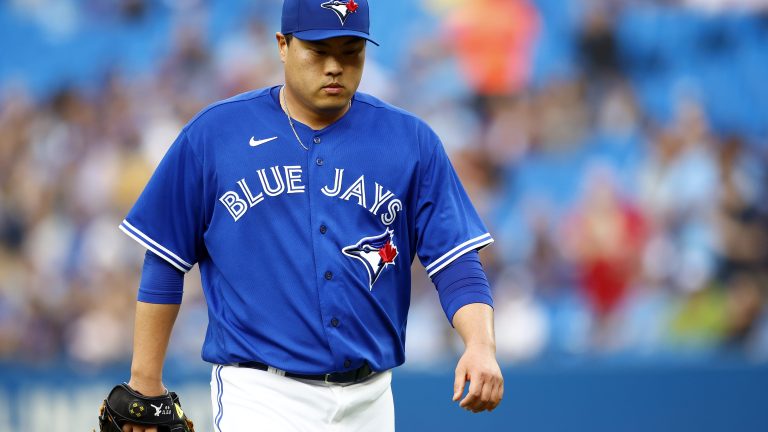 Last year, Blue Jays southpaw Hyun Jin Ryu was struggling on the mound right out of the gate and dealing with forearm inflammation early in the season. He missed time in April and June as he battled to a 5.67 ERA through six starts.
The end result was Tommy John surgery, the second time the South Korean product has undergone the procedure after going through the process back in 2004 when he was still in high school. Ryu went under the knife in mid-June last season, and his timeline for return was at least 12 months and potentially even longer, considering this was his second surgery for the same issue.
The 36-year-old began his rehab process this July, starting out in Rookie League ball and eventually finding himself in Triple-A. Finally, he was brought back to the big leagues on August 1.
Hyun Jin Ryu Makes His Return to the Blue Jays Rotation
Ryu's first time back on the mound was later that day against the division-leading Baltimore Orioles and their impressive young squad. He lasted five innings and allowed four runs off nine hits with one walk and three strikeouts. However, the Jays lost by a score of 13-3, with the bullpen struggling to pitch clean innings following his removal after 80 pitches.
Following his outing against Baltimore, Ryu found a groove on the mound. The southpaw went through his next three starts without allowing an earned run, helping the Blue Jays earn the win against the Guardians, the Cubs, and the Reds while striking out 12 batters through 14 innings.
He followed up those outings by allowing just four earned runs through his next two starts against Cleveland again and, most recently, Colorado, where the Jays won both contests and Ryu added eight more strikeouts to his season total.
The Blue Jays still appear to be limiting his pitch count following the surgery, as Ryu hasn't thrown more than 90 pitches in a single outing. He also hasn't seen any action in the sixth inning. Still, the early results are impressive, and the team is likely happy just to be getting innings from their veteran hurler.
In a day and age where velocity is king, Ryu has bucked that trend, as his fastball sits in the high 80s/low 90s. He utilizes his changeup, cutter, and curveball to generate swing-and-miss and induce a low average exit velocity (86.9 MPH).
His curveball has been one of his most effective pitches, with opponents owning a .167 average on the breaking offering while generating a 39% whiff rate on a pitch that sits in the middle-to-high 60-mph range.
Ryu Will Play a Key Role Moving Forward
After his latest start at hitter-friendly Coors Field, Ryu owns a 2.48 ERA through 29 innings with a 1.034 WHIP, 7.1 K/9 and 2.1 BB/9.
The one somewhat concerning value is his FIP, which sits a bit high at 4.19, but the command he has demonstrated by keeping his walks in check should help him stay effective given his decreased velocity.
The Blue Jays currently boast a strong pitching corps; the fall of Alek Manoah has been supplemented by Ryu returning strong for the rotation, essentially taking Manoah's spot for the time being while the young righty remains at Triple-A.
While Ryu may be more rested than his counterparts given his rehab and late start, the Jays will need him to continue pitching well down the stretch. They currently sit just outside the Wild Card standings and 1.0 game back of the Texas Rangers. They will take on the Rangers next week before finishing the season with a long stretch of games against AL East rivals.