Analysis
Houston Astros Trade Deadline Outlook
Already running away with the AL West, the Houston Astros only need to make trades at the deadline to bolster their hopes in October.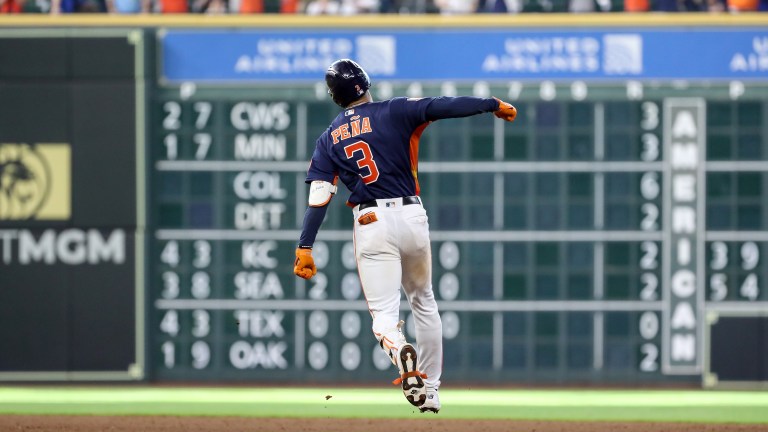 Written By: Max Cutler
The decrepit AL West is all but wrapped up for the Houston Astros. Sitting in first place by a double-digit margin as the August 2nd trade deadline approaches, one of the league's powerhouses and serious World Series contenders will look to add pieces in an effort to fill some glaring holes.
Since 2017, the Houston Astros have been among baseball's elite. With a championship ring (*?), three AL pennants, and a run differential of over 1,000 in that timespan, we are watching an undeniable dynasty, which has continued to thrive in 2022 to the tune of a 64-33 record, trailing only the Yankees and Dodgers for the best record in baseball.
Despite losing Gerrit Cole, Carlos Correa, George Springer, Zach Greinke, and other key contributors over the past few seasons, Houston has developed talent exceptionally well (see Jeremy Peña, Yordan Alvarez, Framber Valdez, etc), and stayed near the top of the league.

The 2022 Astros are simply excellent across the board. They rank fourth in baseball with a 113 team wRC+, continue to strike out fewer times than just about anyone (except the Nationals and Guardians), are second in starter ERA and first in reliever ERA, and have an MVP candidate in the heart of their order.
But when your postseason foes are likely to be the Bronx Bombers and the Dodgers (no nickname needed), a team like the 'Stros might want to tighten the ship.
Let's take a look at what position player groups have been underwhelming for Houston, and who might be in play as a possible trade candidate.
Catcher
Martin Maldonado has been the primary catcher for the Astros this year, receiving 71% of playing time behind the dish thus far. Martin has never been a bat-first catcher– he's a career .208 hitter and averages about 15 home runs per season.
However, his play has fallen even further this year. The 35-year-old is slashing just .170/.237/.339 with his lowest walk rate (6.9%) since 2018. Maldonado's framing is also grading out worse than it ever has: -3 catcher framing runs via Statcast. There is no team in baseball who has gotten less WAR from the catcher position than the Astros. An upgrade is likely.
Willson Contreras, Chicago Cubs
The big name on the market at this position is Willson Contreras of the Cubs, and it could make sense for Houston to target someone on an expiring deal like Willson, as their No. 2 prospect Korey
Lee is currently getting his cup of coffee in the bigs (though he struggled in Triple-A and there are questions about his hit tool). Contreras is having a career year, already accumulating 2.8 WAR with a 140 wRC+. He would insert a jolt into the Astros lineup.
Sean Murphy, Oakland Athletics
Sean Murphy is another catcher on a bad team, and though the A's might, in theory, be hesitant to trade their young catcher within the division, it seems the front office there just wants to get rid of any talent they have, regardless of where they go.
Murphy isn't nearly the hitter Contreras is, but still is a solid one (115 wRC+), and a top-five hitting catcher in the league this year by any metric. He provides a ton of value with his glove – ranking third in the sport with six framing runs, and has been elite behind the dish for his entire career. Murphy is under control through 2026, so the package to acquire him would be significant.
Top prospect Hunter Brown (MLB #83) would likely be in the deal, as well as several others of the Astros' best. Houston's farm system is weak, standing in the bottom-five of most rankings. This deal seems unlikely.
First Base
The position at which the Astros seem most determined to improve is on the right side of the infield, and it's not the one manned by former MVP Jose Altuve.
Veteran Yuli Gurriel has been a disappointment in the 2022 campaign, posting a -0.2 WAR, -5 outs above average, and just a .287 OBP, despite coming off of a highly successful season in which he hit .319 en route to the AL batting title.
Josh Bell, Washington Nationals
According to Ken Rosenthal of The Athletic, "Nationals first baseman Josh Bell remains a priority for the Astros." This makes perfect sense. Bell is a switch-hitter on an expiring deal, crushing both lefties and righties (.851, .896 OPS respectively), and is on a Nationals team that is certain to be a seller.
Bell has cut his strikeout rate to a career-low 13.3% (excluding 45 games his rookie year), and would fit right into the Houston lineup. With Yordan Alvarez's injury status unclear, Bell could also be a stopgap at DH until his return.
Trey Mancini, Baltimore Orioles
Trey Mancini also fits the profile of a first baseman. Though he hasn't produced quite the gaudy numbers Bell has, it's still been an impressive year for the Orioles fan-favorite.
His 113 wRC+ is right on his career mark, and it would likely be higher if not for the new dimensions of Camden Yards – despite having only nine home runs, Statcast has Mancini at 16.1 xHR, and that
number would be 22 (yes, twenty-two), if he had played all of his games in Houston, thanks to the short Crawford Boxes in left.
The returns for both of these sluggers would likely not include either of Houston's top-two
prospects, but after that, anything could be fair game.
That's.. About it
The Astros are exceptionally strong in virtually every other position on the diamond (barring CF, where they are still above average), so it would be surprising to see them make a deal for a star outfielder, starting pitcher, or anything else other than a bullpen arm or utility piece.
However, they are in contact with the Reds about talented right-hander Luis Castillo, according to Jim Bowden of The Athletic. If I were a betting man, I'd say Josh Bell is likely the biggest name we'll see head to Houston, but the Astros have an unpredictable front office who are willing to do just about anything, and see another World Series within their sights. Keep an eye on this team.