Analysis
Houston Astros Offseason Outlook
With Carlos Correa set to hit free agency, the Astros are entering a pivotal offseason if they want to make it back to the World Series next year.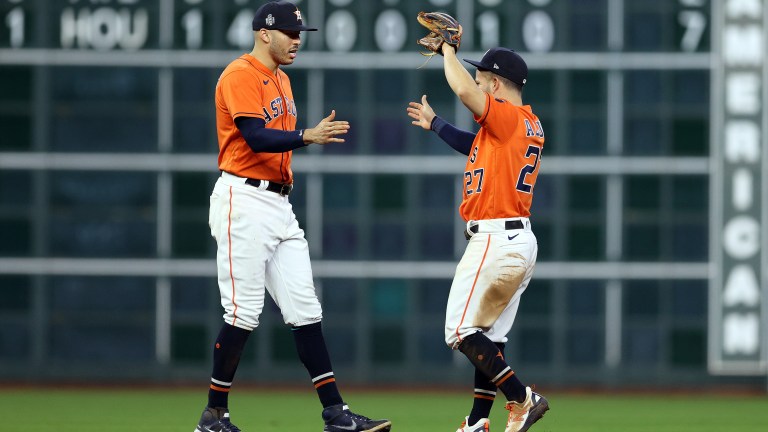 After losing to a surprising Atlanta Braves team in the World Series, it is easy to forget that the Houston Astros largely exceeded expectations. After missing the World Series by just one game in 2020, the Astros entered the 2021 season with a 22-1 shot to win the World Series according to Caesar's Sportsbook.
At 22-1, the Astros were in a four-way tie for the eighth shortest odds, which makes it fair to say Vegas was not too concerned with Houston overtaking the heavily-favored Yankees or White Sox. Dusty Baker's team also smashed their projected win total of 87, finishing the regular season with a 95-67 record.
This season represented the fifth-consecutive postseason appearance for the Astros and the third AL Pennant in the same time frame. No matter how you feel about the franchise, it is hard to deny that the Astros have established themselves as perennial contenders, but the team has some tough decisions to make this offseason in order to maintain that title.
Who Plays Shortstop?
The second the World Series concluded, the Carlos Correa speculation kicked into high gear. After the Astros made a half-hearted offer of five years, $160 million, it is probably safe to say that the longtime Astros shortstop will be donning a new uniform in 2022.
It is impossible to fully fill the void that would be left by Correa if he indeed departs. The former No. 1 overall pick had a career year, posting a career-best 5.8 fWAR and 7.3 bWAR. Though he set a career-high with 26 homers, we have seen Correa put up similar offensive numbers in the past. The big differentiator in his value this season was what he did with the leather.
Correa brought home his first Gold Glove this year and while the award may have lost some of its shine over the years, the 27-year-old objectively had a phenomenal defensive season. After never recording more than 11 defensive runs saved in a season, Correa near doubled that up with 21 this season and could even bring home the Platinum Gove, which goes to the best overall defender of all the positions.
That's enough on Correa though, you are probably well aware of how good he is. The reason why I lay that out, however, is to point towards how large the void will be to fill for a team that will undoubtedly have its eyes on contending in 2022.
A potential internal solution could be to move Alex Bregman back to his original position of shortstop. After sliding over to third base in favor of Carlos Correa upon his Houston arrival, Bregman filled in at shortstop plenty over the years due to Correa's injury history. As recently as 2019, Bregman played 65 games at shortstop, still showing that he was capable at the position defensively.
While I do not love the idea of moving Bregman to a premium position following the worst offensive season of his career, the veteran should be able to handle it. Personally, I see Bregman as a viable option, but a safety blanket if top shortstop prospect Jeremy Peña cannot break camp.
Peña looked to be playing his way into a potential 2021 call-up after a torrid start to his age-23 season. Drafted in the third round of the 2018 MLB Draft as a glove-first shortstop out of the University of Maine, Peña was doing things with the bat in his first 30 Triple-A games that we simply hadn't seen before.
Nobody really questioned his glove, but what kept Peña from being a Day 1 pick in the draft was the mixed reviews on his offensive ceiling. In those 30 games, Peña hit .287/.346/.498 with 10 homers for the Sugar Land Skeeters, before going down with a wrist injury which hampered his season.
Peña is big league ready defensively, and even if there are some growing pains offensively, the Astros will likely still be a top offense in baseball regardless. The Astros are one of the only teams in baseball you could say that about, but when you have nine different players post a wRC+ of 109 or higher (min. 150 PA) it is easy to feel good about your offense with or without Correa.
If the Astros are priced out of Correa, they are probably priced out of Seager and Story as well. Marcus Semien could potentially agree to a deal similar to what the team offered Correa, but who knows if they are willing to offer a 31-year-old Semien the same kind of deal.
Generally speaking, expecting a rookie who missed much of the 2021 season to fill in for one of your franchise players at the shortstop position seems a bit crazy. The contingency plan of Bregman if Peña isn't ready makes it a bit more palatable, but I am admittedly very high on Peña thanks to his skill-set and makeup.
Moving Bregman to shortstop would shift the vacancy issue to third base, a spot where the free agent market is thin outside of Kris Bryant.
As mentioned earlier, defense should be of upmost importance here. Especially with big time ground ball pitchers like Framber Valdez and Lance McCullers being key cogs in the rotation.
Pitching Help Needed
The Astros did a pretty good job of addressing their bullpen at the Trade Deadline by going out to get Kendall Graveman, Yimi Garcia, and Phil Maton. While Garcia struggled, Graveman was a key cog to the back-end of the team's bullpen and Maton was spectacular in the playoffs.
Ryan Pressly was a tier 1 closer for the Astros last year and is under control through next season, Cristian Javier also flourished down the stretch in a bullpen role and command issues may keep him there, which isn't necessarily a bad thing, if the Astros go get a starting pitcher in free agency.
Starting pitching was rough for almost every team in the playoffs, but after Lance McCullers went down for the rest of the postseason, the Astros lack of established reliable starters became glaringly evident.
Rookie starter Luis Garcia had a fantastic regular season and while his postseason stats may not paint the prettiest picture, he showed flashes in October that should have the Astros brass very optimistic about his future.
Garcia, McCullers, and Framber Valdez give the Astros a solid baseline of young starters. With the injury history of McCullers and youthful inconsistency from the pair of rookies, a safe arm makes a ton of sense for Houston.
Still Spenders
I still expect the Astros to be players in free agency. The team struggled to justify the $200+ million contract for Correa with extensions to Kyle Tucker and Yordan Alvarez likely to be required in a few years and Bregman/Altuve combining for $60 million AAV through 2024.
Houston is still clearing up a notable amount of money this offseason as Justin Verlander ($33M), Zack Greinke ($25M), and Carlos Correa ($11.7M) presumably come off of the books. A safe innings-eater like Marcus Stroman seems like a perfect fit for the Astros. Robbie Ray or Kevin Gausman could be a choice as well.
One established starter and a couple relievers would make the departure of Carlos Correa much more justifiable, if it truly is all about the money shuffle. Kendall Graveman is due for a nice pay-day, but the Astros saw first hand how reliable the back-end reliever is and I expect the team to try to bring him back.
Raisel Iglesias will likely command the most money of any free agent reliever this offseason, but the 31-year-old has proven himself to be one of the game's top relievers. A four or five year deal to one of the aforementioned starters paired with a three-year deal to Raisel Iglesias would still have the Astros well under last year's payroll figure and keeps them from the 6+ year obligation they seemingly preferred to avoid with Correa.
With the way that the Astros are able to help unlock stuff with pitchers in recent years, I could envision the team looking at a reclamation project with upside to throw into the bullpen as well. Fortunately for Houston, there's no shortage of those types in this year's free agent market. Jeurys Familia, Alex Colome, Andrew Miller, Adam Ottavino, and Daniel Hudson all loosely fit that description with several others out there.
2022 Outlook
As I mentioned earlier, with or without Carlos Correa, the Houston Astros are still a top offense in baseball. Kyle Tucker is making strides towards superstardom, Yordan Alvarez is already one of the most feared hitters in the game at 24 years old, Jose Altuve is back to being Altuve, Yuli Guerriel won the Batting Title, and several different players stepped up and impressed on both sides of the ball.
Pitching, or lack thereof, was a big reason why the oddsmakers were relatively bearish on the Astros heading into the season. The Astros had to be one of baseball's best offenses and over achieve in the pitching department to win their third pennant in five years and did just that.
The potential loss of Carlos Correa is a blow, there's no way around that, but Jim Crane, James Click and co. have a plan; that I am sure of. With a couple strong additions in the arms department and a proper handling of the shortstop situation, the Houston Astros should still be one of the favorites to get back to the World Series.