Analysis
Francisco Lindor is Playing Like the Best Shortstop in Baseball
After a down first season with the Mets, Francisco Lindor is out to remind everyone why he has been the best shortstop in baseball since 2015.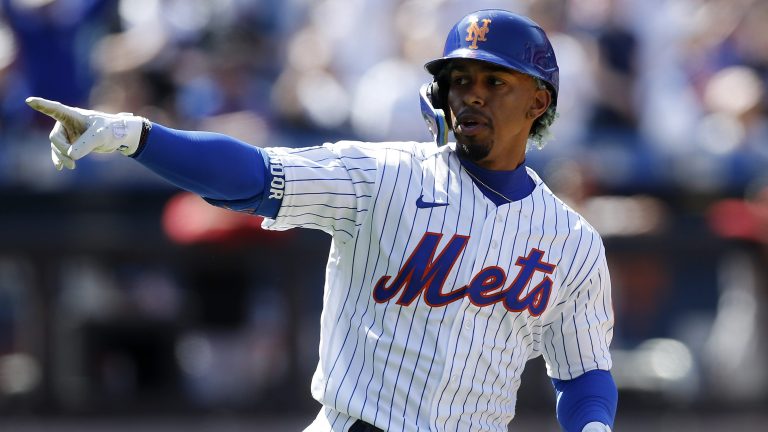 Recency bias is a powerful thing, especially when it comes to professional sports. We are often quick to jump to conclusions on a player's performance and allow whatever we have seen most recently to define who we believe them to be.
Last season, fans and pundits alike collectively decided that Francisco Lindor was no longer a consensus top-10 shortstop. In his first season playing under a $341 million contract, Lindor hit a paltry .230/.322/.412, with a career-low 103 wRC+. This led many to question whether the Mets made a mistake giving Lindor that contract in the first place.
What everyone ignored however is the context that was required to really evaluate the season that Lindor had. Through the first two months of Lindor's Mets career, he hit .188/.292/.285, with a 67 wRC+ in 45 games played. It would have taken a Herculean effort to turn around a season that started that bad to put up respectable numbers.
So everyone saw a hitter making $34.1 million a year, who was hovering just over the Mendoza line and that became who Lindor was. What people forgot was that Francisco Lindor had been the best shortstop in baseball since his debut in 2015. Which is why he earned his $341 million payday in the first place.
Now 10 games into the 2022 season, Lindor is leading all MLB shortstops in many statistical categories and is looking like a player who is worth every penny of that mega contract.
Hot Start to the 2022 Season
Francisco Lindor came into camp this year as a man on a mission. He arrived in great shape not only physically, but also mentally as he spoke about a great offseason where he was able to shut out the noise and get back to the grindstone.
Lindor told the media that things went a little bit fast for him in his first season in Queens, as there were at-bats and games were everything felt sped up. Now in year two, Lindor is more comfortable in his surroundings and ready to show that he was still the same player who had led all shortstops in fWAR since his debut in 2015.
While we never overreact to spring training stats, Lindor was red-hot in the Grapefruit League, hitting .294/.342/.706, with four home runs in 34 at-bats. Unlike last season, where he spent his final days of spring ironing out a contract that guaranteed his family generational wealth, Lindor was able to focus solely on baseball. This has allowed him to carry over that hot spring start into the regular season.
Through 10 games, Lindor ranks first among all shortstops in runs scored (9), RBI (7), HR (3), BB% (20.9), ISO (.333) and fWAR (0.7). He's also top three in wRC+ (198), OBP (.442), SLG (.606). Lindor is leading an offense that is fourth in runs scored right now, with a +26 run differential that is better than every team except for the Los Angeles Dodgers.
While this may seem like an out of nowhere rise back into prominence, after a pair of down seasons in 2020 and 2021, Lindor was really showing signs of this breakout dating back to last season.
Providing Context For Lindor's Past Struggles
Francisco Lindor closed the 2021 season with his best month of baseball in a Mets uniform in September. There was the three-home run game against the New York Yankees in the Subway Series and nine home runs altogether. Lindor hit .257/.346/.549, with a 138 wRC+ in September/October to close out the year.
What people don't remember however, is that Lindor was really himself for the better part of the last four months of the season. From June 1st on, Lindor played like the guy who helped lead the Cleveland Guardians franchise to a World Series in his second season back in 2016.
Over his final 79 games after the calendar turned to June, Lindor hit .252/.340/.482, with 16 home runs, 51 runs scored and 52 RBIs. His 124 wRC+ was slightly better than his 118 career mark and if you would have extrapolated out those stats over a full year, the Mets would have gotten a 32-HR shortstop, who played Gold Glove caliber defense (i.e. exactly what they paid for).
Now as we factor in his current start to the season with the way he played over the final four months last year, we are once again seeing a shortstop that is right atop the league in offensive production.
Since June 1st, 2021, Lindor has hit .254/.352/.495, with a 132 wRC+ and a 3.2 fWAR (10th among SS) across 89 games played. His walk rate of 12% is the best mark among shortstops and his 19 home runs are tied with seven other players for the second-best mark behind Fernando Tatis Jr.
Lindor is never going to be the type of offensive force that Tatis Jr. is, but that does not mean he can't be the best shortstop in the game. Regardless of any other narrative, the numbers speak for themselves. Since his debut in 2015, Lindor's 32.8 fWAR is the best mark among MLB shortstops.
Best Shortstop in Baseball
Over the next 10 years, it is hard to predict that Francisco Lindor will remain as the game's best shortstop because the position is absolutely loaded with talent.
Wander Franco, Bo Bichette and Fernando Tatis Jr. are just the latest in a new wave of talented shortstops. Lindor does not have the same offensive profile as these other shortstops and it is asking a lot to expect him to match their production. Still, Lindor can be the best shortstop in the most literal sense, as no one has played the position better over the last six seasons.
Since Outs Above Average (OAA) was first recorded by Baseball Savant back in 2016, Lindor is tied with Nick Ahmed as the top defender in baseball. From 2016 through 2021, Lindor and Ahmed both were worth 103 OAA and 77 runs prevented. Andrelton Simmons was third at 81 OAA.
In his first year with the Mets last season, Lindor trailed only Kansas City Royals shortstop Nicky Lopez in OAA, posted a 20 OAA mark to Lopez's 25 OAA. While he was snubbed from winning his third Gold Glove, Lindor still proved to be that caliber of a defender.
Over the next 10 years, the Mets have Lindor under contract, which means they don't have to worry about their defense at shortstop for the next decade.
Since his debut in 2015, Lindor is not only leading shortstops with his 32.8 fWAR, he has also hit the most home runs with 161. If Lindor continues to be a perennial Gold Glove candidate, who is mashing 30+ home runs a season, no one will question whether the Mets made the right decision giving him the richest contract ever for a shortstop.
Doubt him if you want, but Lindor has the track record on his side. This has been the best shortstop in baseball for the better part of the last decade. And so far in the 2022 season, he looks like a man on a mission to put that respect back on his name.