Analysis
Francisco Lindor Has Been the Mets Best Player This Season
The league leader in fWAR among shortstops since his MLB debut, Francisco Lindor is back to playing at an elite level for the Mets in 2022.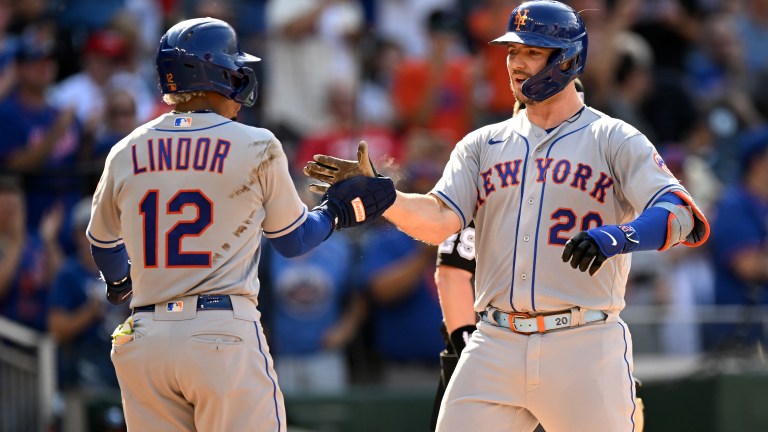 Dating back to his MLB debut back in 2015, there is not a shortstop in baseball that has been more valuable than Francisco Lindor. In fact, outside of Mike Trout and Mookie Betts, Lindor has been the most valuable player in baseball based on fWAR across his eight-year career.
A career 40.7 fWAR has Lindor on a Hall of Fame trajectory, as the 28-year-old has been one of the most consistent all-around players in the game. The glove is always going to be there for Lindor, but when he is swinging a hot bat too, there are few players that one would rather have on their team.
Last season, Lindor struggled mightily in his first year playing for the New York Mets, leading many to question whether he was actually worth the $341 million contract he was signed too. This year, those concerns have all but been put to rest.
All stats were taken prior to play on August 23rd.
Bounce Back Season
In 2021, Francisco Lindor hit .230/.322/.412, with a 103 wRC+. Those numbers were career-lows across the board. This year, Lindor has gotten back to the swing that netted him the nine-figure contract in the first place, as he has put together a remarkable bounce back campaign.
For the season, Lindor is hitting .273/.346/.457, with a 130 wRC+. With over 35 games left to play, Lindor has already surpassed his total from last season in every major category. Lindor has hit 21 home runs, with 80 runs scored, 84 RBIs and 13 stolen bases. He has done all of this while playing his usual excellent defense at shortstop, ranking in the 97th percentile with 9 OAA.
Lindor has been clutch for the Mets all season in RBI spots, as no one in baseball has more RBIs that have either tied or given his team the lead, other than teammate Pete Alonso. In what Fangraphs deems "high-leverage" situations, Lindor is hitting .368/.415/.632, with a 187 wRC+.
His 84 RBIs are the third-most in the National League and the fifth-most in all of baseball. Lindor is within 10 runs batted in of his career-high, which was 92 back in 2018. That was actually the best year of Lindor's career, as he put up a 7.8 fWAR and won his second-consecutive Silver Slugger.
In 2018, Lindor hit .277/.352/.519, with 38 home runs and a 132 wRC+. While he may not reach that same home run total, Lindor is posting a similar wRC+ (130), showing that his overall offensive production is not far off from his peak year.
Through 123 games played, Lindor has posted a 5.5 fWAR. That is the top mark among MLB shortstops and trails only Aaron Judge (7.7), Paul Goldschmidt (6.5), Nolan Arenado (6.1) and Manny Machado (5.7) among all positions players.
Pete Alonso is likely to garner more attention when it comes to MVP voting, but make no mistake about it, Lindor has been the most valuable player on a first place Mets team this season. Even better, Lindor has gotten hotter as the season has wore on.
Finishing the Season Strong
Despite being the top shortstop in the game this season, Francisco Lindor was not an All-Star in 2022, narrowly missing what would have been his fifth selection.
Instead, Lindor had to watch at home while teammates Pete Alonso and Jeff McNeil played in the game, with Starling Marte in attendance as an All-Star as well. Since the break though, no Met has been more valuable than Lindor. In fact, Lindor is leading the entire National League in fWAR in the second half.
The two-time Silver Slugger is hitting .350/.410/.533, with five home runs, 18 RBIs and a 170 wRC+. Lindor is not only leading the league with his second half 2.1 fWAR, but is also second in the NL to Mookie Betts in runs scored with 26. Looking back even further, Lindor is hitting .323/.389/.519 across his last 48 games dating back to July 1st.
While his month-to-month splits show that Lindor has been a bit up-and-down throughout the season, he has found a way to be productive one way or another every month.
Lindor has hit at least four home runs, with 14 or more RBIs ever month this year, including August. Average that out over a six month season and you are looking at a 24-HR, 84-RBI hitter, who is also providing Gold Glove defense at the premium position of shortstop.
Right now, Lindor is on pace to hit 27 home runs, with 110 RBIs, 105 runs scored and an fWAR over 7.0. Those numbers would comfortably make 2022 the second-best season of his career, and if he continues to outperform is averages down the stretch, he could turn in a career-year.
To really understand Lindor's value though, look no further than the Mets place in the standings. The Mets have been in first place since April 12th, as they are easily putting together their best regular season since 2006.
Lindor has been a fixture in the lineup everyday, playing in all but one game, when he slammed his finger in a hotel door back in Los Angeles. His defense, run production and leadership are all key reasons for the Mets success this season, as no player has been more impactful than their $341 million shortstop.