Analysis
Five Bold Predictions for the National League West
With two super teams at the top and exciting players throughout, the NL West is a division to watch in 2023.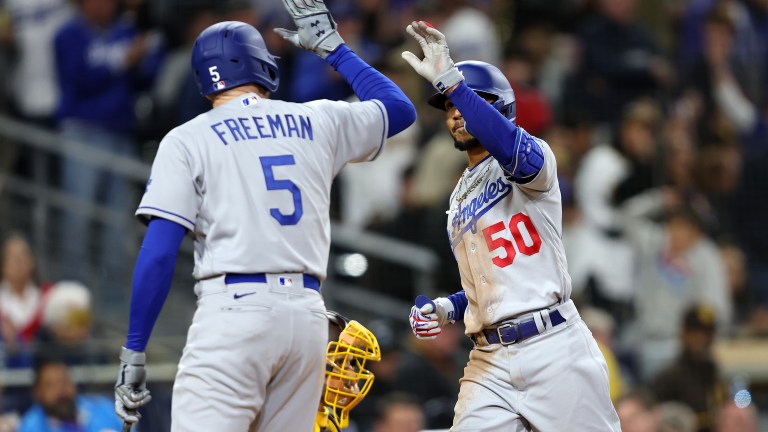 In recent history, the NL West has been one of the stronger divisions in Major League Baseball. With the San Francisco Giants appearing to have taken a step back this year, there is no longer a three-headed monster at the top of the division. However, the Arizona Diamondbacks have taken big steps to improve this year, and well, the Rockies look like the Rockies. Despite the Giants regressing, still expect this division to make considerable noise this season.
Arizona Diamondbacks
Prediction: The Diamondbacks finish 2023 in a Wild Card spot
Entering the 2023 season, the Diamondbacks have drawn a lot of comparisons to the Baltimore Orioles of last year. The Diamondbacks were not a very good team last year, but a boost from their young talent could make them surprise competitors.
I would argue that this Diamondbacks team is better on paper than the Orioles were last year. With Cy Young candidate Zac Gallen in the rotation and a good mix of young talent and veterans in the lineup, the Diamondbacks are poised to make some noise.
The biggest question mark on this team is going to be the lineup. They are really going to need young players like Corbin Carroll, Alek Thomas, and Jake McCarthy to show up. This is an offense that finished in the bottom third of the league last year in OPS and wRC+. Those numbers should improve with the promotion of Corbin Carroll, as well as the addition of a bat like Lourdes Gurriel Jr.
The addition of Gurriel Jr. was one of the most underrated moves of the offseason. While he doesn't possess a ton of power, he hit .291 last year and does not strike out very frequently. The only player in this lineup with 300 at-bats last year and a batting average over .270 was Jake McCarthy. The addition of Gabriel Moreno, who has consistently hit for a high average in the minors, will help as well.
This was also a pitching staff that finished in the bottom third of the league last season in most categories, but things could begin to turn around this season. Zac Gallen is a Cy Young candidate, and Merrill Kelly is solid. They also have players like Brandon Pfaadt and Drey Jameson looking to make an impact. The one thing that is going to help this pitching staff the most is the defense behind it. This was the best defense in the league last season by Outs Above Average. With a defense that good, the pitching staff can afford to make a mistake here and there.
With the Phillies suffering from a bit of a World Series hangover, I think they'll take a step back and the Diamondbacks will take advantage to grab a Wild Card spot.
Colorado Rockies
Prediction: Kris Bryant hits 40 home runs
Kris Bryant signed with the Rockies last year but only played in 42 games while struggling with injuries. During his first five seasons, Bryant was one of the premier hitters in all of baseball. A strong spring training has Bryant looking like he is ready to get back to being the player that we all know him to be.
Having never been one to put up insane exit velocities, Bryant has relied on being a pure hitter and not just a power threat. Bryant has only come within five home runs of 40 once, and it was in 2016 when he hit 39. With that said, Bryant has never been one to struggle with elevating the baseball with an average launch angle of 18 degrees during his career. That swing should play at Coors Field.
We have seen players receive a power boost from playing in Coors, and I expect the same from Bryant. Since 2020, Coors Field has been the sixth most homer-friendly park in baseball. If you want to dive even a little deeper, Coors Field is the third most homer-friendly park for right-handed hitters specifically.
With a player who can elevate the ball the way Bryant can in a ballpark like Coors, we should see his home run numbers tick up. Bryant has a huge year in store.
Los Angeles Dodgers
Prediction: Freddie Freeman hits his 300th home run in Atlanta on May 22nd
We are all aware of how much Atlanta means to Freddie Freeman. After he spent 12 seasons in Atlanta, it felt like there was no way the Braves wouldn't bring their homegrown superstar back. In a decision that shocked many, the Braves traded for Matt Olson and effectively said goodbye to Freddie Freeman. Now with the Dodgers, Freeman enters 2023 just eight home runs shy of the 300 mark.
While 300 home runs might not seem like the ultimate milestone, it is certainly nothing to scoff at. In baseball's storied history, only 153 players have reached the milestone, and Freeman is far from done. The Dodgers are going to play their 50th game of the season in Atlanta on May 22nd. Freeman's 162-game career average has him hitting a home run every six games. That pace lines up perfectly for Freeman to hit number 300 at the end of May when the Dodgers are visiting the Braves.
It would undoubtedly be a magical moment to achieve such a milestone in the city where it all started, in front of fans that still love him. It is a story too good to be true.
San Diego Padres
Prediction: The Padres hold off the Dodgers to win the division for the first time since 2006
This offseason, the Padres loaded up with talent, so one might say it isn't that bold to have them winning the division. I might even agree with that. However, the Dodgers have had a chokehold on this division for the last decade, and the Padres have not won a division title since 2006. They are hungry.
The offense was fairly average last year, finishing 15th as a team in OPS. However, this year they are going to have Fernando Tatis Jr. back, a full year of Juan Soto, new shortstop Xander Bogaerts, and returning MVP candidate Manny Machado. This lineup could be the scariest in all of baseball, with arguably three MVP candidates in the order.
Just between Tatis Jr, Soto, Bogaerts, and Machado, we are looking at a group that could hit 30 home runs each. Then the bottom of the lineup is made up of players like Jake Cronenworth, Austin Nola, and Ha-Seong Kim. Opposing pitchers are going to receive no breaks when facing this lineup.
The one concern with this team is going to be pitching, namely the starting rotation. Musgrove is starting the season on the injured list, but when he comes back, he will have Yu Darvish and Blake Snell in the rotation alongside him. That is a solid top three, but there is some fall-off after that. The Padres are interested in winning and winning now, so do not be surprised if a move is made for another starter before the trade deadline.
Despite the concerns with the rotation, this pitching unit finished 11th last year in both ERA and fielding independent pitching (FIP). While there are concerns about how the unit will perform during the regular season, they're bringing back a lot of their guys who helped them to be a borderline top-10 pitching staff last season.
The Padres have the firepower to win this division. They are going to go toe to toe with the Dodgers this year, and they know they can hang. The Dodgers are the big brother of this division no longer.
San Francisco Giants
Prediction: Logan Webb finishes top five in NL Cy Young voting
Logan Webb entered the 2022 season as a sleeper to win the Cy Young Award, and he would end up finishing 11th in voting. Over the last two seasons, Webb has been one of the league's better pitchers.
Last season, Webb excelled at limiting hard contact as well as walks. He finished in the 78th percentile in barrel rate and 77th in walk rate. If you can avoid getting hit hard and giving up free passes, you are going to find success. Despite performing well in those two categories, most of his advanced stats fell from 2021 to 2022. In 2021, Webb was able to generate more swings and misses, avoid more hard contact, and generate more chases. Hitters also really struggled to elevate against Webb in 2021.
Webb really only throws three pitches: a sinker, slider, and changeup. The sinker and changeup combined for a -21 run value (per Baseball Savant) last season, giving him a great one-two punch. The slider offers a different look in conjunction with his top two pitches. Webb also generates an exceptional amount of vertical movement on his sinker and changeup.
Webb ranked 12th in innings pitched last year. He is going to throw a lot of innings again this year. If Webb can get back to limiting hard contact and get his strikeouts back up, he should be in Cy Young contention.