Analysis
Edouard Julien Is Quietly Putting Together One of the Top Rookie Seasons in MLB
The Canadian infielder has made the most of his opportunity with the Minnesota Twins, becoming a force at the top of their lineup.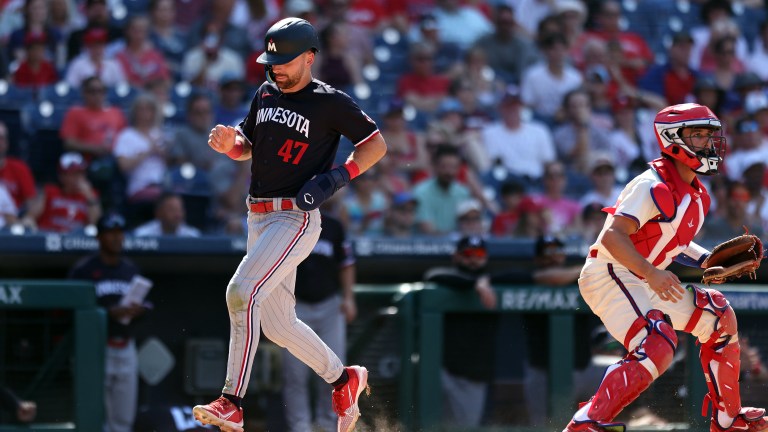 After dominating with Team Canada at the World Baseball Classic in March and putting up great minor league numbers, Edouard Julien seemed like a slam dunk pick to break out with the Minnesota Twins in 2023.
Yet the 24-year-old second baseman ended up starting the season in Triple-A and didn't hit the ground running when he was called up to the big leagues.
Julien made his major league debut on April 12 after starting the season with the St. Paul Saints. He would stick with the Twins for eight games before being sent back down. A month later, he was called back up to Minnesota, this time appearing in 11 games before hopping back on the shuttle to the minors.
On June 10, however, he was brought back to the Twin Cities and has proceeded to become one of the top hitters in baseball since his third recall.
| | | | | | | | | |
| --- | --- | --- | --- | --- | --- | --- | --- | --- |
| Trip to Majors | PA | AVG | OBP | SLG | BB% | K% | wOBA | wRC+ |
| First (April 12-20) | 30 | .222 | .276 | .444 | 3.3 | 30.0 | .309 | 97 |
| Second (May 20-31) | 42 | .229 | .333 | .457 | 14.3 | 38.1 | .338 | 118 |
| Third (June 10-Present) | 179 | .303 | .402 | .493 | 14.0 | 28.5 | .388 | 152 |
The Auburn University product has become a mainstay in the Twins' lineup by slashing .303/.402/.493 — good for a 152 wRC+ — while walking 14.0% of the time and slugging 16 extra-base hits in his third major league go-round.
Julien was named the Twins Player of the Month in July and has slowly crept up the WAR leaderboards among rookie position players.
He ranks sixth in the American League with a 1.9 mark, less than a full win behind the likes of Josh Jung and Gunnar Henderson, despite appearing in around 40 games fewer than the two AL standouts.
Importance in Minnesota
Julien's summer surge couldn't have come at a better time for the Twins, who have gone extended periods this season without Jorge Polanco. In fact, Julien has played so well that Minnesota has had Polanco taking reps at third base since he returned to the team.
His strong play has earned the Quebec-born Julien the majority of his at-bats in the leadoff or second spot in the Twins' batting order.
While Minnesota leads the AL Central, it has primarily gotten to that spot on the back of its strong pitching staff. With Carlos Correa and Byron Buxton — the expected offensive engines in the Twins lineup — struggling, Julien's emergence as a significantly above-league-average hitter has been extremely important for a team that ranks in the bottom half of MLB in runs scored.
Of players with 200 or more plate appearances with the Twins, Julien ranks second in wRC+, average, slugging, and wOBA and third in OBP.
How Has He Done It?
Coming up through the minors, Julien impressed with his patient approach and ability to do damage when he made contact. 
He started to find his way onto national radars after his performance in the 2022 Arizona Fall League, where he posted a 1.248 OPS and flashed his full set of tools by walking more than he struck out while hitting five home runs in 70 at-bats. 
Now with the Twins, Julien has brought that same approach to the big leagues. He's walking in 12.7% of his plate appearances and boasts a 14.2% barrel rate — both coming in around the 90th percentile in MLB.
He also ranks in the 99th percentile of hitters in chase rate, displaying an elite command of the strike zone by swinging at pitches out of the zone just 16.3% of the time.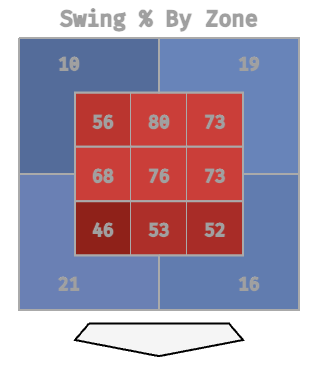 While he doesn't make the hardest contact in the league, Julien makes up for this with exceptional consistency in the direction he hits the ball. As is reflected by his barrel rate and sweet spot percentage (41.1%), Julien — while registering a respectable 42.6% hard-hit rate — regularly hits the ball at an ideal angle so that when he does make solid contact, he gets the most out of the result.
Another thing Julien has done so well in 2023 is use the entire field. Five of his 10 home runs have been to the opposite field, and he has a 365 wRC+ when hitting the ball to left. He also ranks 17th among all MLB hitters in run value when hitting the ball oppo and is only one of two players in the top 20 to have seen less than 1100 pitches.
Room for Improvement?
Despite his strong performance in July, Julien has struggled over the past couple of weeks. He is slashing .182/.325/.182 since August 1. His 17.5% walk rate over that stretch has helped him to keep reaching base at a decent clip, but he hasn't gotten the same batted ball results, registering a 72.7% ground ball rate.
Overall, Julien has also struggled against lefties, despite only getting 31 at-bats against opposing southpaws. In those matchups, he's recorded just 10 hits — all singles — and hasn't drawn a walk.
Another area that appears to be a bit of a question mark for Julien going forward is where he slots in defensively. He's spent all of his time this season serving as the team's second baseman or designated hitter but has -6 defensive runs saved, which ranks 72nd among 76 players to log at least 100 innings at the keystone spot. 
With Royce Lewis returning to the roster, there is the potential that the Twins could play around with their defensive alignment. Despite Julien's pre-game reps at first earlier this month being dismissed by the rookie, he actually does have 181 innings of minor league experience at the position.
With all that said, Julien has quietly put together one of MLB's most productive rookie campaigns this season.
By bringing the skills he flashed at the minor league level straight to the Twins' lineup, Julien has emerged as an essential offensive contributor on a team that looks to be bound for the AL Central title.