Analysis
Early Season Panic Watch For Underperforming MLB Teams
They were supposed to contend but have started off incredibly slow out of the gate. How worried should these teams be about their bad start?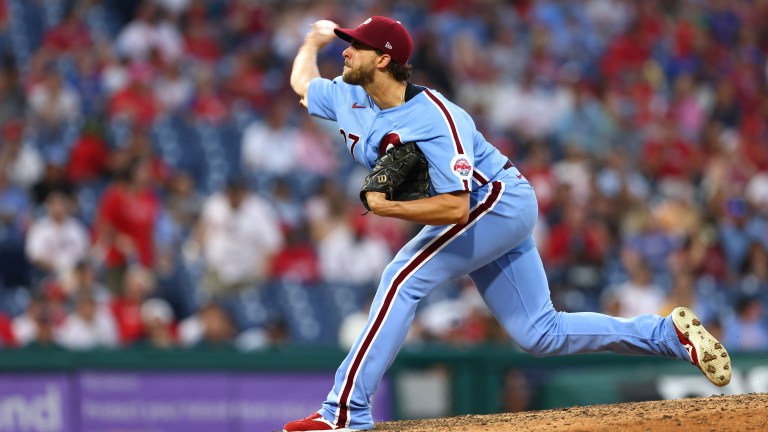 The MLB season is fully underway at this point, with every team having played at least double-digit games. Over the course of a 162-game season, so much change and turnover can occur within teams and the league itself. However, it's never too early for fans to worry about their respective team's outlook moving forward.
It's easy to overreact after a shaky start to the season and while it's not worth throwing in the towel with 150 games left to play, some underlying causes of panic need to be discussed.
There is plenty of time to address and correct issues but some teams are naturally going to need more urgent changes to get back on track for the rest of the season.
Four teams with playoff hopes have come out the gate in a less-than-ideal manner and sit under .500 at this point. Let's look into these teams and gauge the reasons for panic and how concerned you should be about them at this stage of the year.
Because stats can change so rapidly this early in the season, all metrics referenced are from prior to the games on April 11th.
Seattle Mariners
The Mariners are coming off an exciting season in which they finally ended their playoff drought and the expectations were as high as ever entering the year.
They've started the year 5-8 and haven't looked quite as good as advertised. The early injuries to starter Robbie Ray and relief ace Andrés Muñoz definitely don't help the status of the roster, but the pitching hasn't been the issue for the most part.
The highly-regarded rotation led by Luis Castillo has produced at the level they were expected to aside from one or two starts. Castillo has been unbelievable so far, pitching to a 1.02 ERA with 17 strikeouts across 17.2 innings pitched in his first three starts. Castillo also delivered one of the best plays you'll see from a pitcher all season.
Logan Gilbert started off the season strong with six innings of one-run ball against Cleveland before surrendering three runs to the same Guardians team a week later.
The back-end of the rotation may be a bit shaky with Ray out for a while, but they have enough depth arms to help out and keep them afloat.
The bullpen has taken a slight step back overall and will severely miss Muñoz presence, but the unit as a whole is really not a concern as it's led by Paul Sewald, Penn Murfee, Matt Brash, and many other quality options. Trevor Gott and Gabe Spier have even emerged as viable options for Seattle. This unit as a whole is going to get better as the season progresses and the pitching hasn't shown anything panic worthy as they've remained competitive in almost every game this year.
The offense is where things get a bit worrisome for the Mariners. Julio Rodriguez and Ty France are leading the lineup once again as they both have an OPS over .800 and while they aren't going off as they did at times last season, they have given no reason to be worried. Aside from those two, the offense has been lackluster in general to this point.
The offseason additions Teoscar Hernandez and Kolten Wong have failed to get much going at all. Hernandez had one big game with two home runs, but has otherwise been unimpressive with a 14:1 strikeout-to-walk ratio across his 42 at-bats.
Wong has been worse with only four hits, all singles, in his 29 at-bats. These two were the key additions to this team and will need to step it up. But in all likelihood, veterans like these two will be able to do so.
Lineup mainstay Eugenio Suarez has yet to find his power, but has been productive to the tune of a 117 wRC+ and a strong .326 average. The other regulars in Cal Raleigh and J.P. Crawford have underperformed to this point, which has sparked the question of whether they should've gone all-in with a high-end shortstop to replace Crawford this winter.
Jarred Kelenic has begun to show signs of the promising player that he was considered to be prior to his brutal rookie season. He's being utilized in more of a platoon role, but his 96th percentile hard-hit rate and .627 xSLG are elite metrics that point to an improved version of Kelenic. His strikeout rate is still over 30% but he's only played nine games after all.
The bench bats have been poor all around as the likes of Sam Haggerty, Tommy La Stella, and Cooper Hummel haven't been helping at all. The return of Dylan Moore in the coming week or two should help this unit and provide more value when the key players are resting.
Look, this team is still really good. There is reason to be worried about the offense, but there's also an expectation that Jerry Dipoto will do what it takes in order to improve the offense prior to the trade deadline. The Mariners are in win-now mode and this roster is way too talented to be significantly worried about at this point in the season.
Furthermore, nobody in the AL West has gotten off to a particularly scary start as even the Astros have struggled out of the gate. The Rangers and Angels lead the division at just 7-5, which gives the Mariners plenty of time to get the offense rolling.
Panic Meter: 2/10. It's early, this team is still really good.
Philadelphia Phillies
The reigning National League Champions are coming off a surprising and impressive playoff run last year, in which they upset the division-winning Braves en route to making the World Series. They ultimately fell to the Astros, but their season was a huge success and was only emphasized further by their huge splash of adding Trea Turner in free agency.
The loss of Bryce Harper for the first part of the season and the loss of Rhys Hoskins for the entire season definitely decreased the hope of a return to the World Series, but the outlook of the team looked strong overall still.
Not everything has gone wrong, but it hasn't been pretty for the Phillies so far. They sit at 4-8, and while it's early, they've got two division rivals that will continue to pull ahead if the fighting Phils can't figure some things out.
Offensively, the Phillies need their star bats to step up with Harper and Hoskins out. While Trea Turner has continued to be himself and earn the affection of the fans in his first 10 games with the team, Kyle Schwarber and J.T. Realmuto have had underwhelming starts to their seasons. Schwarber and Realmuto have a wRC+ of 61 and 72 respectively and haven't even walked at their normal rates in order to provide value.
These two veterans will undoubtedly be better as the season progresses, but the Phillies need them more than ever with two stars missing from the lineup. Nick Castellanos is another veteran the Phillies will rely upon. He may be in midst of a bounce-back season following an awful first year with the Phillies last season. His strikeout rate has been terrible, but his .853 OPS sparked by seven doubles is promising.
The biggest positive sign out of Philly so far is the breakout of Alec Bohm and Bryson Stott. The two young infielders showed promise last season but seem to be on their way to taking the next step this year. Stott is tied for fifth in the league in hits, while sporting a .415 AVG across the first 10 games.
Bohm has flashed his natural power with a few huge home runs and has hit at an elite level otherwise with his OPS over 1.000 right now. The progression of these two is easily the best thing happening right now for the Phillies and they could be part of what keeps this offense going.

While Brandon Marsh and Edmundo Sosa aren't playing every day, they both have impressed and look like guys who can be useful in the lineup all season. The lineup isn't at full strength, but it can definitely survive until Harper returns if Realmuto and Schwarber can get going and work back to their peak.
The pitching is where more people seem to be worried, but it's not for necessarily the expected reasons. Oddly enough the worst part of the rotation has been the top of it. Zach Wheeler and Aaron Nola form of the best co-ace tandems in the league, but they've both struggled out of the gate severely. They've posted ERAs of 5.59 and 7.45 respectively in their first two starts a piece. This is unfamiliar territory for Philadelphia as they're used to the consistent greatness of these two.
Wheeler looked better in his second start and his 2.92 xERA shows that he should shift back to his norm sooner than later. Nola's command has been shaky but like Wheeler, his second start was progress and there's no reason to doubt his ability to get back to his normal self.
The best starters so far for the Phillies have been Bailey Falter and relief pitcher Matt Strahm. These two have been excellent and Strahm has yet to allow a run in his two starts and one relief appearance. The continued success of these two arms can seriously help negate the struggles of some of the stars and both can be options to pitch out of the bullpen when Ranger Suarez returns from injury.
The bullpen has been shaky to this point as well. Jose Alverado and Andrew Bellati have been elite and led the efforts of the bullpen. Alverado has struck out 11 of the 13 batters he has faced, which is ridiculous. However, the rest of the bullpen has been iffy, to say the least.
Last year's bullpen ace Seranthony Dominguez has allowed seven earned runs in just four innings of work on the year. Offseason additions Gregory Soto and Craig Kimbrel haven't helped at all with both of them allowing five runs already on the season. The bullpen unit is definitely an area of concern, but it should improve when Strahm rejoins the unit.
The biggest issue for the Phillies is the division they play in. This team is still good and there's no real reason to worry about Wheeler and Nola after two rough games because they've proven themselves for years. However, this team could easily fall well behind the two division powerhouses if they can't clean some things up.
Panic Meter: 4/10. The division is scary, but this team is still playoff-caliber.
St. Louis Cardinals
If someone told you a month ago that the Cardinals would be in last place in the NL Central at ANY point in the season, you'd probably be shocked. Yet here we are and the Cardinals are 5-7 through their first 12 games.
Granted they've had a tough schedule to start the year, but there are some concerns with this roster that could truly put their ability to content at risk. All offseason, many wondered how they would address the clear weak spot of this team, but it seems it hasn't really been dealt with yet. We'll get back to that later.
The Cardinals feature arguably the best lineup in all of baseball and added top prospect Jordan Walker to the mix this season. They're deeper than anyone else in the league with numerous bench bats that could and would start for many teams across the league. There isn't much need to discuss this offense, but let's glance over it for the sake of assessing the team as a whole.
The Cardinals' offense is led by two top-three MVP finishers from last season, Paul Goldschmidt and Nolan Arenado. They're both incredible and are already off to excellent starts and we'd expect nothing less from them.
Key addition Willson Contreras is off to a slow start offensively, although he has still produced more than what they were getting from Yadier Molina last season and will surely continue to improve. He's hitting the ball hard still and the hits will come around.
Some of the lineup regulars like Tommy Edman, Brendan Donovan, and Tyler O'Neill haven't done much to this point, but haven't given any reason for significant concern.
Meanwhile, young hitters Nolan Gorman and Alec Burleson have taken a step forward and looked very solid so far. Gorman has a nearly equal strikeout-to-walk ratio while sporting an OPS over 1.000 so far while Burleson has five extra-base hits in just 26 at-bats. These two alongside Dylan Carlson have helped ease the burden of Lars Nootbaar being out with an injury and will continue to do so for a while.
With all the offensive depth on the roster, it wasn't necessarily expected that Walker would debut with the team. It's safe to say the Cardinals made the right choice as Walker has a 10-game hitting streak to start his career and is tied with Goldschmidt and Arenado for the team lead in hits. His hard-hit rate of 56.7% is among the best in the league and while he does need to improve his walk rate, he's a special hitter.
This offense hasn't been amazing yet, but it's not the issue with this team moving forward. The pitching is where things get worrisome for St. Louis, which has been the case for far too long.
The Cardinals have been without franchise legend Adam Wainwright for the first part of the season as he works his way back from an injury. This will be Wainwright's final season and while he's not the pitcher he once was, the team is missing him for sure.
The only starter that performed well to this point is Jordan Montgomery, who has allowed just three runs across his 12 innings pitched on the season. He's proven himself to be a reliable veteran arm but is nowhere near the level of an ace for a contending team.
Jack Flaherty actually leads the rotation in ERA at 1.80, despite walking13 (!) batters in his first two starts. Coming off a few injury-plagued years, Flaherty simply has not been able to locate whatsoever. This will almost certainly lead to regression in his ERA and other metrics.
He isn't that same pitcher that seemed like the future ace of this franchise a few years ago and while he'll likely remain in the rotation, there's no reason to expect anything more than back-end rotation production.
The other three current starters Steven Matz, Miles Mikolas, and John Woodford have been awful to this point. They all currently have an ERA over 8.00 through their first two starts and none have inspired much confidence. The rotation is not on par with the rest of the serious NL contenders and even with Wainwright back, it leaves something to be desired. They seemed like a prime team to spend on starting pitchers this past winter and hesitated to do so once again.
Even just 10 games in, it seems like they'll need to make some sort of moves before the end of July to give themself a real chance come October.
The bullpen led by Giovanny Gallegos and Ryan Helsley hasn't been great but should be at least formidable. They've had some surprise performances from the likes of Chris Stratton and Drew VerHagen.
However, Jordan Hicks and Andre Pallante have both struggled a lot in their five games each.
The bullpen could use another piece but isn't as much of a concern as the rotation with Gallegos and Helsley ready to finish games off for the team.
The Brewers have started off hot and the young teams in the division look solid, but this division is still the Cardinals to lose in my eyes even with Milwaukee leading them by four games already. The Cardinals have gotten a tough draw to start the year and will have the opportunity to respond in a big way with a few easier series coming up.
With that said, the rotation is very scary. It's not fully panic-worthy, but this current rotation simply doesn't seem to have what it takes to make a playoff run. They need serious internal improvement and likely an external addition if they want to keep up with the Brewers and the rest of the National League this season.
Panic Meter: 6/10. Give it time, but the rotation is troublesome.
Chicago White Sox
This feels like deja vu. It's been just over a week and the White Sox are already dealing with key injuries, a lack of situational ability, and overall sloppy baseball.
This team was expected to be one of the best teams of the 2020's era after a full-blown rebuild leading to an excellent 2021 season. Nothing has gone right for the White Sox since then and it feels like much more of the same this year.
Tim Anderson and Eloy Jimenez are already on the IL with minor injuries suffered during the early games of the season. Both players are two of the most important hitters in this lineup and have been great when on the field, but can't seem to stay healthy every season. Anderson was performing as he usually does with 14 hits through 11 games played, but will now be out for two-to-four weeks.
Weirdly, the White Sox lineup hasn't been the primary issue with the team thus far. The stars of the Cuban World Baseball Classic team, Luis Robert Jr. and Yoan Moncada, have looked excellent so far this season. These two have also struggled with injuries and both underperformed given their expectations when on the field last season.
Robert Jr. has been the best hitter on the team with four home runs and 16 hits so far this year in what looks like it could be a huge breakout for the once-elite prospect. He's also already made numerous unreal catches in the outfield as he looks to regain his Gold Glove form from a few years ago. Moncada is another former top prospect that has experienced a lot of ups and downs over the past few seasons. Unfortunately, he's dealing with a sore back right now but has posted a great .889 OPS across his first nine games of the year.
The biggest change in the offense is the loss of Jose Abreu, but Andrew Vaughn has looked solid at first base and should continue to develop in his first year starting at his natural position. He's produced a 136 wRC+ this year and has looked strong out of the gate.
New addition Andrew Benintendi has done what he was brought in to do: Get on base consistently and stay on the field every day. Yasmani Grandal is another player in need of a bounce-back year and he's looked healthier and better at the plate this season as well.
Rookie Oscar Colas was phenomenal in Spring Training and has shown flashes of being a productive young player in his first MLB games. He's got a quality .718 OPS and has shown his ability to hit the ball extremely hard at times.
The players that didn't meet expectations last season are doing much more to benefit the team so far this season as the offense has generally been good. The White Sox have struggled with situational hitting at times as they have the past few seasons, but the offense is much improved and has kept this team alive in many of their games.
In a complete reversal from much of last season, the other side of the ball is the bigger area of concern for the White Sox at this stage in the season.
Dylan Cease has been excellent as expected, but that's about it in terms of quality performance from pitchers on this team. Cease has a 1.65 ERA through his first three starts with 24 strikeouts. The rest of the pitching staff has been disappointing in a variety of different ways and is the main cause of the increasing panic surrounding this team.
Lucas Giolito and Lance Lynn returning to or close to their 2021 form was a necessity for this team to be able to return to the playoffs and neither has done so thus far. They've both looked very rough and have allowed a combined earned 19 runs between the first four starts between the two veteran pitchers. They have the ability to turn it around, but Lynn's age is showing and Gio's regression from last season doesn't appear to be changing.
Michael Kopech had one of the worst starts of the season in his first appearance of the year as he allowed five home runs to the Giants and was clobbered in every way. There were talks about how he could've been tipping pitches, but it was nonetheless an awful game for him.
He bounced back very well in his second start and his continued success will be crucial. Kopech was the player I considered the biggest X-factor for the team and his ability to command still needs further improvement.
Mike Clevinger has actually been the second-best arm in the rotation, even though he came into the year considered to be the No. 5 starter. He's allowed just four runs across his first two starts and looks like he could continue to be a decent arm despite some less-than-ideal underlying metrics.
The bullpen has been just as much of an issue as the rotation as well. Joe Kelly is already on the IL once again and with Liam Hendriks and Garrett Crochet still working their way back, the bullpen is definitely a weak spot.
Reynaldo Lopez is experiencing a bit of a learning curve, while unofficially taking over the closer role but has still flashed nasty pitches and the ability to be an elite relief arm. Veteran bullpen leaders Kendall Graveman and Aaron Bummer have been mostly stable forces as well for the relief core. Graveman had one bad game against Houston and has otherwise been great while Bummer has yet to allow a run this season.
Jimmy Lambert has continued his successful transition to the bullpen from last season as he's pitched in the most games for the White Sox and hasn't allowed a run across his six innings of work.
The rest of the bullpen has been hard to watch for the White Sox. Kelly was rough before hitting the IL, Jake Diekman has walked five batters and allowed five runs, and Jose Ruiz was designated for assignment earlier this week after allowing nine runs in four games.
The returns of Hendriks and Crochet completely alter the outlook of this bullpen as the four primarily relievers mentioned can be supplemented with two excellent arms to form a strong core of six pitchers. Until then, this unit will likely continue to struggle and harm this team late in games, especially on days where some combination of Lopez, Bummer, and Graveman are unavailable.
The next few months feel like make-or-break time for the White Sox. They're only hanging around .500 thanks to a surprisingly solid series in Houston, but they haven't played well at all thus far.
Cleveland and Minnesota both look much better right now and if Chicago can't get healthy and drastically improve their pitching, we could be looking at a team that sells come July. It's now or never for the core of the rebuild in Chicago.
Panic Meter: 7/10. The offense is promising, but the injuries and pitching make it hard to believe this team can do much.