Analysis
Don't Go All in on These Pitchers After a Hot Start
These three pitchers have flashy numbers over their first few starts, but the underlying data says you shouldn't buy in on them quite yet.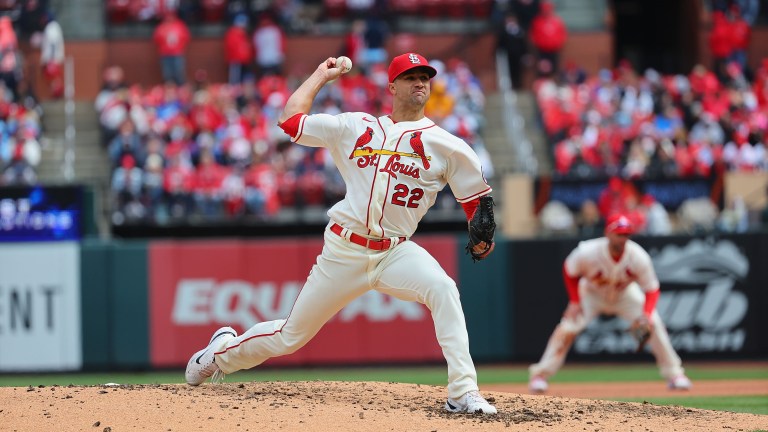 As much as we remind ourselves not to overreact to early season results, it's almost impossible not to – and that's okay! Honestly, April baseball would be kind of boring if we didn't allow ourselves to overreact just a little. It's fun to think about Luis Arraez batting .500, Patrick Wisdom hitting 80 home runs, and the Rays winning 135 games. Our brains know it isn't going to happen, but our hearts like to believe.
However, as lovely as it is to dream on small sample sizes and unsustainable results, it's important not to get carried away. That's why I'm here to burst the bubble on three pitchers who have had excellent results in their first few games.
The first is an injury-plagued former ace working to return to form. The second is a veteran looking to build off the best season of his career. The third is a WBC star hoping to develop into a top-of-the-rotation arm. Let's take a look.
Jack Flaherty – St. Louis Cardinals
Traditional Stats: 2.95 ERA, 21.1 IP, 17 K
Advanced Stats: 5.48 FIP, 5.60 xFIP, .220 BABIP, 11.1% HR/FB
Jack Flaherty made waves in his first start of the season, holding the powerful Blue Jays offense scoreless over five innings en route to a 4-1 Cardinals victory. During his next appearance, he kept a surprisingly potent Brewers team at bay, giving up two runs in another five innings of work. He followed that up with a third successful outing against the Rockies, allowing just two runs (one earned) while pitching in the dangerous confines of Coors Field.
As Flaherty walked off the mound in Colorado, his ERA stood at a minuscule 1.76. Cardinals fans hadn't seen him pitch so well since 2019, when he finished fourth for the NL Cy Young.
Unfortunately for the Redbirds, there were signs that Flaherty's success was unsustainable from his very first game. He walked seven batters against the Blue Jays and another six against the Brewers. Overall, he recorded 14 walks (plus one HBP) and 13 strikeouts in his first three starts. Flaherty managed to work his way out of several jams in those three outings, as demonstrated by his 88.5% left on base percentage, but it was hard to imagine he could keep that up. The league average LOB% this season is 71.3%, while Flaherty's career average is 78.4%. It was only a matter of time before all those baserunners came back to haunt him.
That's exactly what happened in his latest outing. Flaherty allowed four hits, three walks, and four earned runs to Arizona, taking the loss as the Diamondbacks beat the Cardinals 6-3. It wasn't an implosion, but Flaherty looked more like a number five starter than a top-of-the-rotation arm. That might just be the case going forward as well.
Merrill Kelly – Arizona Diamondbacks
Traditional Stats: 2.53 ERA, 21.1 IP, 18 K
Advanced Stats: 4.21 FIP, 4.72 xFIP, .264 BABIP, 6.7% HR/FB
It was Merrill Kelly who took on Jack Flaherty and the Cardinals yesterday in St. Louis, and it was Kelly who came out victorious. The veteran right-hander tossed his second straight quality start, going six frames and giving up a single run. He lowered his ERA to 2.53 and collected his first victory of the season.
The 34-year-old Kelly is a talented pitcher, and he has demonstrated as much over the last three years, posting a 3.74 ERA and averaging six innings per start across 65 games. I like Kelly, and I'm certainly not here to call him a bust. However, he isn't an ace, regardless of what his early-season ERA suggests.
Kelly took a big step forward last season, increasing his velocity and finishing with the lowest full-season ERA and FIP of his career. It would have been perfectly fair to wonder if he could continue to improve in 2023, but his underlying numbers show that's not the case – at least not yet.
His velocity hasn't increased, his strikeout rate is the same, and his walk rate is troubling high. Kelly has done a good job keeping the ball on the ground, which will help him to limit home runs and extra-base hits, but he also allowed plenty of hard contact in his first few starts.
Kelly is a mid-rotation starter, and there's nothing wrong with that. However, if the Diamondbacks want a second ace to pair with Zac Gallen, they'd be smart to look elsewhere.
Patrick Sandoval – Los Angeles Angels
Traditional Stats: 1.23 ERA, 14.2 IP, 10 K
Advanced Stats: 4.07 FIP, 4.48 xFIP, .217 BABIP, 8.3% HR/FB
Patrick Sandoval was a stud in the World Baseball Classic, making two starts and posting a 1.23 ERA in 7.1 IP. It was an auspicious sign for the young lefty, who broke out last season and was looking to take another step forward in 2023.
Judging by his 1.23 ERA, Sandoval has been a roaring success thus far. In his best start of the season, he held the Blue Jays to one run in six innings pitched. However, there are some red flags under the hood that suggest Sandoval has been struggling.
For one thing, his strikeout rate is unusually low. Sandoval isn't a dominant strikeout pitcher, but he averaged 9.24 K/9 over his first four seasons. Currently, he sits at 6.14 K/9. He punched out six Red Sox batters last Friday, but before that, he had struck out just four hitters in his first 11 IP.
Another cause for concern is Sandoval's velocity. In 2022, he averaged 93.1 mph with his four-seam fastball and 93.4 mph with his sinker. This year, both pitches are sitting at 92.5 mph (per Baseball Savant). That's not enough of a dip to get seriously concerned, but it's an indication that Sandoval isn't throwing his best stuff quite yet. To make matters worse, hitters haven't been chasing his offspeed pitches as much as they used to. That tends to happen when a pitcher's fastball loses its bite.
I'm not ready to sound the alarm bells for Sandoval. His most recent outing was promising, and I'm optimistic he can regain his velocity. At the same time, I'm not prepared to buy in on his 1.23 ERA either. He's been keeping runs off the board, but the 26-year-old southpaw is scuffling under the surface.