Analysis
Detroit Tigers Offseason Outlook for 2023-2024 Free Agency
The Detroit Tigers had enough young players show promise this season to feel hopeful for the future, but still remain squarely in a rebuild.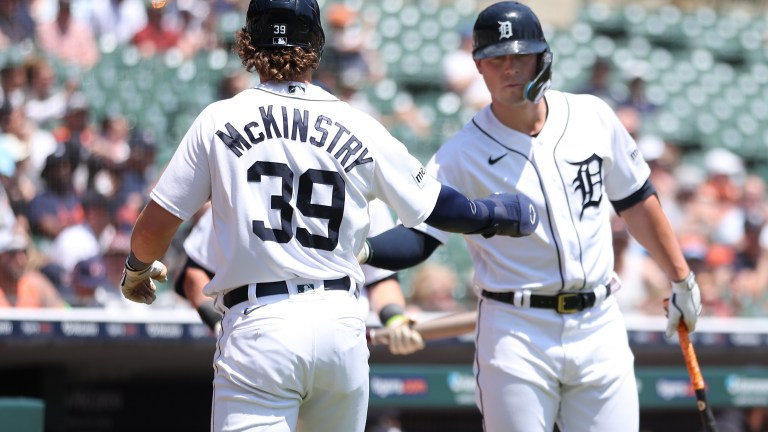 Another October where Tigers conversation is focused on the offseason instead of the Postseason. Believe it or not, 78 wins was good enough for a second place finish in the AL Central, but not nearly good enough to be considered a contender.
On the bright side, we did see enough production from Riley Greene, Spencer Torkelson, and Kerry Carpenter to consider them as the core, or foundation, to build upon. Jake Rogers finally strung together a healthy season and put up 21 home runs in only 107 games. Injuries held the pitching staff back, while enough arms flashed to have some hope heading into 2024.
The AL Central was terrible, no beating around the bush on that. I expect the Twins to be strong in '24, the Guardians to have a potential bounce back with the Royals and White Sox behind the Tigers. New General Manager Jeff Greenberg is filling the role at an interesting time.
The Tigers have a young core and a couple of promising prospects who could crack the lineup next season. How he builds the team around them will ultimately determine just how good this team could be.
Starting Pitching
Options: Tarik Skubal, Reese Olson, Matt Manning, Casey Mize (IL), Sawyer Gipson-Long, Joey Wentz. Minors: Jackson Jobe, Ty Madden, Keider Montero, Brant Hurter
Need: A veteran on a one-year deal
With Eduardo Rodriguez likely out of the picture, all of the Tigers option I listed are under team control through at least 2026. Skubal has looked like an ace and should lead this staff for the foreseeable future.
After returning from injury he posted a 2.80 ERA and 2.00 FIP across 15 starts. Matt Manning might not have the ceiling he was projected to have as a prospect, but is good enough to stick in the rotation, even as a back-end starter.
Past Skubal and Manning, question marks come up. Olson surprised many with his rookie season. More time with pitching coach Chris Fetter should help him cement his rotation spot.
Gipson-Long likely earned an extended look in 2024, while flashing some upside. The big question is Casey Mize. Injuries and poor performance makes him a complete wild card. Oh, and Spencer Turnbull and Joey Wentz are non-factors/bullpen options in my eyes.
Fans and prospect evaluators are gushing over pitching prospect Jackson Jobe, and rightfully so. At 21 years old, I believe he'll start in Double-A and will have a chance to enter the Tigers rotation if all goes well by late summer. Madden, Montero, and Hurter might be getting a chance sooner, but none are guarantees. Because of this, adding a veteran to soak up some innings would be wise.
Sure, they could add a depth type option and get by, but I think the front office should capitalize on their situation. A team that showed some promise, with a pitchers ballpark, and can give a free agent no. 2 or 3 type innings. Either a bounce back candidate, or a pitcher who did not get the deal from a contender and could become an option to be moved at the deadline (and replaced by a prospect).
Detroit can go this route while still having flexibility for the future. Give someone in a situation like Frankie Montas a one-year deal with enough money to make it attractive for him.
Allow him to come in, make some decent money, a work with a well-regarded pitching coach in a ballpark that could help strengthen his case next offseason for a multi-year deal, if he proves he's healthy. More or less, replace the Rodriguez money with a veteran option.
Overpay if you have to for a shorter term. The rotation will be extremally cheap with players just entering arbitration, so take advantage of the opportunity while you can.
Bullpen
Options: Alex Lange, Jason Foley, Tyler Holton, Mason Englert, Alex Faedo, Brendan White, Beau Brieske, Will Vest, Andrew Vasquez, Tyler Alexander (IL), and others
Need: To Keep Trusting Chris Fetter & the Organization
Year in and year out Chris Fetter and the organization have shown they can find, and develop, bullpen arms. Sure, Lange can make you want to pull your hair out at times but is talented enough to remain a primary option. Foley, Holton, and Vest have all been great. I think there are enough internal options and starters who could be bumped to the 'pen to not make adding free agents a top priority.
Bringing in cheaper competition and taking shots on the waiver wire has not only worked out, but it helps keep the bullpen inexpensive, which in theory, allows more of the money pool to go towards improving bigger holes.
Infield
Options: Spencer Torkelson, Javier Baez, Jake Rogers, Zack Short, Nick Maton, Andre Lipcius, Eddys Leonard, Wenceel Perez, Carson Kelly, and others. Minors: Colt Keith, Jace Jung, Dillon Dingler
Need: Third baseman
If there is an area that needs the most improvement, it's the infield. Javier Baez has not panned out as planned, and the likelihood of him playing out the entirely of his contract is slim. Second and third was more or less a wash leaving much of the infield open for competition.
Luckily, two of the Tigers top prospects are infielders. Colt Keith's bat looks ready to enter the lineup as early as Opening Day. Where he'll play is still up in the air. You could pencil him in at third and see if he can work through his defensive struggles, or slot him in at second.
Jace Jung very well could continue to climb and be a candidate to play at some point next summer.
I would imagine an infield spot will be an open competition between Maton, Leonard, Short, Lipcius, and Perez. Yes, a somewhat underwhelming group. Leonard stood out after joining the Mud Hens mid-season slashing .302/.374/.530 with a .228 ISO and might be the most intriguing of the group. Likely, one of these players will be a placeholder until Keith/Jung come up.
Depending on how they view Keith defensively, second or third could be a need. The free agent class is rather thin this offseason and the Tigers are not exactly looking like a top flight destination. You can either overpay, bring in someone like Gio Urshela, or see what non-tender options become available. A trade at this point in time seems less likely.
Behind the plate Jake Rogers should see the lions share of playing time. He was one of if not the most underrated catchers this past season. Detroit could bring back Carson Kelly, or look for a cheaper backup option.
Dillon Dingler is at the point where the team will need to see if he can be part of the future. I'd expect for him to get some run this year, especially if Rogers cannot post similar production.
Using 2024 to work a couple of prospects in is not exactly a bad thing. If come spring the Tigers signed one veteran infielder and planned to filter in internal options until Keith (an maybe Jung) were everyday players, I'd be ok with that. We are still at least one offseason away from Detroit really being considered an option for veterans who want to join a competitive team.
Outfield
Options: Riley Greene, Kerry Carpenter, Akil Baddoo, Parker Meadows, Matt Vierling, Zach McKinstry, Austin Meadows (IL) Minors: Justyn Henry-Malloy, Justice Bigbie
Need: Veteran Bat. Improve Depth Options.
Riley Greene and Kerry Carpenter are on an All-Star trajectory. The other options have some tools and intrigue, but at the end of the day leave me with questions. Can Akil Baddo and Parker Meadows be on the same roster?
Both lefty bats who profile more as third or fourth options. Meadows brings speed, a plus glove, and plays a better center than Baddoo. The time is right to look at moving Baddoo and consolidate the outfield options.
Vierling and McKinstry had their moments and provided some value last season in a utility role. Neither have a ceiling as an everyday player in my eyes, but can fill a utility role. Keeping Vierling and moving on from McKinstry opens a spot for a prospect or free agent.
Two prospects are in line to earn at-bats next season. Justyn Henry-Malloy will have an opportunity to break camp and play left or DH. Bigbie's 2023 breakout makes him one of the more interesting names to watch in spring.
I expect him to start in the minors and be one of the first call up's in the outfield.
With Austin Meadows future in limbo, Baddoo and McKinstry hypothetically on new teams, there's room for a bat to be added. An outfield/DH/1B type could make sense to provide Torkelson a backup while also not putting too heavy of a reliance on rookies. Again, the free agent market is thin but Mark Canha or Garrett Cooper could be great additions on the field and in the clubhouse.
Recap
The Tigers are in-between building a competitive roster and just trying to figure out each position. Next offseason should be the more aggressive one. Right now, add shorter term deals and see if your top prospects can crack the roster.
There is a world where you can fight for 80-83 wins while still building towards bigger goals. Any time a team brings in a new GM you never know what type of moves they will make. With no real loyalty to any of these players, it's not impossible to rule out some shake up.