Analysis
Could Bryson Stott Really Be the Best Second Basemen in MLB?
Bryce Harper proclaimed that teammate Bryson Stott is the best second baseman in baseball. Where does he really rank among the MLB's best?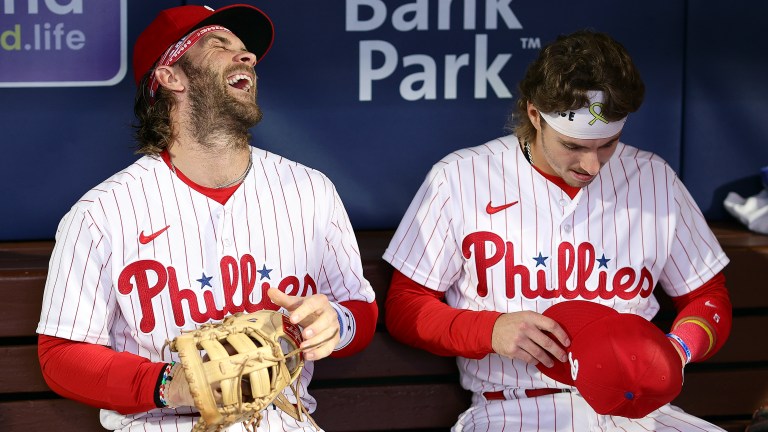 The Philadelphia Phillies are one win away from going back to the World Series, as they put together a fantastic game start-to-finish on Saturday night to salvage one win during their trip to Arizona.
Now the NLCS moves back to Philadelphia, where the Phillies will get two chances to clinch their ticket back to the Fall Classic in front of their rabid home crowd.
After a great Game Five performance that saw him become the first player in Phillies franchise history to steal home in the postseason, as well as hit yet another massive home run, Bryce Harper joined MLB Network's Jon Morosi for the on-field postgame interview.
Harper was of course very congratulatory of his teammates, namely Zack Wheeler, who once again posted a stellar postseason start, building his legacy in October even further. Yet it was the end of his interview with Morosi where Harper made some headlines.
If you skip about a minute and 15 seconds into the following clip you will hear it, where Harper makes a comment about Bryson Stott and where he ranks among the best second basemen in baseball.
When watching the clip, there is nothing wrong with what Harper says. He is simply giving his teammate props for how well he is been playing on the biggest stage. With that said, he also calls him the best second baseman in baseball unprompted, which opens up a conversation about where Stott truly ranks among the game's best.
The funny thing about said conversation is that second base just happens to be the most loaded position left in the playoffs, with each of the final four teams featuring players who have been All-Stars at the position.
Well actually every team except the Phillies, as Stott has yet to receive that recognition.
All-Star appearances may very well be in Stott's future, but the question we will answer know is if he is the best second baseman in baseball, and if not, how far away is he from becoming that.
The Longtime Best Second Baseman in Baseball
If Bryce Harper doesn't remember who the best second baseman in baseball is, he has a very good chance of being reminded in the World Series.
Jose Altuve is the best second baseman in baseball and has been for nearly a decade now. It was back in 2014 when he won his first of now six Silver Sluggers and he has already eclipsed 2,000 career hits, with a real shot to get to that elusive 3,000 number if he can stay healthy in his 30s.
Health was an issue for Altuve this season, as he first missed time after being hit by a pitch in the thumb during the World Baseball Classic. Altuve missed the beginning of the season with the fractured thumb, then later missed more time due to an oblique injury.
With that said, in just 90 games this year, Altuve hit .311/.393/.522, with 17 home runs and 14 stolen bases. He posted a 154 wRC+, leading all second baseman with a minimum of 400 plate appearances and still posted a four-win season, despite missing over 70 games.
In fact, Altuve's 4.0 fWAR in 90 games was better than the 3.9 mark that Bryson Stott posted in 151 games for the Phillies.
If there is one area where Stott is able to trump Altuve it is with the glove, as Jose is long removed from his Gold Glove-winning days. In fact, at -13 Defensive Runs Saved, he was quantifiably bad at the position this year, as he was last year. With that said, his -1 OAA paints a different picture of Altuve merely being an average to slightly below average defender.
Regardless, Altuve was ranked as our top second baseman in baseball last year and I would imagine he tops our list again this time around too.
Is Mookie Betts a Second Baseman Now?
This one is just a quick aside to acknowledge that if Mookie Betts ever made the full-time switch over to second base, he would be leaps and bounds the best second baseman in baseball.
Due to injuries to their infielders, the Dodgers started Betts at second base 62 times this season, letting him go back to his natural position dating back to when he was a farmhand for the Boston Red Sox. Betts also registered 12 starts at shortstop and 25 in center field.
Still, his primary position was right field, starting 77 games there and playing over 200 more innings at the position than at second base. If we consider him a second baseman though, he would have led the position in home runs, runs scored, wRC+ and fWAR by a mile.
The Underrated Top Performer at Second Base
Earlier I mentioned how there were a lot of great second basemen left in the playoffs. Well also playing in the ALCS right now is Marcus Semien, who consistently finds himself atop the fWAR leaderboard for qualified second basemen year-over-year.
Semien made the switch from shortstop over to second base in 2021, in his lone season playing alongside Bo Bichette with the Toronto Blue Jays. Playing on a one-year deal, Semien set career-highs with 45 home runs, 15 stolen bases and 102 runs batted in.
He went on to finish third in the MVP voting and took home both the Gold Glove and Silver Slugger honors in the American League. The Texas Rangers promptly rewarded Semien with a seven-year, $175 million contract in free agency, linking him to play up the middle with fellow free agent Corey Seager.
Now in year two of their stint in Texas, Semien and Seager have helped lead the Rangers into the playoffs for the first time since 2016 and to the ALCS for the first time since 2011.
After a relative down-year last season, which merely saw Semien post a 4.0 fWAR, he was back to his previous standards yet again this year, leading all second baseman with a 6.3 fWAR. Semien played in all 162 games and hit .276/.348/.478, with 29 home runs, 100 RBIs and a 124 wRC+.
Unlike Altuve, Semien is elite with both the bat and the glove, as he was second to only Andres Gimenez in DRS with 16 and was fifth in Outs Above Average with 13.
To Stott's credit, his 17 OAA were superior to Semien, but his 6 DRS trailed behind considerably.
Semien just turned 33 years old and could fall off at some point in the coming years, but that drop-off doesn't appear to be coming any time soon. Stott will have to wait a few years, or take another leap before he is considered better than Semien or Altuve.
With that said, Stott is performing better than Semien right now in the postseason, which certainly deserves plenty of credit.
Best Second Baseman in the NLCS?
If there is one person who might take Bryce Harper's comments personally, it is the guy who will be playing against him in the other dugout on Monday night.
Ketel Marte had a fantastic bounce back season this year and is having an even better run of success this October. Across 10 games played this postseason, Marte is hitting .372/.400/.605, with two home runs and four doubles. Including four playoff games back in 2017, Marte has literally never gone hitless in a playoff game, as he is one game away from tying an all-time record.
Marte was also the Diamondbacks player that turned this NLCS into a real series when he walked off Game Three to get Arizona on the board with their first win.
While Stott has played well, particularly defensively, he is merely hitting .237/.302/.316 across the Phillies 11 postseason games. His grand slam in the Wild Card round against the Marlins represents his only extra-base hit.
Looking back at the regular season, Stott did hit for a slightly better average than Marte and swiped way more bases with 30 compared to just eight. But Marte had Stott by nearly 20 points in his on-base percentage and over 65 in his slugging percentage.
Marte's 127 wRC+ was actually the second-best mark among qualified second baseman, coming behind batting champ Luis Arraez's 132 mark. Marte hit 10 more home runs than Stott with 25 and his 4.2 fWAR slightly edged him out as well.
If you had to give me one of these guys over the next five years, considering their age, Marte's previous health concerns and underperformance in 2022, I might take Stott. But if we are ranking them right now, many would be hard-pressed to actually give Stott the nod.
Is Stott Squarely in the Top Five?
Ok now this is going to come off like we are trying to tear into Stott completely, but that is not the case. This only for the purpose of this exercise, which Harper sparked by making what is in retrospect, a ridiculous assertion that Bryson Stott was the best second baseman in baseball.
If we are ranking Stott fourth among the four starting second baseman left standing in this playoff race, the question is if there are any other second baseman in the game worth mentioning ahead of Stott.
Since we brought him up in the last section, last start with Luis Arraez.
Now a two-time batting champ, one could certainly make the argument that Arraez is one of the best offensive second basemen in the game. Maybe even second-best to only Jose Altuve. Yet, when we look at his all-around game, the glove really drags Arraez down.
With a 3.4 fWAR that was largely hindered by his defensive output, Arraez ranked as the 10th-most valuable second baseman in baseball based on fWAR, falling behind far-inferior offensive players like Andres Gimenez and Thairo Estrada. This is a case where we can say Stott is better.
On the other end of the spectrum, Ha-Seong Kim and Nico Hoerner ranked second and third among the fWAR leaderboards for qualified second baseman, largely due to their work with the glove.
Kim, Hoerner and Stott are all pretty much in the same tier when you look at their total game. Each of these three are former shortstops who have become elite defensively at second base. They also all steal bases, with Hoerner leading the pack with 43, then Kim at 38, before we get to Stott at 31.
This past season, it was Kim who was probably the best player of the three, posting a 112 wRC+ that was over 10 points better than Hoerner at 102 and Stott at 101. When we get to our official ranking of second basemen this offseason, my guess is that Kim takes one of the spots in the top five, followed behind by one of the other two upon further deliberation with the Just Baseball staff.
The last second baseman that bares mentioning before we close this discussion is Ozzie Albies, who led all second basemen with 33 home runs and 109 RBIs this season with the Atlanta Braves. There is every chance that Albies falls somewhere in our top five second basemen as well.
Conclusion
Bryce Harper will likely stand by his statement that Bryson Stott is the best second baseman in baseball and rightfully so. These two are teammates and have a personal connection that goes back to both of them being friends who grew up in the Las Vegas area.
There is no other second baseman in baseball that Harper would rather go to war with than Stott, who has proven himself on the biggest stage over the last two years.
At 26 years old, with all of the tools in the world, the sky is really the limit for Stott. One day we might look back at this as Harper speaking something into existence when Stott truly is considered the best second baseman in baseball. That day just isn't today.
Again, we do our rankings in a few months, but if I had to guess now, Stott falls somewhere between 6-10 among our top 10 second basemen in baseball. If he adds to his own growing legacy by winning a World Series MVP, the story changes and he might end up in the top five.
For Stott to be two years into his MLB career, being considered among the top 10 at his position is nothing to be knocked about it. Instead, it is something worth celebrating, as there is every chance he continues to move up those ranks in the coming years.