Analysis
Cody Bellinger's Bounce-Back Season Is Fully Underway
Six weeks into the 2023 season, Cody Bellinger is in the midst of a bounce-back performance in the Windy City.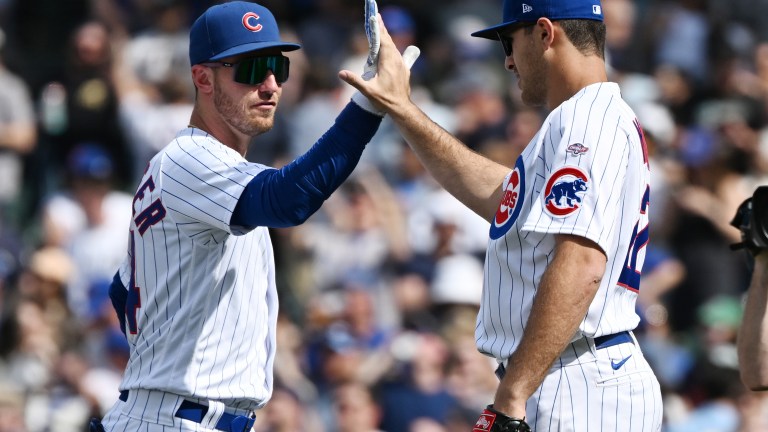 A few years back, Cody Bellinger burst onto the scene with the Los Angeles Dodgers. He won Rookie of the Year in 2017 and even finished ninth in NL MVP voting that same season. He then followed it up with an impressive 2019 campaign in which he won the NL MVP Award. Needless to say, his career got off to a blistering hot start.
However, in his following three years with Los Angeles, Bellinger's production was a major disappointment. Eventually, the Dodgers elected to part ways with the lefty slugger after the 2022 season. Now he's a Chicago Cub, and it appears we are witnessing the resurgence of Cody Bellinger's career in the Windy City. Bellinger is off to a productive start with his new ball club and is showcasing the best version of himself since his 2019 season.
Stats updated as of Tuesday, May 9.
Bellinger's 2019 MVP Season
Cody Bellinger won the NL MVP award in 2019 after beating out Milwaukee Brewers' outfielder Christian Yelich in a two-man race. He led the National League with 8.6 bWAR and was amongst the league leaders in several major offensive categories.
Bellinger produced a stellar slash line of .305/.406/.629 to yield an OPS+ of 167 and a wOBA of .415. He ended the year with a wRC+ of 161 and led the National League in total bases (351). At the age of 23, Bellinger established himself as one of the most productive hitters in the game.
He finished the season with 115 RBIs sparked by his 47 home runs. Accumulating 111 home runs in his first three MLB seasons, Bellinger earned a reputation as one of the best young power hitters in the sport. Following the 2019 season, it appeared the Dodgers had developed a building block for their future outfield.
Unfortunately for the Dodgers, that's not how things would shake out. After taking a step back offensively in the shortened 2020 season, Bellinger never returned to the level of play fans became accustomed to seeing in 2019.
Bellinger's Downfall
Simply put, Bellinger greatly struggled in the three years following his MVP season. While he did win a World Series title with the Dodgers in 2020, it was a disappointing season offensively for the reigning MVP considering the expectations set for him. Unfortunately for Bellinger, the situation did not improve from there.
Following his World Series victory, Bellinger underwent surgery for a dislocated shoulder in November 2020. While he was able to play through the injury in the World Series, and the injury was not thought to be overly severe, it's possible the injury impacted his ability to rebound back to his MVP form.
Yet Bellinger finished the 2021 season as one of the worst hitters in the sport, statistically speaking. Ending the year with negative fWAR and an abysmal wRC+ of 47, he appeared to be a shell of his MVP self. He bounced back to the slightest degree in 2022, but it wasn't nearly enough for the Dodgers to reconsider his future with the team.
In the three seasons between 2020 and 2022, Bellinger had an overall slash line of just .203/.272/.376 to go along with a subpar wRC+ of 78 and a measly 2.2 fWAR. There was writing on the wall that it might be time for him and the Dodgers to part ways.
Following the 2022 season, the Dodgers non-tendered their former MVP. The 27-year-old would hit the open market to try and find his footing with a new ballclub.
That new ballclub would end up being the Chicago Cubs. Back in December, Bellinger signed a one-year, $17.5 million contract with Chicago. Interestingly enough, the deal also included a $1 million incentive for winning Comeback Player of the Year. While there are obviously plenty more games to be played this season, I wouldn't be surprised if Bellinger finds himself in the Comeback Player of the Year conversation by season's end.
Bellinger's Bounce Back
We are almost a quarter of the way into the 2023 MLB season, and this is, without a doubt, the best version of Cody Bellinger we have seen since his 2019 campaign. Through 32 games, Bellinger has put up 1.7 fWAR, which is already greater than his fWAR total from his past two seasons combined.
He leads the Chicago Cubs in fWAR and has established himself as an everyday player in the middle of their lineup. He ranks third on the team in hits and RBIs with 37 and 19, respectively, while leading the Cubs in runs scored with 28. Clearly, something has clicked for Bellinger, and the bounce-back season appears to be fully underway.
After a slow start to his tenure with the Cubs, Bellinger quickly found his footing in the Windy City. In 140 plate appearances this season, he is slashing .298/.364/.556 to go with an OPS+ of 149 and a wRC+ of 146. He has excelled at putting the ball in play and has been a major contributor to Chicago's hot start at the plate in 2023.
Bellinger already has 17 extra-base hits this season, including seven home runs and nine doubles. For reference, Bellinger had just 21 extra-base hits in 350 plate appearances in his brutal 2021 season.
In turn, he is posting an ISO of .258 on the year, which is his highest total since 2019 by a wide margin. Additionally, he is hitting a home run every 20 plate appearances, which is his highest PA/HR rate since 2019.
Bellinger is finding a way to impact the game in various ways in 2023. Regardless of his performance at the plate, he has always been a reliable defender throughout his career. That remains to be the case this season.
Bellinger is currently in the 90th percentile in Outs Above Average (OAA). For the fourth time in the last five seasons, he finds himself in the 90th percentile or higher in OAA. He continues to be a dependable center fielder with above-average arm strength and excellent speed, and he appears to finally be translating that speed to the basepaths as well.
Through his first 32 games, Bellinger has already swiped nine bags. The most stolen bases Bellinger has had in a season is 15, which came back in 2019, so he appears to be on pace to surpass that number in 2023. Whether it's him finally being healthy enough to be aggressive on the bases or the bigger bases giving him more confidence to run, it's just another way Bellinger has managed to influence the game.
It's encouraging to see Bellinger still developing certain aspects of his game. However, the most significant improvement Bellinger has made has been in the strikeout department.
Improving Bat-To-Ball Numbers
Bellinger's ballooning strikeout rate was a major shortcoming of his game in 2021 and '22. In those two seasons, Bellinger found himself in the 17th and 14th percentile in strikeout rate, respectively, while seeing his strikeout rate jump more than 10% over his 2019 figure. However, it has been a different story for him this season.
Through 140 plate appearances, Bellinger has a strikeout rate of 19.3%, which is in the 68th percentile and down eight percent from last season. This is a substantial improvement to his game, and it's clear he has made improvements in certain areas of his approach to decrease his strikeout rate.
He cut his chase rate to 27.8%, down nearly four percent from last year. While there is still room for improvement in regards to chasing pitches out of the zone, it's an improvement nonetheless.
Additionally, he is posting the lowest whiff rate of his career at 22.3%. This is a drastic improvement from his whiff rate of 27.2% last season and 29.7% in 2021. Given these progressions, it's no surprise to see his walk rate increase to 8.6% this season, up from 6.9% a year ago.
Refining his bat-to-ball numbers will help Bellinger to raise his ceiling as a player. We've already seen it translate to more efficient plate appearances, specifically in terms of his weighted on-base average. His .389 wOBA is the second best mark of his career and is in the top nine percent in the league this season. He is putting together tough at-bats, making it difficult for pitchers to get him out.
Improved Splits Versus Lefties
Being a left-handed batter, Bellinger has historically been more susceptible to lefty pitchers when looking at his splits. However, that trend has not continued in the early going of 2023. Bellinger has maintained his success against righties while also vastly improving his efficiency versus left-handed pitching.
| | | | | | |
| --- | --- | --- | --- | --- | --- |
| Split | PA | BA | OBP | SLG | OPS |
| Versus Lefties | 52 | .289 | .385 | .644 | 1.209 |
| Versus Righties | 88 | .304 | .352 | .506 | .858 |
Stats courtesy of Baseball Savant
To go along with his outstanding OPS versus left-handed pitching, Bellinger also has four homers and two doubles off of southpaws this season. While it's still early in the year, he is vastly outperforming his career .758 OPS against lefties.
Improved Performance Versus All Types Of Pitches
In addition to Bellinger having success against both lefties and righties, he has also been efficient against all types of pitches in 2023. Posting respectable numbers against fastballs, breaking pitches, and offspeed stuff, Belling hasn't had a weak spot in his game when looking at pitches he has faced.
| | | | |
| --- | --- | --- | --- |
| Pitch Type | BA | SLG | wOBA |
| Versus Fastballs | .290 | .565 | .400 |
| Versus Breaking | .273 | .576 | .387 |
| Versus Offspeed | .374 | .500 | .357 |
Stats courtesy of Baseball Savant
Bellinger has seen improvements across the board compared to his 2021 and '22 seasons. He failed to hit over .200 against breaking or offspeed pitches in each of the last two seasons, so it's intriguing to see him shake those struggles this year, despite the smaller sample size.
Cody Bellinger has made immense strides in his game thus far in 2023. After looking like a shell of his MVP self for three years, he finally appears to be putting together another All-Star-caliber season. Bellinger signed a one-year prove-it deal with the Cubs this winter, and if he maintains this production, he could be in line for a hefty extension with Chicago or a luxurious contract with a new organization next offseason.