Analysis
Cody Bellinger Will Be a Risky Free Agent Investment
While Cody Bellinger had a fantastic bounce back season in 2023, there is risk in signing him to a deal that could span beyond seven years.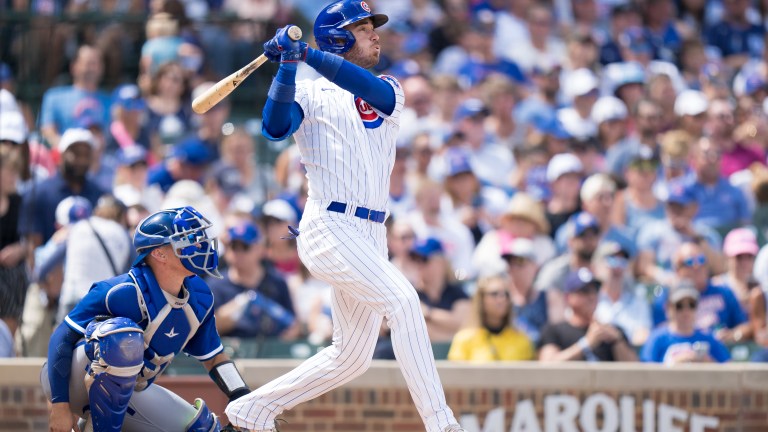 On our Just Baseball countdown of the top 25 free agents available this offseason, outfielder/first baseman Cody Bellinger came in at No. 5, lower than on many other lists. That's not because of a lack of recognition of just how good Bellinger can be when things are going right, but rather how uncertain you are to get the same version of him from year to year.
Bellinger is a free agent for the second consecutive offseason. This time under much better circumstances than last year. The Los Angeles Dodgers non-tendered the former NL MVP last offseason after he slashed .203/.272/.376 with a .648 OPS between 2020 and 2022.
To his credit, Bellinger signed a one-year, $17.5 million deal with the Chicago Cubs in free agency, and performed so well that it was a no-brainer for him to both decline his half of a $25 million mutual option for 2024 and the $20.325 million qualifying offer extended to him.
Bellinger didn't perform at the Hall of Fame caliber he did in during his MVP season in 2019, but he was an All-Star level player once again in 2023. Across 130 games, Bellinger slashed .307/.356/.525 with 26 home runs, 97 RBIs, an .881 OPS and a 4.1 WAR.
While Bellinger has an MVP, Rookie of the Year, Gold Glove, two Silver Sluggers, two All-Star Game appearances, an NLCS MVP and a World Series title on his resume, 2024 will still only be his age-28 season.
A player with those accomplishments on the right side of 30 would typically be a candidate to land a deal in excess of a decade. And some credible outlets believe he will do that, with MLB Trade Rumors projecting that Bellinger will sign for 12 years and $254 million.
But there's a wide variance in terms of estimations on what Bellinger will sign for. Our Just Baseball countdown has him signing for a very lucrative eight years and $200 million, but that deal structure is completely different than the one put out by MLBTR.
And to make things even more interesting, former MLB general manager Jim Bowden, writing for the Athletic, projected a six-year, $144 million deal for Bellinger.
Perhaps, though, we shouldn't be surprised in the wide variance of contract projections given the wide variance of performance levels throughout his career, and the fact that no one can be 100% certain of what's to come next for Bellinger.
For as well as Bellinger played for the Cubs in 2023, there are some signs that he may have trouble replicating what he did this past year.
Bellinger had a .319 batting average on balls in play in 2023, quite a bit higher than his .285 career BABIP.
He also had a career-low hard-hit percentage in 2023, posting a 29.2% mark in the category, as opposed to a 38.5% career average. Back in his MVP season of 2019, Bellinger posted a 49.2% hard-hit percentage, 20 points higher than his 2023 mark.
It may be that Bellinger won't ever match his 2019 campaign, and after being non-tendered, he decided to change his approach. Fair enough, and normally we wouldn't put so much stock into something like hard-hit percentage. But it's typically a red flag when a player is making that much less hard contact than they used to, especially when you're thinking about whether it makes sense to make a major investment in them.
A concern that existed about Bellinger even back in 2019 was the violent nature of his swing. Said swing worked fine when he was 23. It should at least be considered whether adjustments will need to be made to it as he ages, in hopes of preserving the long-term health of his back.
The same type of concerns were voiced when Bryce Harper was a free agent after the 2018 season. But Harper was a couple years younger than Bellinger when he reached the open market before his big payday, and has reduced the violence in his swing compared to when he was a young star with the Washington Nationals. He also has had to manage minor back injuries during his first five seasons with the Philadelphia Phillies, and we don't know how the remaining eight years on his contract will play out.
Bellinger has had so many peaks and valleys in his career, though, that you wonder if he does have to adjust his swing at some point, could he lose things at the plate again?
We've predicted that the Giants — with former Dodgers general manager Farhan Zaidi on the hot seat as president of baseball operations in San Francisco — will sign Bellinger. The New York Yankees and incumbent Cubs are among the other teams who make sense as suitors.
In no way are we betting that a long-term contract for Bellinger will go poorly. At his best, he's a tremendous offensive player capable of playing all three outfield positions and first base. That's extremely valuable.
But the 2020-2022 seasons still happened, and there is ample evidence of how low things can go for Bellinger when he gets out of sync at the plate. So we also aren't prepared to bet that there won't be more trials during Bellinger's deal than you would want out of a player you may need to guarantee eight or more years to land.